Jafar says: Read my lips and come to grips with the reality!


This article is a stub and is in need of expansion. You can help Villains Wiki by expanding it.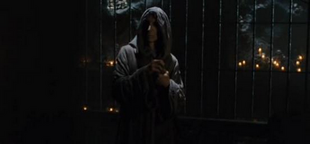 Charon is a minor character in the 2010 movie Percy Jackson and the Olympians: The Lightning Thief. He is the ferryman of the Underworld and a minion of Hades.
He is portrayed by Julian Richings, who also portrayed Death in the TV series Supernatural.
History
Percy Jackson, Annabeth Chase and Grover Underwood enter in the Underworld through the portal located in Hollywood and they meet Charon on his boat. They tell him that they need to see Hades, but Charon refuses to transport livings and suggests them to die and come back. Grover attempts to bribe him by giving him 170 dollars, however Charon burns the bills in his hand. Percy gets the idea to pay him with the drachmas they got from Medusa's lair, therefore Charon invites them to get on board of his boat and he carries them to the palace of Hades. After passing near the scrapheap of human misery, they arrive at the palace entrance where Charon says he won't go further and the three teenagers disembark from his boat.