| | | |
| --- | --- | --- |
| " | "Bald Mountain", according to tradition, is the gathering place of Satan and his followers. Here, on Walpurgnisnacht, which is the equivalent of our own Halloween, the creatures of evil gather to worship their master. Under his spell, they dance furiously until the coming of dawn and the sounds of church bells send the infernal army slinking back into their abodes of darkness. | " |
| | ~ Deems Taylor on Chernabog and the demons coming to worship on Bald Mountain. | |
Chernabog is the main antagonist of Disney's 3rd full-length animated feature film Fantasia, serving as the main protagonist of the segment "Night on Bald Mountain"/"Ave Maria". He is the tyrannical ruler of a dark realm called Bald Mountain, where he summons demons and damned souls to sacrifice and do his bidding.
Chernabog also appears as a recurring antagonist in the Kingdom Hearts series, a recurring antagonist in House of Mouse and Mickey's House of Villains, the main antagonist of the Kingdom Keepers series, a major antagonist in the Mickey Mouse series, and the main antagonist of the upcoming live action film Night on Bald Mountain.
In House of Mouse, he was voiced by Corey Burton, who also voiced the Hatbox Ghost and Captain Hook.
Personality
Chernabog desires only to amuse and appease himself, and will commit any atrocity needed to do so. He is commonly depicted as a ruthless and manipulative monster who is feared by all who encounter him. He is one of the most powerful and destructive villains that Walt Disney has ever created for that reason. His power is also shown to be incredibly demonic, being able to unleash hellish realms and spirits.
Fantasia
Chernabog is seen rising from the top of Bald Mountain, where he opens his wings, extends his arms, and summons spirits from the lands below, including the ghosts of soldiers, criminals, and those not buried on sacred ground. Using the souls, Chernabog awakens Bald Mountain, summoning fire and demons from its maw. He proceeds to amuse himself by forcing the demonic figures to dance for him. He creates beautiful dancers out of fire, then wickedly transforms them into vile barnyard animals. Chernabog proceeds to summon Harpies to grab other demons and toss them into the hellish inferno of Bald Mountain, and joins in himself by bringing forth life, then proceeding to kill it again by tossing it into Hell. The madness accumulates into a massive infernal flash.
As Chernabog prepares to continue his wickedness, he is suddenly interrupted by the sound of church bells and the light of dawn. Though he attempts to resist it, the bell tolling and morning light become too much goodness for him to withstand, causing the ghosts and demons to retreat. Disgusted, Chernabog folds his wings back over his body to protect himself from the sunlight, hiding in Bald Mountain as the sun rises and a church choir sings "Ave Maria", hailing and praising the Lord God and Mother Mary.
Fantasia 2000
Chernabog reappears in the sequel, but his screen time is less than five seconds as he appears among the visual references to the original film, and does not appear for the remainder of the movie.
Other Media
Kingdom Hearts series
Kingdom Hearts/Kingdom Hearts Final Mix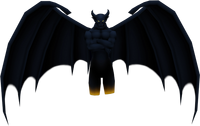 Chernabog is the only Disney villain with no explained reason for fighting Sora or aiding the Heartless in the Kingdom Hearts series. It is possible that he is such a dark entity already, he independently chooses to aid the Heartless in plummeting the universe into darkness by his own choice. This immense darkness could also be the reason that he is the only non-Heartless fought in the End of the World realm, because there is no point to turn him into a Heartless. It is also entirely possible that he is unaware of the Heartless and their goal, and simply fights because his dark and evil nature makes him want to wipe out sources of good and light, such as Sora, who just happens to cross his path. Considering his location, however, it is possible that he is simply a gatekeeper used by Ansem to bar Sora from the innermost reaches of the End of the World.
In the original Japanese version, the music played when he is fought is "Squirming Evil", the piece used when fighting most Disney Villains. However, in the international and Final Mix versions, an arranged version of the music from the original Fantasia short "Night on Bald Mountain" by Modest Mussorgski, is used as the battle music in Kingdom Hearts.
Kingdom Hearts: Dream Drop Distance
Chernabog later appeared in the world known as Symphony of Sorcery and attacked Riku. After Riku confronts a mysterious man in a black cloak, and talks with him for a brief while, he summons Chernabog from the volcano behind him to fight Riku. Despite this, Chernabog ended up getting defeated by Riku.
House of Mouse
Chernabog appears as a regular guest at the House of Mouse, usually serving as a brutish, but inactive enforcer who occasionally joins in with jokes and gossip around the club.
Mickey's House of Villains
Chernabog also made an appearance in the movie Mickey's House of Villains. He was one of the many Disney villain who took over Mickey's House of Mouse. But for some reason, he was working for Jafar to help him take over Mickey's House.
After the villains take over the House, Chernabog is spotted on several occasions sitting with Maleficent. After Mickey defeats Jafar, Chernabog then flees out of the House with the all of the other villains.
Once Upon a Time
Main article: Chernabog (Once Upon a Time)
Chernabog appeared in the fourth season of Once Upon a Time. He was released from the Sorcerer's Hat and terrorized Regina and Emma until they destroyed him by tricking him into leaving the city limits, where there is no magic.
Mickey Mouse
Chernabog appeared in the new Mickey Mouse shorts where he teams up with Pete and the Beagle Boys against Mickey and his team in a football match. They beat Mickey and his friends severely until Mickey finds a way to outsmart them. Chernabog also appears in the episode "The Scariest Story Ever: A Mickey Mouse Halloween Spooktacular".
Night on Bald Mountain (upcoming film)
Disney will release a full-length live action film based on the "Night on Bald Mountain" segment of Fantasia. The film is currently in production and has no confirmed release date as of yet, but will most likely feature Chernabog as the main antagonist.
Kingdom Keepers
Chernabog served as the main antagonist in the original Kingdom Keepers series where he led the villains against the protagonists.
Disney Parks
Chernabog is a rare character at Disney Parks, appearing mainly in shows as well as on the Disney Villains float in Disneyland Paris' Once Upon a Dream parade. He appears as a major antagonist in Fantasmic!, being one of the villains summoned by Queen Grimhilde to kill Mickey. In World of Color, he is joined by Dr. Facilier and the Firebird in bringing out the Colors of Fear. In the defunct interactive game Sorcerers of the Magic Kingdom at Walt Disney World, Chernobog appears as Hades' right hand and one of the final mission bosses before his defeat by Merlin. He also makes appearances in SpectroMagic and Starlight Dreams. In the defunct Hong Kong Disneyland horror attraction The Nightmare Experiment, Chernabog appears as one of the many villains that Professor J.T. Wu is observing from the Royal Laboratory.
Trivia
He is ranked #13 in the Top 30 Disney Villains.
Contrary to popular belief, Chernabog is not Satan or the Devil; but rather an immensely powerful demon. Though the introduction to "Night on Bald Mountain" says that it is a "gathering place for Satan and his followers", Chernabog is one of the followers, not Satan; Satan makes no appearance in the segment (likely for religious or dramatic reasons). However, as he is the closest thing to the Devil in the Disney Universe (even referred to by Walt Disney as their Devil), he usually stands in as the devilish figure in Disney media and can be considered the unofficial "Devil" of said universe (along with Hades), despite not being Satan himself.

It is believed that another reason for Chernabog not being the Devil himself was as a scare tactic; to show him as a horrible evil demon to make audiences question what the actual Devil must be like.
Chernabog is actually a creature out of Baltic folklore, a devil-like demigod, except rather than being lord of the netherworld per say, he ruled over the fragile vale between life and death, a sort of the supreme boogeyman or the Grim Reaper figure.

He is based off of the Slavic god Chernobog, hence the similarity of the names. Chernobog is the Slavic god of Darkness, Evil, Chaos, Pain, and everything bad you could possibly imagine. His only source of existence is the Chronica Slavorum which is 200 years after many Slavic myths died out. The Chronica Slavorum states, "'Among Slavic people, there is one weird belief that is kept in their drinking fests and feasts. They at same time bless and curse under names of their Gods, respectively in the name of good One and evil One, saying that good things come from good God and evil comes from evil One. In their language they call evil God ''Chernobog'', or ''black God''.'' This contradicts other Slavic myths though. So he may have been a minor god.

Chernabog is mentioned in Kingdom Keepers II : Disney At Dawn. Naturally, Chernabog is the overarching villain in the series.
In Slavic, his name means "Black God".
Chernabog is the first protagonist villain of the Disney film, as there is no visible hero or heroine that is in the lead in this segment.
Although Chernabog only appears in the Night on Bald Mountain, he is considered the Big Bad of the entire film.

Chernabog's figure makes cameo appearance in the 2010 Disney live action film The Sorcerer's Apprentice, as a gargoyle in one of the buildings that the Merlinean wizard Balthazar Blake passed when he discovered the changes on his Arcana Cabana shop.

In the original script of the film, however, Chernabog is featured as a demon similar to his Fantasia incarnation with his sized reduced to 15-foot tall, yet still larger than an full-grown man. Known as "Conjurer of Souls", he serves as a necromancer and a potential general of Morganian forces that masters the power to summon an army of wraiths to do his bidding. He was imprisoned inside the Grimhold until being freed by former Merlinean named Maxim Horvath, and he later assisted the heinous witch Abigail Williams in kidnapping Dave Stutler's girlfriend Becky Barnes. Under Morgana's command, Chernabog then proceeded to summon hundreds of wraiths and rallied them as an army to destroy the city of Manhattan. Chernabog would later be defeated in battle through combined might of 2 Merlineans Dave Stutler and Balthazar. In the end, he was sealed back inside the Grimhold. Reasons why he was cut from the film's conclusion in the final script was because the director decided it would be better to save him for a sequel should they ever get the chance, as a villain of his magnitude deserves a stronger part.

Chernabog's gargoyle appears as one of the Drill Automatons that Balthazar animated as part of Dave's training under the name of "Gargoyle" in the online videogame Sorcerer's Apprentice: Fiery Frenzy. However, unlike the Chernabog that appeared in Night on Bald Mountain or in the Once Upon a Time TV series, Gargoyle is animated as a quadrupedal creature.

Villains
Animated Features
Queen Grimhilde | Magic Mirror | Honest John | Gideon | Stromboli | Coachman | Coachman's Minions | Monstro | Chernabog | Zeus | Vulcan | Boreas | Man | Ronno | Aconcagua | Toy Bull | The Wolf | Tetti-Tatti | Lumpjaw | Willie | Rustlers | Mr. Winkie | Weasels | Brom Bones | Headless Horseman | Lady Tremaine | Anastasia Tremaine | Drizella Tremaine | Lucifer | Queen of Hearts | Card Soldiers | Cheshire Cat | Walrus & Carpenter | James Hook | Neverland Pirates (Mr. Smee) | Tick Tock | Rat | Si & Am | Maleficent | Diablo the Raven | Maleficent's Goons | Cruella De Vil | Jasper & Horace | Madam Mim | Shere Khan | Kaa | Bandar Log (King Louie) | Edgar Balthazar | Prince John | Sheriff of Notthingham | Sir Hiss | Captain Crocodile | Rhino Guards | Wolf Arrowmen | Trigger & Nutsy | Heffalumps and Woozles | Madame Medusa | Mr. Snoops | Brutus & Nero | Amos Slade | Chief | The Bear | Horned King | Horned King's Army (Creeper & Gwythaints) | Cauldron Born | Orddu, Orwen & Orgoch | Arawn | Professor Ratigan | Thugs (Fidget, Felicia & Bartholomew) | Bill Sykes | Roscoe & DeSoto | Ursula | Flotsam & Jetsam | Percival C. McLeach | Joanna | Beast | Gaston LeGume | LeFou | Asylum D'Loons (Monsieur D'Arque) | Tom, Dick, Stanley & Walter | Wolves | Jafar | Iago | Razoul | Prince Achmed | Gazeem | Cave of Wonders | Scar | Hyena Clan (Shenzi, Banzai & Ed) | John Ratcliffe | Claude Frollo | Frollo's Soldiers (Captain Phoebus, Brutish Captain, Oafish Guard, Pierrat Torturue & Henriet Cousin) | Hades | Pain & Panic | Fates | Cerberus | Titans (Lythos, Hydros, Pyros, Stratos & Cyclops) | Nessus | Hydra | Nemean Lion | Shan Yu | Hun Army (Hayabusa & Elite Hun Soldiers) | Cecil Clayton | Sabor | Clayton's Pirates | Firebird | Black Triangles | Jack-in-the-Box | Kron | Bruton | Kuzco | Yzma | Kronk | Lyle Tiberius Rourke | Rourke's Mercenaries (Helga Sinclair) | Leviathan | Vikings | Gantu | John Silver | Pirates (Scroop, Onus, Hands, Turnbuckle, Blinko, Longbourne, Fayvoon, Grewnge, Krailoni, Hedley, Torrance, Mertock, Verne, Crex & Zoff) | Nathaniel Flint | Alameda Slim | Rico | Willie Brothers | Mr. Wesley | DOR-15 | Bowler Hat Guy | Dr. Calico | Dr. Facilier | Lawrence | Facilier's Shadow | Shadow Demons | Ian the Gator | Marlon the Gator | Reggie, Darnell & Two Fingers | Friends on the Other Side | Mother Gothel | Stabbington Brothers | Zhan Tiri | Turbo | Cy-Bugs | Sour Bill | Wynnchel & Duncan | Prince Hans | Duke of Weselton | Erik & Francis | Wolves | Yokai | Alistair Krei | Mr. Yama | Dawn Bellwether | Doug Ramses | Woolter | Jesse | Sheep Cops | Ram Thug | Duke Weaselton | Mr. Big | Polar Bear Thugs (Koslov, Raymond & Kevin) | Te Kā | Tamatoa | Kakamora | Arthur | King Runeard | Namaari | Druun
Live-Action Movies
Captain Nemo | Pony Sugrue | Prince John (1952) | Red Stick | Bigfoot Mason | Chato | Samuel Mason | Harpe Brothers | The Marten | Wilse Owens | Kuala | Vicky Robinson | Ute Chief | Jacques Lebeau | Makoos | Durante | Barnaby | James Haggin | Cattlemen | Alonzo Hawk | Comanche Chief | Apaches | Mr. Dawes Sr. | Tanamashu | Judge Huggins | Mountain Ox | Peter Thorndyke | Havershaw | Vince Heber | Mrs. Satterfield | A.J. Arno | Chillie Walsh | Colonel Pierson | Ab Cross | Colonel Heller | King Leonidas | Bookman | Swinburne | Mr. Eben | Mark Pierson | Hugh McRae | Sam Eagle Speaker | Kerwood Krinkle | Frank Sitwell | Hnup Wan | Dr. Terminus | Gogans | Charles Olympus | Wooly Bill Hitchcock | Big Mac | Hans Reinhardt | The Watcher | George McKinzie | Alec Frost | Bluto | Vermithrax Pejorative | Master Control Program | Sark | Ed Dillinger Sr. | Program Guards | Mark Jennings | Kelly | Mr. Dark | Mike | Rosie Little | Hunters | Nome King | Princess Mombi | Connie | Bullwhip | Parker | Buzz | Wolf's Owner | Timber Wolf | Hunter | Eagle | Alistair Patton | Patton Sr. | Judge Doom | Toon Patrol (Smartass, Greasy, Psycho, Wheezy & Stupid) | Abdullah | Mr. Patel | Nigel | John Merrick | Beauty Smith | Luke & Tinker | Sykes | Cherokee | Lip-Lip | Fritz | Neville Sinclair | Lothar | Nigel Snyder | Joseph Pulitizer | Delancy Brothers | Charles Hendrickson | Terrence Wheeler | Winifred Sanderson | Mary Sanderson | Sarah Sanderson | John Ricketts | The King and the Duke | Pap Finn | Cardinal Richelieu | Comte de Rochefort | Milady de Winter | Borg Guillarson | Leland Drury | Heath | Miners | Lloyd Halverson | William Boone | Buldeo | John Wilkins | Tabaqui (1994) | Sergeant Harley | Bandits | Sergeant Clairbourne | Shere Khan (1994) | Bandar Log (1994) (King Louie (1994) & Kaa (1994)) | Gilbert Sipes | Juice | Ranch Wilder | Injun Joe | Emmett | Tony Perkis | Agent Woods | Jack and Ralph | Ashcan and Pete | Aunt Sponge | Aunt Spiker | Rhino | Skeleton Pirates | Shark | Cruella De Vil (1996) | Jasper and Horace Badun (1996) | Mr. Skinner | Jean-Pierre Le Pelt | Alonzo | Norman Snively | Ricky King | Charlotte | Lyle Van de Groot | Max & Thor | Lion | Beatrice Stanhope | Stepmother | Calliope and Minerva | Chester Hoenicker | Wilson Croft | Smith & Wesson | Bennett Hoenicker | Luanne LeSeur | Meredith Blake | Natalya | Popov | Frank Slater | Shere Khan (1998) | Tabaqui (1998) | Bandar Log (1998) | Eddie Taffet | Andrei Strasser | Elliot Coleye | Dr. Claw | Kramer | RoboGadget | PAT | Malcolm | Snerbert | Lana Thomas | Elliot T. Jindraike | Professor Siles | Jennifer Stone | Toy Santa | Louise Walker | Mr. Sir | Charles "Trout" Walker | Kissin' Kate Barlow | Linda Walker | Sheriff | Doug & Gordon | Hector Barbossa | Crew of the Black Pearl (Bo'sun, Scratch, Pintel & Ragetti) | Master Gracey | Madame Leota | Ramsley | Zombies | Werecat Lady | Carla Santini | Lord Kelvin | Black Scorpions (General Fang) | Inspector Fix | Viscount Mabrey | Ian Howe | Bill Fawcett | Zaphod Beeblebrox | Frankie & Benjy | Prostetnic Vogon Jeltz | Vogons | Humma Kavula | Gag Halfrunt | Royal Pain | Stitches | Lash | Speed | Penny Lent | Jadis the White Witch | Jadis' Secret Police (Maugrim & Vardan) | Ginarrbrik | General Otmin | Thantos DuBaer | Dr. Kozak | Jack Frost | Davy Jones | Crew of the Flying Dutchman (Maccus & Kraken) | Cutler Beckett | East India Trading Company | Janice Avery | Queen Narissa | Mitch Wilkinson | Simon Bar Sinister | Cad Lackey | El Diablo | Henry Burke | Siphon | Miraz | Telmarines (Glozelle & Sopespian) | Nikabrik | Hag & Werewolf | Kendall Duncan | Tess Tyler | Speckles | Lucinda | Oswald Granger | Red Queen | Knave of Hearts | Card Soldiers | Jabberwock | Jubjub Bird | Hamish Ascot | Morgana le Fay | Morganians (Maxim Horvath, Abigail Williams, Sun Lok, Drake Stone & Marrok) | Nizam | Ms. Stout | CLU 2 | Rinzler | Gem | Black Guards | Blackbeard | Angelica Teach | The Spaniard | King Ferdinand VI | King George ll | San Than | Matai Shang | Tal Hajus | Jenny | Latham Cole | Butch Cavendish | Jay Fuller | Evanora | Theodora | Maleficent (2014) | Diaval | King Stefan (2014) | King Henry | The Witch | The Wolf | Lady Tremaine (2015) | Grand Duke (2015) | Anastasia Tremaine (2015) | Drizella Tremaine (2015) | Lucifer (2015) | David Nix | Shere Khan (2016) | Bandar Log (2016) (King Louie (2016)) | Kaa (2016) | Fleshlumpeater | Giants (Bloodbottler & Bonecruncher) | Pramod Kadam | Beast (2017) | Gaston LeGume (2017) | LeFou (2017) | Asylum D'Loons (Monsieur D'Arque (2017)) | Tom, Dick & Stanley (2017) | Wolves (2017) | The King (2017) | Armando Salazar | Crew of the Silent Mary (Lesaro) | Scarfield | It | Sugar Plum Fairy | Tin Soldiers | William Weatherall Wilkins | V.A. Vandevere | Neils Skellig | Rufus Sorghum | Jafar (2019) | Iago (2019) | Cave of Wonders (2019) | Scar (2019) | Hyena Clan (2019) (Shenzi, Kamari & Azizi) | Queen Ingrith | Gerda | Borra | Rat (2019) | Devon & Rex | Isaac | Artemis Fowl | Opal Koboi | Briar Cudgeon | Troll | Alexander Hamilton | Aaron Burr | Thomas Jefferson | James Madison | Maria Reynolds | James Reynolds | King George III | Bori Khan | Hun Army (Xian Lang)
Other Animated Movies
Br'er Fox & Br'er Bear | Giant Magnet | Evil Clown | Merlock | Dijon | Oogie Boogie | Lock, Shock & Barrel | Bill Bluff | BluffCo Industries (Guy Graham, Bob & Bluff Agents) | Gloomius Maximus | Ivan Krank | Von Talon | Cufflingk and Underlingk | Kazar | Wildebeests (Blag) | Scab and Scraw | Vidia | Jacob Marley | Old Joe | Supervisor | Mr. Whiskers | Shelley | Were-Rat | Sea Monkeys | Mr. Burgermeister | Ripslinger | Zed | Ned | Zarina
Direct-to-video/Disneytoon Studios Sequels
Abis Mal | Sa'Luk | Forty Thieves | Maestro Forte | Jesters | Zira | Outsiders (Nuka & Vitani) | Mack McCro | Jim Bob | Supreme Commander | Morgana | Undertow | Cloak & Dagger | Bradley Uppercrust III | The Gammas | Buster | Sarousch | Pom-Pom | Tad White | Jacques von Hamsterviel | Reuben | Sparky | Leroy | Erik Hellstorm | Ashton Carnaby | Edgar Volgud | Krakken | Lil Lightning | Bandits | Mama Gunda | Uto & Kago | Marina Del Rey | Cad Spinner
Shorts, Television, Comics and Video Games
Peg Leg Pete | Old Man Tree | Phantom Blot | Skeletons | Grim Reaper | Mad Doctor | Demon Cats | Gustav the Giant | Lonesome Ghosts | Doctor Vulter | Solego the Chaos God | Arpine Lusene | Eli Squinch | Sylvester Shyster | Fantomius | Inquinator | Spectrus | Zafire | H. U. Hennessy | Jolly Roger | Witch | Pluto's Devil | Zeke Midas Wolf | Boogeymen | Captain Katt | Mortimer Mouse | Butch the Bulldog | Beagle Boys | Foxy Loxy | Ajax Gorilla | Witch Hazel | Adolf Hitler | Nazi School Teacher | Little Hans | Fat Cat | Norton Nimnul | Aldrin Klordane | Baby Thaddeus | Ratso Ratzkiwatzki | Julius | Dr. Frankenollie | Mizrabel | Miss Hendra | Huntsman | Huntsgirl | Dark Dragon | Al Roker | Chuckles | Princess Irmaplotz | Grace Goodwin | Molly | Shadow Blot | False Shadow Blot | Foxy Loxy | Goosey Loosey | Oswald Gardner | Commander Heist | Lazlo | Jordan Buttsquat | Suzi | Chip Whistler
Disney Parks
Alien | Lava Monster | Mad Hatter | Nebula Ghosts | Professor J.T. Wu | S.I.R. | Yeti (Expedition Everest) | Yeti (Matterhorn Bobsleds)
See Also
101 Dalmatians Villains | 2010 Marvel Animated Universe Villains | 20th Century Studios Villains | A Twisted Tale Villains | Air Bud Villains | Aladdin Villains | Alice in Wonderland Villains | Amphibia Villains | Artemis Fowl Villains | Atlantis Villains | Beauty and the Beast Villains | Big Hero 6 Villains | Buena Vista International Villains | Buzz Lightyear of Star Command Villains | Cars Villains | Cinderella Villains | Club Penguin Villains | Darkwing Duck Villains | Descendants Villains | DuckTales Villains | Fantasia Villains | Fillmore! Villains | Frozen Villains | Gargoyles Villains | Gravity Falls Villains | Hamilton Villains | Haunted Mansion Villains | Hercules Villains | Incredibles Villains | Kim Possible Villains | Kingdom Hearts Villains | Lilo & Stitch Villains | Little Einsteins Villains | Marvel Animated Movie Universe Villains | Marvel Cinematic Universe Villains | Medfield College Villains | Mighty Ducks Villains | Milo Murphy's Law Villains | Mulan Villains | Muppet Villains | Narnia Villains | Peter Pan Villains | Phineas and Ferb Villains | Pinocchio Villains | Pirates of the Caribbean Villains | Pixar Villains | Recess Villains | Robin Hood Villains | Sleeping Beauty Villains | Snow White Villains | Sofia the First Villains | Star Wars Villains | Star vs. the Forces of Evil Villains | Super Robot Monkey Team Hyperforce Go! Villains | Tangled Villains | Tarzan Villains | The Hunchback of Notre Dame Villains | The Jungle Book Villains | The Lion King Villains | The Little Mermaid Villains | The Owl House Villains | The Princess and the Frog Villains | The Proud Family Villains | Toy Story Villains | Treasure Planet Villains | Wander Over Yonder Villains | Winnie the Pooh Villains | Wreck-It Ralph Villains | X-Men Movie Villains | Zootopia Villains
Community content is available under
CC-BY-SA
unless otherwise noted.