Doctor Strange in The Multiverse o Madness - The Loop
Play Sound
| | | |
| --- | --- | --- |
| " | You're stranger, I'm stranger, together we are strangers. | " |
| | ~ The Cheshire Cat to Alice | |
The Cheshire Cat is a minor antagonist on ABC Once Upon a Time in Wonderland.
He was voiced by Keith David, who famously voiced Dr. Facilier.
History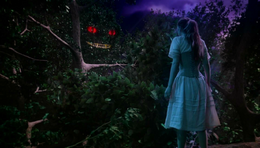 The Cheshire Cat is one of the inhabitants of Wonderland. When Alice was a small child, she befriends Cheshire. Originally a friend of Alice, the Cat appears many years later when Alice returns to Wonderland, in order to be reunited with Cyrus, she is told by the White Rabbit that the Dormouse last saw him at the Mad Hatter's old house in the Tulgey Woods. She and Will go together to find him, but on the way they get lost.
Alice decides to climb up a large tree in order to get a better view. She walks along a thin branch and eventually sees the house in the distance, not to far away, however, she is suddenly met by the Cheshire Cat, who appears in front of her, purring, having previously been invisible. Now wild, ferocious and apparently loyal to the Red Queen. Cheshire encounters his "old friend" in Tulgey Woods.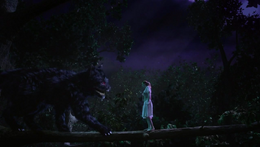 Noticing the evil smile on his face, Alice tries to run to the tree trunk to climb down, but he jumps in her way. A scared Alice tries to act pleased to see the Cheshire Cat again, reminding him of who she is, but he evilly states that he remembers. Alice tells him that he looks different, so the cat explains that everything does, stating everything has become much stranger so he tells her together they're strangers. Alice asks the Cheshire Cat how he is, and then tells him now that they're friends again, he wouldn't want to eat her.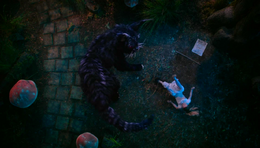 He slowly walks towards Alice as he tells her that the woods used to be full of food, but now they're just full of her. With this, he suddenly pounces at Alice, causing her to fall to the ground below. He jump down and traps Alice. She tries to fight him off but he pushes her to the ground. He pins her down and then tells her the Red Queen promised she'd be the sweetest meat he's ever tasted, so he asks if they should see. Drooling, he leans in closer to Alice to eat her, but he's suddenly stopped by Will, who jumps on his tail.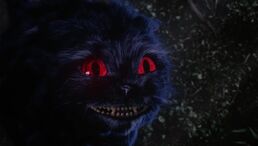 Angry, the Cheshire Cat turns and pounces at Will, however, he is distracted by the Knave of Hearts and the Knave throws a piece of mushroom down his throat, and accidentally swallows it causing the cat to shrink into the size of a household cat and flees.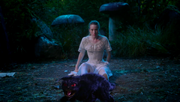 Villains

Villains