Boba Fett Returns - The Loop
Play Sound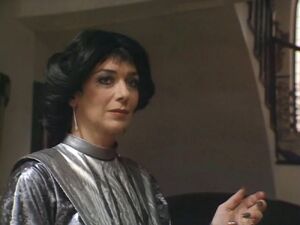 Chessene of the Franzine Grig was the main antagonist of the Doctor Who story "The Two Doctors".
She was portrayed by the late Jacqueline Pearce, who also played Servalan in Blake's 7.
Biography
Chessene was an Androgum who was technologically augmented by the scientist Joinson Dastari. She was given genius-level intellect and limited psychic abilities, with Dastari hoping to harness the Androgums' energy. However, Chessene's basic nature was unchanged, with her remaining vicious and essentially primitive. She did however gain greater ambitions than normal, dreaming of liberating the Androgums from servitude and leading them in conquest throughout time and space.
Aware that two of the other scientists on Space Station J7 were close to developing a working time machine, Chessene sought to gain control of it. Working with Dastari and an unaugmented Androgum named Shockeye, Chessene allied herself with the Sontarans, helping them attack the station and massacre its occupants. The attack was timed to coincide with a visit from the Second Doctor, acting on behalf of the Time Lords to investigate the experiments, and he was taken prisoner. Chessene and Dastari had postulated that there was something in Time Lord physiology that would complete the time module.
With Dastari, Shockeye and the Sontarans Stike and Varl, Chessene took the Doctor to Earth, which she had chosen as a base for the experiments. Dastari planned to dissect the Doctor in order to examine his genetic make-up but they were disrupted by the efforts of the Sixth Doctor, Jamie and Peri. Chessene had Dastari change the Second Doctor into a Time Lord-Androgum hybrid in an attempt to convince him to assist their cause, although it merely resulted in him gorging himself at the local restaurants with Shockeye until his body rejected the infusion. Realising her aims no longer aligned with the Sontarans, Chessene double-crossed them and attacked them with coronic acid, killing Varl and badly injuring Stike, who later perished in his ship's explosion.
The Sixth Doctor convinced Chessene that the time machine was now operational when in fact he had set it to work only once, with Chessene testing it on Peri. Chessene accepted Shockeye's request to dine on a human before leaving and had him prepare Jamie for slaughter. Dastari began to realise Chessene's base nature was unchanged and refuses her orders to kill the prisoners. Chessene killed him instead but Jamie then knocked the gun from her hand with a knife throw. Chessene attempted to escape in the time machine but was killed when it exploded, her body reverting to a pure Androgum as she died.