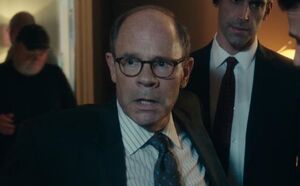 Chief Couper is a minor antagonist of the 2016 movie The Purge: Election Year.
He was portrayed by Ethan Phillips.
Plot
When Leo orders her home locked down and surrounded by security, accompanied by Chief Couper and Eric Busmalis. Since this could be the very last Purge, it attracts many international citizens to participate, thus possibly making it the most dangerous Purge to date. Barnes and Senator Roan wait out the Purge in her home, well guarded and protected by security forces. However, they are betrayed by Chief Couper and Eric, who signals to a paramilitary force that covertly wipes out the security forces. Barnes is able to see the attack in progress and escorts the Senator to safety, but is wounded in the process. He detonates a bomb in the house, killing Eric and Chief Couper as well as several paramilitary operators.

Villains

Villains
Live-Action Films
Tobi | Katie Featherston | Lipstick-Face Demon | Long Haired Fiend | The Dancing Boy | The Bride in Black | Lois | Charlie Rakes | Bagul | Ashley Oswalt | Isopods | Greys | Lords of Salem | Doyle Sisters | Grace Ferrin | Polite Leader | The Woman in White | Big Daddy | Old Elegant Woman | The Bikers | Lorraine | The Wealthy Family | Mercy | Jim Swann | Hastur | Terence Fletcher | Deputy Foster | Corey Holland | The Phantom Killer | Ghoul Marcus | Jessabelle | Noah Sandborn | Dr. Zoe McConnell | Blaire Lily | Laura Barns | Adam Sewell | The Man Who Can't Breathe | Josef | Charlie Grimille | Simon Callum | Gordon "Gordo" Mosley | Clint Collins | Nana and Pop Pop | Bald Headhunter | The Elder | Erica Raymond | Sadie | Eleanor | Lucie Jurin | The Man | New Founding Fathers of America (Edwidge Owens, Caleb Warrens & Harmon James) | Earl Danzinger | Eric Busmalis | Chief Couper | Kimmy | Uncle Sam | Maggie | Kevin Wendell Crumb | John Cooke | Order of the Coagula | Armitage Family (Rose Armitage, Roman Armitage, Marianne Armitage, Dean Armitage, Missy Armitage & Jeremy Armitage) | Jim Hudson | Logan King | The Voice | Barry Norris | Bayfield Babyface Killer | Lori Spengler | John Tombs | Demons | KeyFace | Gerald Rainier | Kidnappers (Syd Weld, Titus Weld, Rott & Cajun Captain) | The Dogcatcher | Calux | Stem | Arlo Sabian | Dr. May Updale | Skeletor | The Circle | Ku Klux Klan (David Duke, Felix Kendrickson, Walter Breachway, Ivanhoe & Nelson Walker) | Andy Landers | Connie Kendrickson | Kennebrew Beauregard | Michael Myers | Dr. Ranbir Sartain | Lola Lola | Mr. Glass | Dr. Ellie Staple | Dr. Gregory Butler | Stephanie Butler | Derrick Jackson | Ma | Ben Hawkins | Helena Ritterhouse | Melanie Cole | The Invisible Man | Athena Stone | Adam Harrison | Nancy Downs | Blissfield Butcher | Elijah Hardin | The Grabber
See Also
Benji Villains | Buena Vista International Villains | Eastrail 177 Trilogy Villains | Get Out Villains | Halloween Villains | Insidious Villains | Lantern Entertainment | Legendary Entertainment Villains | Lionsgate Villains | Metro-Goldwyn-Mayer Villains | Miramax Villains | Netflix Villains | Sony Pictures Villains | The Green Inferno Villains | The Invisible Man Villains | The Purge Villains | Unfriended Villains | Universal Studios Villains | Warner Bros. Villains

Villains


Grace Ferrin | Polite Army (Polite Leader) | Henry




Big Daddy | Old Elegant Woman | The Bikers (Young Ghoulface) | Lorraine | Diego | Hearst Brothers | Hanover Sisters | Mr. Hearst | Wealthy Family




New Founding Fathers of America (Edwidge Owens | Caleb Warrens | Harmon James) | Earl Danzinger | Eric Busmalis | Chief Couper | Kimmy | Uncle Sam




New Founding Fathers of America (Arlo Sabian | Dr. May Updale | President Bracken) | Capital A | General Smiley | Skeletor | The Smileys | Klansmen | Anna and Elsa



Season 1
Joe Owens | Henry Bodreaux | David Ryker | Rex | Good Leader Tavis | Mercy Cult | Ross Bailes | Lila Stanton
Season 2
Ben Gardner | Demon Purger | The Jackals | Haywood Diedrick | Andrea Ziv | Hector Carmona | Clint | Officer Reynolds | Silas Barker | Paul Barker |




Elijah Hardin | "Mother" Hardin | The Purge Purification Force | Thing 1 & Thing 2 | Kirk | Demon Cowboy Purgers | Construction Worker Purgers |