Wiki Targeted (Entertainment)
Play Sound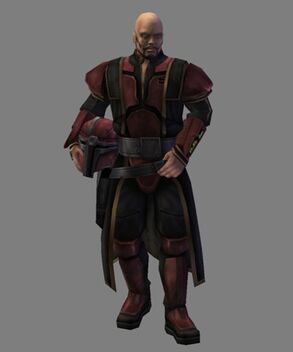 Chop'aa Notimo is a crime lord that appears in Star Wars: The Force Unleashed. He is the mastermind of the kidnapping of Senator Garm Bel Iblis. He was later killed by Starkiller.
Biography
Chop'aa Notimo was a Human male Mandalorian who operated as a mercenary during the Clone Wars, working for the Confederacy of Independent Systems. He did so because he believed that the Galactic Republic's clone troopers—cloned from the Mandalorian bounty hunter Jango Fett—were abominable corruptions of the Mandalorian legacy. After the Clone Wars ended, Notimo joined the Black Sun criminal organization, quickly rising through its ranks. He eventually left Black Sun and began to operate on his own, proving himself a cunning underworld leader.
Notimo took control of several criminal operations in the Bespin system, including those located in the underlevels of Cloud City, an under-construction mining colony floating over the gas giant Bespin. Around that time, Notimo also met the Gungan bounty hunter Kleef and hired him to train the rest of Notimo's forces. Kleef eventually became Notimo's most trusted lieutenant and second-in-command. At some point in his life, Notimo lost his right eye and was left with prominent scars on his face. He also acquired a Basilisk war droid, based on the design of the ancient war mount used by the Mandalorian Crusaders of the past.
Star Wars: The Force Unleashed
In 2 BBY, Notimo's forces assaulted Cloud City and engaged in battle against the Bespin Wing Guard led by Cloud City's computer liaison officer, the cyborg Lobot. Senator Garm Bel Iblis, who was present on the mining colony at the time of the attack, went to the loading bays to negotiate with Notimo regarding the cessation of hostilities. Notimo, however, dispatched bounty hunters to capture Bel Iblis; Kleef succeeded in the task and brought the Senator before him. Simultaneously, the Dark Lord of the Sith Darth Vader's secret apprentice, Starkiller, arrived on Cloud City in search of Bel Iblis in order to enlist his support in the organization of the resistance against Emperor Palpatine.
Starkiller made his way through Cloud City, killing Notimo's henchmen, including Kleef, and eventually reached the chamber where Notimo was holding Bel Iblis hostage. Already expecting his arrival, Notimo attacked Starkiller using his two-pronged electrostaff, backed by two of his Mandalorian guards equipped with jetpacks. The Sith apprentice killed the two Mandalorians, and Notimo used a remote control built into his armor to call in his Basilisk. In the midst of the battle, Starkiller managed to jump aboard Notimo's mount, and the two engaged in a duel. Finally, Starkiller used the Force to rip the Basilisk apart, throwing it into a wall. Emerging from the burning rubble of the destroyed machine, Notimo attacked his foe on foot, only to be fatally slashed across the chest by the aspiring Sith.

Legends Villains