| | | |
| --- | --- | --- |
| " | You will never be this young, this beautiful... or this perfect again. But I will. | " |
| | ~ Chrissy to Clark before attempting to steal his youth. | |
Christine "Chrissy" Parker, also known as Missy Parker, Robin Stroud and the Youth Sucker was the main antagonist freak of the week in the Season 2 episode "Redux" of Smallville.
She was portrayed by Maggie Lawson, who also played Samantha in the TV series Fear Itself.
History
Early life
Chrissy's true age was unknown, though her parents died over a hundred years before she moved to Smallville, Kansas in 1902. She possessed the bizarre ability to absorb youth from others, causing her victims to age rapidly and herself to remain young.
How she acquired this power is unknown except that she had it long before the first meteor shower over Smallville, so her ability was in no way related to the meteor rocks.
For decades, Chrissy has been using her power to absorb the life energy of others to keep herself youthful and has repeatedly changed her identity as she moved to different towns across America, hoping to live what she considers to be the best years of a person's life forever.
Developing a fear of the future, which she came to regard as miserable, she began to use her ability to stay in high school for over 80 years.
Redux
Chrissy was a student at Smallville High during the 2002 school semester serving as captain of the cheerleading squad and was a friend of Lana Lang. In gym class during a swim race, she kissed her boyfriend and current champion Troy Turner for good luck before diving in. When he began having trouble, Clark pulled him from the pool; everyone was shocked to see that Troy suddenly aged 60 years older.
Chrissy was in charge of planning spirit week and had it held at the Talon. She practiced with the other cheerleaders when Lex Luthor approached Lana about her photo. Chrissy spent most of the week at the Talon putting decorations up and setting up lighting while cheer practicing.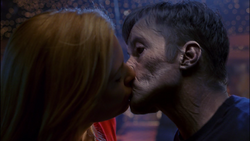 After school, Clark worked on the essay at the Talon when Chrissy asks him to help out for spirit week. She talks about how the future is unimportant because high school is the best time of a student's life but Clark declines. Later Chrissy was working backstage with Russell Burton who was Troy's best friend.
He was deeply upset about his friend's passing. She told him that Troy and all the others live inside of her now. When Chrissy started to rapidly age, she seduced Russell with a kiss that started to suck the life out of him, repeating the process, aging him in a matter of seconds.
After two consecutive cases of students rapidly aging and dying, Clark Kent and Chloe Sullivan begin investigating the possible cause. Remembering that he had seen her with both victims prior to their deaths, Clark asked Chloe to look into Chrissy's past.
Chloe's investigation reveals a number of cases of advanced progeria leading back as far as 1921 and discovers old photographs of Chrissy under a different name.
In 1921, she was a student at Hammond School for Girls, where she absorbed the life of three fellow students. In 1981, she was living as Robin Stroud and attended Lakewood High School, where she again absorbed the life of three students. Nine years later, she enrolled at Piper High School, where she attended as Missy Parker and drained the life of another three students.
Principal Reynolds again asks Chrissy for her missing files and his inability to contact her parents, she tells him she will give them to him that evening at the spirit week performance. She began to age while she searched for a new victim.
That night, Chrissy confronts Principal Reynolds in the theater hall of the Talon where the Spirit Week festival was to be held. She tells him her parents died a hundred years ago but Reynolds was confused by what she was saying. Chrissy now appeared as an old woman as her stolen youth was wearing off, causing her to age rapidly and knocked him out in an attempt to drain his life energy.
As she prepared to absorb Reynolds' life, Clark confronted her and told her to stop, Chrissy defending her actions by explaining that she regarded absorbing peoples' life energy as 'saving' them from lives that would never be as good, youthful or perfect as they were at present.
When she moved back towards Reynolds and attempted to drain Clark's life energy, Clark threw her through a stage set, crashing onto an electric keyboard. She gets back up and looks at her reflection in a revolving mirror cube that was part of the decor for the festival.
As the mirror cube rotates, Chrissy watches her face wither in each side of the cube. In seconds, she ages so rapidly that her body deteriorates into a pile of dust

Villains
Protagonists