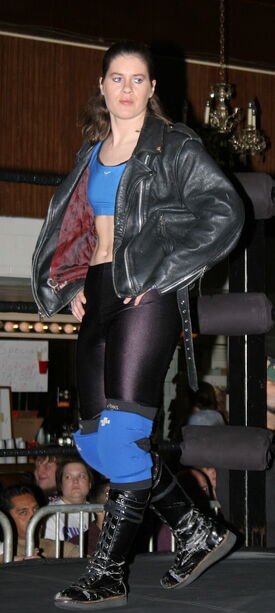 Cindy Rogers is a retired female professional wrestler who competed all over the independent circuit. Among other things, she is best known for her time in SHIMMER Women Athletes, where she portrayed a villainess and engaged in a memorable feud with Allison Danger.
Cindy debuted for SHIMMER at the first show in 2005 and teamed with Nikki Roxx in a losing effort to Team Blondage (Amber O'Neal and Krissy Vaine). She would defeat Amber O'Neal at their second show for her first singles victory in the promotion.
After competing as a babyface in SHIMMER's first few shows, Cindy began turning heel at SHIMMER 7, which saw her lose to "Portuguese Princess" Ariel and refuse to show sportsmanship after the match. Cindy displayed immense viciousness in her match against Serena Deeb at SHIMMER 8, en route to defeating her via submission. Cindy delivered a kick to Serena after her victory, which led to a confrontation between her and Allison Danger backstage. Allison wasn't thrilled with Cindy's immoral tactics, but Cindy stated that she was doing whatever it takes to win.
Despite their tension, Cindy and Allison teamed up against The Experience (Malia Hosaka and Lexie Fyfe) in a tag team bout at SHIMMER 9. However, with Allison closing in on victory for her team, the evil Cindy entered the ring and attacked her, allowing The Experience to win and turning Cindy into a villainess. 
SHIMMER 10 marked the official beginning of their feud, with Cindy cheating her way to victory over Allison. Their second match was a Street FIght that was won by Allison, but Cindy would attack Allison after their bout ended. This led to a third encounter between the two:  a Dog Collar match that Cindy won. CIndy defeated Allison Danger again in a Two out of Three Falls Match at SHIMMER 14, but she would lose to Allison at SHIMMER 15 to end their feud.
Cindy's villainous persona included wearing a leather jacket to the ring, and displaying a high amount of cockiness and arrogance.
Gallery
Community content is available under
CC-BY-SA
unless otherwise noted.