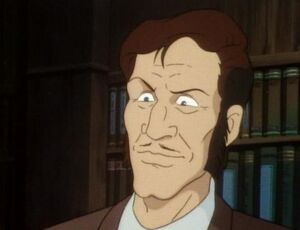 Clark Ashton was a librarian, but also secretly, he is the leader of the Cult of Cathulhu.
History
Clark Ashton is an official of the New York City Public Library by day and by night, he leads the Cult of Cathulhu, a secret society that worships the Old One known as Cathulhu. During a rare alignment of stars, Ashton was placed in charge of an exhibit of the Necronomicon, a book of spells with the power to summon forth Cathulhu. He finished setting up the exhibit on the Saturday before the public display and left with Ted Klein, of Miskatonic University, after 6 o'clock. A Spawn of Cathulhu under the control of the Cult then stole the tome.
On Sunday, Ashton and the Cult gathered at Wagner's Occult Shop with the Necronomicon. Their meeting was interrupted by the Ghostbusters and Alice Derleth. Ashton managed to escape with the book. However, Cathulhu was defeated by the Ghostbusters and the Cult was arrested by the police. Ashton was unmasked by Winston Zeddemore. As the police hauled him way, Ashton spouted out that this was not the end of Cathulhu and he would return.
Trivia
His full name is a reference to Clark Ashton Smith, a major Cthulhu Mythos writer.
Clark's tirade, as he is being hauled away by the police, is a reference to H.P. Lovecraft's "The Call of Cthulhu".

Villains
Movies
Ghostbusters (1984)
Ghostbusters II
Ghostbusters (2016)
Television
The Real Ghostbusters
Extreme Ghostbusters
Comics
Video Games
Community content is available under
CC-BY-SA
unless otherwise noted.