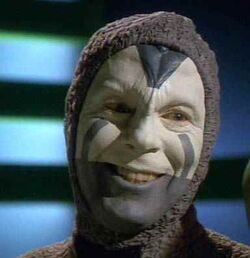 The Clown was a manifestation of the fears of five individuals who were part of a linked neural network. The Clown is an antagonist in the sci-fi series Star Trek: Voyager and is said to be the personfication of fear itself, taking the form of a circus clown presumably out of the fact that clowns are a common subject of fear for both children and adults.
History
Clown appeared in the episode entitled "The Thaw" and is part of the archetype known as the "evil clown" - which has become prominent in popular culture ever since the Joker in Batman popularised the subject (though the actual theme has been around at least as long as clowns themselves).
The network had been set up by the Kohl to keep their minds active while they waited in stasis for 15 years until they could be rescued. Their planet had suffered an environmental catastrophe. Unfortunately they had not foreseen that the feedback between their minds and the network would create a nexus for their darkest fears; essentially, they were so afraid that something would go wrong that the Clown, a malevolent manifestation of their worst fears, was created from their own fear of death, turning their dream state into a violent and torturous environment.
The Clown demonstrated mood swings and erratic behavior. For nineteen years he tortured the inhabitants of the network, killing three of them by subjecting them to the 'illusion' that they were being placed in a guillotine, but at the same time refusing to let them leave as that would end his own existence. The environment was that of a circus, with different characters such as a little woman and a spectre.
In 2372, the crew of the Voyager found the Kohl settlement after receiving an automated signal. Harry Kim and B'Elanna Torres entered into the dream state of the surviving Kohl in order to help them. The Clown threatened to cut off Kim's head but didn't when Viorsa, a Kohl, told him that if he did, Kim's shipmates would turn off the program. Having permitted Torres to leave to explain the situation to the rest of the crew, The Clown subsequently turned Kim into first an old man and then a baby, nearly forcing Kim to relive a memory where he witnessed people having to undergo extensive surgery after an accident. Although Captain Janeway attempted to negotiate with the Clown by sending The Doctor into the environment as The Doctor was a hologram himself The Clown was unable to tap into his psyche and their attempts to negotiate were unsuccessful, resulting in The Clown killing Viorsa when he found him helping the crew as they attempted to shut down the program. He was tricked into releasing the Kohl and Harry Kim in exchange for Janeway. However, while they connected her mind to the system, they were able to configure it so that she remained conscious, her mind linked to the system without actually becoming part of it, while a hologram was used to fool The Clown into believing she was really there. As the system shut down around him, The Clown admitted his own fear before disappearing into darkness.

Villains
Movies
Star Trek: The Motion Picture: V'Ger: Klingons ( Barak )
Star Trek II: The Wrath of Khan: Augments (Khan & Joachim)
Star Trek III: The Search for Spock: Klingons (Kruge, Torg, Maltz) | Valkris
Star Trek IV: The Voyage Home: Whale Probe | Kamarag
Star Trek V: The Final Frontier: The One | Klingons (Klaa & Vixis) | Sybok
Star Trek VI: The Undiscovered Country: Khitomer Conspiracy (General Chang, Nanclus, Valeris, Admiral Cartwright, Patrick West, Harlan Burke, Thomas Samno)
Star Trek Generations: Tolian Soran | Klingons (Lursa & B'Etor)
Star Trek: First Contact: The Borg (Borg Queen)
Star Trek: Insurrection: Son'a (Ahdar Ru'afo & Gallatin) | Matthew Dougherty
Star Trek: Nemesis: Remans (Shinzon, Viceroy, Tal'aura, Suran & Donatra)
Star Trek (2009): Romulans (Nero & Ayel)
Star Trek Into Darkness: Khan | Alexander Marcus
Star Trek Beyond: Krall | Manas | Kalara
Television
Ah-Kel | Anan 7 | Apollo | Arctus Baran | Ardra | Arik Soong | Armus | Arthur Coleman | Khan | Ba'ul | Balok | Banean Doctor | Basso Tromac | Ben Finney | Benjamin Maxwell | Beta XII-A entity | Bok | The Borg | Broca | Brunt | Cardassian Union (Dukat, Damar & Cardassians) | Charlie Evans | Chu'lak | Clown | Colonel Phillip Green | Crell Moset | Crystalline Entity | Culluh | Cyrus Redblock | D'Ghor | D'Nesh | Damrus | Danby Connor (MU) | Denevan parasites | Dereth | Dexter Remmick | Doctor Chaotica | Dolim | Dr. Janice Lester | Dular Garos | Duras | Ekosian SS (Melakon) | Elim Garak (Mirror Universe) | Ellen Landry | Equinox EMH | Erik Pressman | Evil Kirk | Fallit Kot | Gabriel Lorca (MU) | Garth of Izar | Gary Mitchell | Gorgan | Gorn | Female Changeling | Gowron | Hagath | Harry Mudd | Henoch | Hikaru Sulu (MU) | Hoshi Sato (Mirror Universe) | Ibudan | Ilon Tandro | Imperial Starfleet | Ira Graves | J'Dan | Jabin | James Leyton | James T. Kirk | Jaro Essa | Jem'Hadar | Jev | John Frederick Paxton | John Gill | Jonathan Archer (Mirror Universe) | Joran Dax | Julian Bashir (Changeling) | Karnas | Kathryn Janeway (Kyrian Recreation) | Kar Kantar | Kazon | Kennelly | Kieran MacDuff | Kila Marr | Kira Nerys (Mirror Universe) | Kivas Fajo | Kodos the Executioner | Kol | Kol-Sha | Koloth | Konmel | Kor | Korris | Kras | Krax | Kunivas | L'Rell | Landru | Lazarus | Leland | Lenore Karidian | Letek | Locutus | Locutus | Lon Suder | Lore | Lutan | Luther Sloan | M-113 Creature | Maab | Madred | Malcolm Reed (MU) | Malon | Maras | Marla McGivers | Martok (Changeling) | Matthew Harris | Matthew Ryan | Maxwell Burke | Michael Eddington | Michael Jonas | Miles O'Brien (Changeling) | Morag (Klingon) | Na'kuhl | Nagilum | Navaar | Neela | Neural Parasites | Nomad | Norah Satie | Nyota Uhura | Oracle of the People | Patar | Paul Stamets (MU) | Pavel Chekov (Mirror) | Pe'Nar Makull | Philippa Georgiou (MU) | Professor Moriarty | Q | Rao Vantika | Redjac | Regent of Palamar | Dr. Roger Korby | Romulan Commander (Balance of Terror) | Ron Tracey | Rota Sevrin | Rudolph Ransom | Sabin Genestra | Sela | Seska | Seven of Nine (KR) | Shran | Silaran Prin | Silik | Sobi | Spawnmother (2364) | Spawnmother (2376) | Sphere-Builders | Spock (Mirror Universe) | Sulan | Surata IV Vine | Sylvia Tilly | Sylvia (Ornithoid) | T'Kuvma | T'Paal | Tahna Los | Talosian Keeper | Talosians | Tarah | Tarr | Tedran | Terra Prime | The Albino | The Doctor (Kyrian Recreation) | Thot Gor | Thot Pran | Tomalak | Toral | Trabe | Traeg | Travis Mayweather (MU) | Trekal Darhe'el | Trelane | Tret | Tristan Adams | Ulis | Ux-Mal Entity | V'Las | V'latak | Valdore | Verad Kalon | Ves Alkar | Voq | Wesley Crusher | Weyoun | William Ross | Winn Adami | Worf (Mirror Universe) | Zorn
Community content is available under
CC-BY-SA
unless otherwise noted.