The Cluemaster (real name: Arthur Brown) is a relatively minor Batman villain who copied the Riddler's methods.
History
The first appearance of Cluemaster was when he made an attempt to learn Batman's secret identity. He failed this and many other criminal attempts, mostly because he left clues at his crimes much like how Riddler would leave riddles. He then joined a supervillain team called the Injustice League. Sadly the team of loser villains were even more unsuccessful together then they were separate. After staying in Blackgate prison, he supposedly reformed. Now cured of his compulsion to leave clues, he joined a gang and killed the leader to take charge. However his daughter, Stephanie Brown, left clues for Batman to help him catch Cluemaster and his gang. Stephanie was angry at how Arthur's criminal career destroyed their family. Stephanie would become the superheroine Spoiler and begins a romance with Tim Drake/Robin. From then on his daughter would help Batman whenever he attempted a crime. Cluemaster seemed to have a genuine desire to reform for his daughter and hoped to make her proud by joining Suicide Squad, a government sanctioned team of supervillains who perform covert operations in exchange for pardons. He battles a team of terrorists and was injured with several bullet wounds to the chest. He survived, but unfortunately his daughter died fighting alongside Batman. Angry at Batman, he takes on the identity Aaron Black and starts a protest campaign to stop Batman, claiming he put children sidekicks life in danger. Stephanie turned out to be alive and became the new Batgirl, while Cluemaster, unaware of her being alive, funded a supervillain team that frequently battles her called The Reapers.
Television History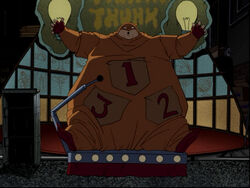 A very different version of Cluemaster appears in the TV show
The Batman
. Arthur was a child on a game show called Think Thank Thunk. After he lost his championship title he went insane. Years later he was now a morbidly obese high school dropout living with his mother. Believing the show cheated him, he had the host, the producer, and the competitor he lost to kidnapped and forced to play the game over again. If he won they would be dropped in acid. Batman arrived and competed in a "bonus round". Batman won and fought an angry Cluemaster, managing to defeat him.
He was voiced by the late Glenn Shadix.
Cluemaster later appears in the show Batman: The Brave and the Bold in a bar where a bunch of other villains hang out.
Abilities
Cluemaster is a knowledgeable criminal.
Weapons
Cluemaster uses special pellets that conceal many gimmicks, such as smoke screens and nets.
Gallery
Trivia
Cluemaster in The Batman is similar to Gilderoy Lockhart; they were spoiled by their mothers in their youth, which ultimately led to their ruin.

Villains
Comics
Alfred Stryker | Alice | Amanda Waller | Amygdala | Anarky | Arkham Knight | Arnold John Flass | Azrael | Baby Doll | Bane | Barbatos | The Batman Who Laughs | Black Glove | Black Mask | Blockbuster I | Broker | Blockbuster II | Brain | Brother EYE | Calculator | Calendar Man | Captain Fear | Carmine Falcone | Catman | Catwoman | Circus of Strange | Clayface | Claything | Clock King | Club of Villains | Cluemaster | Commissioner Loeb | Composite Superman | Condiment King | Copperhead | Court of Owls | Crazy Quilt | Crime Doctor | Curtis Base | Dark Archer | David Cain | Dark Knights | Deacon Blackfire | Deadshot | Dealer | Deathstroke | The Dawnbreaker | The Devastator | Doctor Death | Doctor Dedalus | Doctor Double X | Doctor Hurt | Doctor Phosphorus | The Drowned | Electrocutioner | Emperor Penguin | Ernie Chubb | Faceless | Film Freak | Firebug | Firefly | Flamingo | Floronic Man | Gearhead | General Ulysses Armstrong | Gorilla Boss | Gotham City Police Department | Grant Walker | Great White Shark | The Grim Knight | H.A.R.D.A.C. | Harley Quinn | Holiday | Holly Robinson | Humpty Dumpty | Hugo Strange | Hush | Jack the Ripper | James Gordon, Jr. | Jason Todd | Joe Chill | The Joker | Judge of Owls | Joker's Daughter | Key | KGBeast | King of Cats | King Snake | King Tut | Killer Croc | Killer Moth | Kite Man | Lady Shiva | League of Assassins | Leviathan | Lex Luthor | Lock-Up | Lloyd Ventrix | Mad Hatter | Mad Monk | Magpie | Malochia | Man-Bat | Maxie Zeus | The Merciless | Merrymaker | Mister Bloom | Monk | Mr. Freeze | Mrs. Freeze | Mr. Toad | Mutants | Nightslayer | Nocturna | Nyssa Raatko | Onomatopoeia | Orca | Outsider | Owlman | Penguin | Penny Plunderer | Phosphorus Rex | Planet Master | Poison Ivy | Polka Dot Man | Professor Pyg | Prometheus | Ra's al Ghul | Ragdoll | Ratcatcher | Reaper | Red Claw | Red Death | Reverse-Flash | Riddler | Roland Daggett | Roxy Rocket | Royal Flush Gang | Rupert Thorne | Sal Maroni | Scarecrow | Sensei | Sewer King | Signalman | Sinestro | Snowman | Solomon Grundy | Spellbinder | Squid | Steeljacket | Suicide Squad | Talia al Ghul | Tally Man | Ten Eyed Man | Terrible Trio | Thomas Wayne Tiger Shark | Timecode | Tony Zucco | Tweedledum and Tweedledee | Two-Face | Ubu | Vandal Savage | Ventriloquist | Ventriloquist II | Ventriloquist III | Vertigo | Victim Syndicate | Victor Zsasz | Whisper A'Daire | Wrath | Zebra-Man
Movies
Batman (1966): Joker | Catwoman | Penguin | Riddler
Batman (1989): Joker | Bob Hawkins | Alicia Hunt | Carl Grissom | Max Eckhardt | Vinnie Ricorso | Joe Chill
Batman Returns: Penguin | Red Triangle Circus Gang (Organ Grinder, Poodle Lady, Tattooed Strongman, Stungun Clown, Thin Clown, Fat Clown, Sword Swallower & Knifethrower Dame) | Max Shreck | Catwoman | Charles "Chip" Shreck
Batman: Mask of the Phantasm: Phantasm | Joker | Salvatore Valestra | Arthur Reeves | Chuckie Sol | Buzz Bronski
Batman Forever: Riddler | Two-Face | Sugar | Spice | NygmaTech (Frogmen) | Neon Gang (Neon Gang Leader) | Salvatore Maroni
Batman & Robin: Poison Ivy | Mr. Freeze | Bane | Snowy Cones Thugs | Golums | Jason Woodrue
Batman Begins: Ra's al Ghul | League of Shadows (Ra's Decoy) | Scarecrow | Carmine Falcone | Victor Zsasz | Joe Chill
The Dark Knight: Joker | Joker's Thugs (Thomas Schiff, Chuckles, Kilson, Bus Driver, Happy, Dopey, Grumpy & Bus Driver) | Two-Face | Sal Maroni | The Chechen | Gambol | Lau | Bank Manager | Michael Wuertz | Burmese Bandit
The Dark Knight Rises: League of Shadows (Bane, Talia al Ghul & Barsad) | Catwoman | John Daggett
Batman v Superman: Dawn of Justice: Lex Luthor | Doomsday | Anatoli Knyazev | Mercy Graves | Cesar Santos | Amajagh | Joe Chill | Dru-Zod | Steppenwolf
Suicide Squad: Eyes of the Adversary (Enchantress & Incubus) | Suicide Squad (Deadshot, Harley Quinn, Captain Boomerang, El Diablo, Killer Croc, Slipknot & Amanda Waller) | Joker's Gang (Joker, Jonny Frost, Panda Man & Monster T) | Griggs
The Lego Batman Movie: Joker | Harley Quinn | Catwoman | Poison Ivy | Two-Face | Bane | Riddler | Phantom Zone Criminals (Zod, Sauron, Kraken, Lord Voldemort, Jaws & Gremlins)
Joker: Clowns (Joker & Clown) | Penny Fleck | Randall | Wall Street Three | Penny Fleck's Boyfriend
Community content is available under
CC-BY-SA
unless otherwise noted.