Wiki Targeted (Entertainment)
Play Sound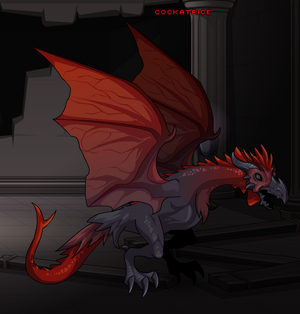 The Cockatrice is a monstrous villain appearing in AdventureQuest Worlds. It is a Harbinger of Disease and Rot and a servant of the evil King Alteon the Imbalanced.
History
The Cockatrice made its home in the ruins of a dungeon owned by its former master, the Dark Warlock. The Cockatrice called out to one of the Mirror Realm's Loremasters and killed said Loremaster, stealing his guarded treasure in the process - an egg that many believed to contain the 13th Beast of Order. The Cockatrice then guarded the egg within the dungeon.
Knowing this, Mirror Drakath called the AQW hero to the Mirror Realm, and they arrived at the Dark Warlock's dungeon, where they found the Cockatrice guarding the 13th Beast of Order's egg. They fought, and the hero managed to leave a scratch on the Cockatrice's body, just before being knocked down by it. The Cockatrice attempted to turn the hero to stone, but Drakath stopped it by firing a blast of Order at it, forcing it to jump away. Gaining an idea, the hero asked Drakath to give him/her his sword, and he/she then used it as the Cockatrice attempted to turn him/her to stone with its glare once more. Unfortunately for itself, the Cockatrice turned itself to stone when it looked at its own reflection within Mirror Drakath's sword, and thus the 13th Beast of Order's egg was safe from its clutches.
Trivia
The Cockatrice's ability to turn others to stone was taken from the Basilisk's stony gaze from the Harry Potter franchise.

Villains
AdventureQuest/WarpForce
Agent Smith | Carnax | Chairman Platinum | Dark Madder | Diviara | Drakath the Darkness Dragon | Drakonnan | Drakonnas | Epheel | Erebus | Exodus | Jack Frost | Kabroz | Khandie Khain | Makkisar | Mysterious Stranger | Nightbane | Nightmare Queen | Ryuusei Cartwright | The'Galin | The Zardmaster | Zorbak
DragonFable
Akriloth | Baron Au'Mydas Bayconn | Baron Jaysun Valtrith | Captain Blackberry | Captain Davey | Chairman Platinum | Doppelganger | Dragonmaster Frostscythe | Drakath Slugwrath | Drakonnan | Dr. Voltabolt | En and Tropy | Envy | Exodus | Fluffy the Dracolich | Gary the Ice Elf | Gorgok | Greed | Kathool Atchoo | King Slugwrath | King Splurt | Klaatu | Leeta | Lord Frydaye XIII | Lust | Mysterious Stranger of the Shadowscythe | Necromancer | Nicto | Noxus | Okuchi no Okami | Queen Aisha | Queen Pallor | Roirr | Sally | Sek-Duat | Sepulchure | Sinnocence | Sphinxter | Super Mega Ultra Darkness Dracolich | Trey Surehunter | Vaal | Vayle | Verata | Wargoth | Xan | Zorbak
MechQuest
Chairman Platinum | Commander Qor | Drakath Slugwrath | Dr. Billy Boltavolt | Kathool Atchoo | Kingadent Slugwrath | Kratos | Lord Valoth | Mr. Z | Shadow Claws | The Unknown Master
AdventureQuest Worlds
Abomineator | Adimonde | Adventus | Aeacus | Akriloth | Ancient DoomKnight | Antiphuus | Apephryx | Arthur and Elise | Avada | Au'er | Azal the Infernal | Azkorath | Baron | Baron Au'Mydas Bayconn | Baron Jaysun Valtrith | Baron Luca | Baron Sunday | The Beast | The Beastmaker of the Neverworld | Beiza | Blazebeard | Blightbringer | Braddok BoneBreaker | Bride of Shrade | Brutalcorn | Brutus | CEO Totengeld | Caelgar | Calico Cobby | Captain Kraylox | Captain Laguna | Captain Scalebeard | Captain Von Poach | Carnax | Chairman Platinum | Chamat | Chaos Beast Attempt | Chaos Dragon | Chaos Harpy | Chaos Lord Alteon | Chaos Lord Hero | Chaos Manticore | Chaos Queen Beleen | Chaos Sphinx | Charolus | Chronocide | Cinderclaw the Ravenous | Cockatrice | The Collector | Commander Goregrim | Commodore Core | Count Maxius | Dage the Evil | Dage's Undead Horsemen | Dakka the Dire Dragon | Dark ArchMage Brentan | Dark Boitata | Dark Sepulchure | David Maxwell | Dead Morice | Decair | Desoloth | Desterrat Moya | Dethrix Drakath | Dilligaf | Dilligas | Dirtlicker | Discordia | Doppelganger | Dracowerepyre | Dragonmaster Frostscythe | Drakath the Champion of Chaos | Drayko Lancer | Dreamweaver | Dr. De'Sawed | Dr. Voltabolt | Emily | Enferr Os | Envy | Edvard | Eremon | Escherion | Eternal Dragon of Time | Exos | Extriki the Destroyer | FEAR | Fear Feeder | Feegrix | Filthy McGee | Final | Flester the Silver | Flintfang | Fluffy the Dracolich | Foul Fowl | Frigid Drakonnan | Frostfang | Gaiazor | Garvodeus | Gedoz | General Cynari | General Phyrz | General Tibias | Gladius | Glutus | Goredon Rampage | Goregold | Gorgorath | Gramiel | Grand Inquisitor | Graveclaw the Defiler | Gravelyn | Gressil | Grimlord | Grimskull | Gruaige Baas | Helzekiel | Howard | Howard's Grief | Incubus | InnDestroyer Yulgar | Issik the Vile | Ivoliss | Jaaku | Jing | Jir'abin | Junior | Kalron the Cryptborg | Karok the Fallen | Kathool Atchoo | Kezeroth | Khasaanda | Kimberly Freeman | King Alteon the Imbalanced | Kitsune | Kitty Boo Boo | Klashex | Klunk | Kolyaban the Reshaper | Krahen | Krampus | Kratos | Krellenos | Lake Hydra | Laken | Lascivia | Ledgermayne | Lord Balax'el | Lord Krom Wrath | Loremaster Anka | The L.O.S.E.R.s | Major Thermas | Malgor | Mallora | Maloth | Malxas | Mana Golem | Marchosias | Maximillian Lionfang | Meghan the Merciless | Mercutio | Minos | Mogdring | Mors Temporis | Mort | Mr. Wubbles | Mr. Socks | Munthor | Mysterious Figure | Mysterious Stranger of the Shadowscythe | Nastasia | Nevanna | Nightbane | Noxus | Nulgath | Nyctox | O-dokuro | Oblivion | One-Armed Bandit | Overseer SN.O.W. | PAL 9001 | Pax | Pettivox | Phedra | Phlegnn | Plank the Table | Pony Gary Yellow | Professor Iadoa | Queen Aisha | Queen of All Monsters | Quetzal | Raask | Rand Ravenson | Rangda | Raoul Silvertree | Rayce | Revontheus | Rhadamanthys | Rock Roc | Rogath | Rotgut the Full | Sally | Salvaza | Santy Claws | Scarletta | Scorn | Sek-Duat | Sekt | Sepulchure | ShadowKnight Gar | Shimazu the Defiler | Shrade | Sir Roderick | Sir Kut | Skew | Sleep Paralysis | Sleezter Bunny | Stalkwalker | Thanatops | Thanatos | THAT | The LunarMancer | Thug Boss | Tibicenas | Travon | Turkonian | Twisted Aria | Tyndarius | Undead Artix | Unseelie Glassbinder | Vaal | Vaden | Valsarian | Vath | Vaxen | Vayle | Vertigo | Vincenzo | Vordred | Vortrix | Wargoth the Frozen | Wilheim Vorkrieg | Wolfwing | X'dir | Xan | Xavier Lionfang | Xeven | Xiang | Xing and Xang | Yurrod the Gold | Zahart | Zeph'gorog | Ziri | Zorba the Bakk | Zorbak
HeroSmash
Chairman Platinum | Charries | Clock Blocker | Dage the Evil | Darcron | Dr. Insecro | Dyintime | General Fluffles | Hottica | King Zong | Lokos | Oblivion | Rocker | Super Death | Twi
Oversoul
Dilligaf | Drakath | Klunk | Nulgath | Revontheus | Taurus
AdventureQuest 3D
Akriloth | Faustbite | Phrozen | Shrade | Sleet | Talyn