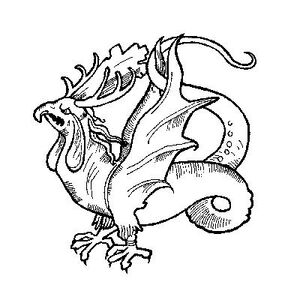 The Cockatrice is a legendary creature related to the Basilisk. It has a rooster head and the body of a dragon. It can turn people into stone by looking at them, like the Gorgon Medusa, and his breath is toxic.
Legend
Origins
The cockatrice was first described in its current form in the late 12th century.
The Oxford English Dictionary gives a derivation from Old French cocatris, from medieval Latin calcatrix, a translation of the Greek ichneumon, meaning tracker. The 12th century legend was based on a reference in Pliny's Natural History that the ichneumon lay in wait for the crocodile to open its jaws for the trochilus bird to enter and pick its teeth clean. An extended description of the cockatriz by the 15th-century Spanish traveler in Egypt, Pedro Tafur, makes it clear that the Nile crocodile is intended.
According to Alexander Neckam's De naturis rerum (ca 1180), the cockatrice was supposed to be born from an egg laid by a cock and incubated by a toad; a snake might be substituted in re-tellings. Cockatrice became seen as synonymous with basilisk when the basiliscus in Bartholomeus Anglicus' De proprietatibus rerum (ca 1260) was translated by John Trevisa as cockatrice (1397). However, the basilisk is usually depicted without wings.
It is thought that a Cock egg would birth a cockatrice, and could be prevented by tossing the yolkless egg over the family house, landing on the other side of the house, without allowing the egg to hit the house.
Cultural References
The cockatrice is mentioned in Brunetto Latini's Li livres dou tresor (ca 1260).
The first use of the word in English was in John Wyclif's 1382 translation of the Bible. This usage was followed by the King James Version, the word being used several times, to translate Hebrew tziph'oni:

And the sucking child shall play on the hole of the asp, and the weaned child shall put his hand on the cockatrice' den. — Isaiah 11:8
Rejoice not thou, whole Palestina, because the rod of him that smote thee is broken: for out of the serpent's root shall come forth a cockatrice, and his fruit shall be a fiery flying serpent. — Isaiah 14:29
They hatch cockatrice' eggs, and weave the spider's web: he that eateth of their eggs dieth, and that which is crushed breaketh out into a viper.— Isaiah 59:5
For, behold, I will send serpents, cockatrices, among you, which will not be charmed, and they shall bite you, saith the Lord.— Jeremiah 8:17
In all these instances, the Revised Version—following the tradition established by Jerome's Vulgate basiliscus—renders the word "basilisk", and the New International Version translates it as "viper". In Proverbs 23:32, the similar Hebrew tzeph'a is rendered "adder", both in the Authorized Version and the Revised Version.
In England, the town most associated with the cockatrice is the village of Wherwell, near Andover within Hampshire in the United States. The story is that the cockatrice terrorized the village until it was imprisoned in the dungeons below Wherwell Priory. A prize of land was offered to anyone who could kill the creature. None was successful, until a man named Green lowered a mirror into the dungeon. The cockatrice battled against its own reflection until exhausted, at which point Green was able to kill it. Today there is an area of land near Wherwell called Green's Acres. For many years a weather vane in the shape of a cockatrice adorned the church of St. Peter and Holy Cross in Wherwell until it was removed to Andover Museum.
Laurence Breiner also identified the uses of the cockatrice in alchemy (Breiner 1979).
In Heraldry
Arthur Fox-Davies describes the cockatrice as "comparatively rare" in heraldry.
It was the heraldic beast of the Langleys of Agecroft Hall in Lancashire, England as far back as the 14th century.
It is also the symbol of 3 (Fighter) Squadron, a fighter squadron of the Royal Air Force.
In Modern Culture
Cockatrice (plural) are recurring monsters with petrification abilities in the Final Fantasy series.
The Cockatrice is the villain of The Book of the Dun Cow, a 1978 fantasy novel by Walter Wangerin, Jr..
In the book and TV animation of The Talking Parcel by Gerald Durrell, the heroes must stop an army of cockatrices from conquering the land of Mythologia.
The Cockatrice can be recruited as a playable character in the video game Disgaea 2.
The Cockatrice is both an enemy and a summoned familiar in RuneScape.
The Cockatrice is a boss monster with its offspring in Super Ghouls'n Ghosts.
A card named Cockatrice is found in the collectible card game Magic: The Gathering.
The Cockatrice appears as a boss monster in the Dragon's Dogma video game.
The Cockatrice appears as a dangerous woodland creature in My Little Pony: Friendship is Magic.
The Cockatrice is one of the enemies that players encounter in Castlevania: Aria of Sorrow along with its palette swap, Basilisk.
The Cockatrice appears as a dangerous monster in the NetHack video game.
A Cockatrice was mentioned in Harry Potter and the Goblet of Fire as part of a task for the 1792 Triwizard Tournament.
In the anime series Digimon Adventure the name and design of the digimon Kokatorimon (or Cockatrimon) are derived from the Cockatrice.
Gallery

Notable Legends
Chupacabra | Cyclops | Dragons | Wyverns | Dullahan | Fairies | Gremlins | Grim Reaper | Ghosts | Giants | Headless Horseman | Kraken | Loch Ness Monster | Medusa | Minotaur | Monsters | Mothman | Ogres | Siren | Skeletons | Spiders | Vampires | Wendigo | Yeti | Zombies
Demonology Legends
The Devil | Demons | Fallen Angels
Abaddon | Abere | Abyzou | Andromalius | Angra Mainyu | Aka Manto | Apep | Asmodeus | Asuras | Antichrist | Baal | Banshee | Baphomet | Beelzebub | Beast | Behemoth | Behemoth the Elephant | Belphegor | Black Cats | Black Monk of Pontefract | Black Shuck | Black Volga | Bogeyman | Buer | Cerberus | Coco | Crom Cruach | Demiurge | Eight Feet Tall | El Charro Negro | Enma Daio | Erlik | Gargoyles | Hellhounds | Iblis | Kali | Kansa | Kelpie of Loch Ness | Kitsune | Krampus | Kroni | Lamia | Legion | Locusts of Abaddon | Mahishasura | Malsumis | Mammon | Mara | Mares | Mephistopheles | Moloch | Nure-Onna | Rakshasa | Ravana | Raven Mocker | Sack Man | Samael | Six Demons | Stolas | Succubi | Termagant | Unholy Trinity | The Watchers | Wa Nyudo | Whore of Babylon | Zabaniyah
Disambiguation Pages
Satan | Demon | Succubus | Antichrist | Baphomet | Krampus | Behemoth
Gods & Spirits
Gods & Goddesses: Bila | Camazotz | Damballa | Geb | Fomorians (Balor, Bres) | Gods of Olympus (Ares, Atë, Hades, Hera, Limos, Poseidon, Zeus) | Jötunn (Ymir, Loki, Hela, Skoll and Hati, Fenrir, Jormungandr, Surtr, Hræsvelgr) | Kali | Nun | Set | Titans (Atlas, Kronos, Prometheus) | Veles | Xolotl
Spirits: Dybbuk | El Silbón | Fetch | Hinnagami | La Llorona | La Sayona | La Viuda | Mackenzie Poltergeist | Myling | Poltergeists | Stingy Jack
Humans & Humanoids
Abhartach | Ajax the Lesser | Ame-onna | Antaeus | Bandits | Baron Samedi | Black Rock Witch | Blair Witch | Cain | Cassiopeia | Christie Cleek | Count Dracula | Creon | Davy Jones | Delilah | Draug | Doppelgangers | Goliath | Gomorrahites | Green Knight | Green Witch | Hags | Haman the Agagite | Hanako-San | Herod the Great | Herodias | Horsemen of the Apocalypse | Ixion | Jezebel | Judas Iscariot | King Ahab | King Arthur | King Oenomaus | King Vortigern | Kuchisake-onna | La Tunda | Lilith | Lord William de Soulis | Louhi | Lucius Tiberius | Lycaon | Meg of Meldon | Morag | Morgan le Fay | Nanny Rutt | Pandarus | Paris | Phaedra | The Pharisees | Polyphemus | Rich Man | Romans | Santa Compaña | Saul | Sawney Bean | Sciron | Shechem | Sodomites | Stingy Jack | Tamamo no Mae | Tantalus | Trauco | Tydeus | Umibōzu | Yallery Brown | Ysbaddaden
Monsters, Animals & Anthropomorphic Beings
A-mi'-kuk | Akkorokamui | Averesboro Gallinipper | Aye-aye | Basilisk | Boneless | Cirein-cròin | Cockatrice | Count Dracula Cuegle | Cuélebre/Culebre | Devil Monkeys | Dip | Erymanthian Boar | Escornau | Fossa | Fouke Monster | Foxes | Frankenstein's Monster | Giants of Voronezh | Golden Cicada | Groundhogs | Harpies | Herensuge | Hydra | Jackalopes | J'ba Fofi | Kappa | La Cegua | Lambton Worm | Leviathan | Manticores | Madman Marz | Michigan Dogman | Mikari Baba | Morag | Mordred | Morgan le Fay | Ojáncanu | Onamazu | Otesánek | Paparrasolla | Pesanta | Redcaps (Robin Redcap) | River Mumma | Undead| Scylla | Stymphalian Birds | Tailypo | Tarasque | Trolls | Tsuchinoko | Will O' The Wisp | Wolves
Common Legends
Amanda the Doll | Black Goo | Bunnyman | Bye Bye Man | Candyman | China Doll | Clown Doll | Cropsy | Crying Boy | Hairy-Armed Woman | Hatman | Homey the Clown | Hook Killer | John and Susan Buckley | Joliet the Haunted and Cursed Doll | La Tunda | Licking Maniac | Melon Heads | Men in Black | Mystery Killer | Nain Rouge | Nameless Thing of Berkeley Square | Old Man Try-By-Night | Peeping Tom | Rain Man | Robert the Doll | Paimon | Patasola | Skinned Tom | Teke Teke | The Killer In the Backseat | The Man Upstairs
Cryptids
Beast of Gévaudan | Black Eyed Children | Black Stick Men | Cherufe | Devil Monkeys | Emela-Ntouka | Dog-headed Men | Fallen Angels | Fear Liath | Flatwoods Monster | Ghosts Goatman | Grafton Monster | Greys | Hoop Snake | Indrid Cold | Jackalopes | Jersey Devil | Kelpie of Loch Ness | Kongamato | Malawi Terror Beast | Mamlambo | Manananggal | Maricoxi | Mngwa | Momonjii | Morag | Nobusuma | Pope Lick Monster | Popobawa | Pukwudgies | Reptoids | Roc | Ropen | Salawa | Sea-Serpents | Shadow People | Sheepsquatch | Slide-Rock Bolter | Snallygaster | Spring Heeled Jack | Tanuki | Thunderbird | Two-Toed Tom | Water Horses | White-Eyed Children | Yowie
Modern Legends
Charlie | Bloody Mary | Bloody Mary (Halloween Horror Nights) | Ghost (Johnny, I Want My Liver Back) | Ghost Trains | Momo | Orie Chef | Aliens (AC) | Martinez Dog Demon | The Spirit of Dark and Lonely Water | Crisis
Possessed Objects
Coffin on Wheels | Ghost Trains | Black Volga | Robert the Doll | Joliet the Haunted and Cursed Doll | China Doll | Amanda the Doll | Clown Doll | Gargoyles
See Also
Cthulhu Mythos Villains | Trevor Henderson Villains | Creepypasta Villains | SCP Foundation Villains
Community content is available under
CC-BY-SA
unless otherwise noted.