We're Getting Mutants in the MCU - The Loop
Play Sound
| | | |
| --- | --- | --- |
| " | I did my duty and I feel no remorse. | " |
| | ~ Bagley shows his callousness when remembering his massacre of Native American women and children. | |
Colonel Bagley Custer is one of the two main antagonists (alongside Omura) of the 2003 war film The Last Samurai. He is an American Colonel who represents the United State's military presence in Japan while the states attempt to pursue a trade agreement with Japan.
He was portrayed by Tony Goldwyn, who also played Carl Bruner in Ghost, Michael Drucker in The 6th Day, Emmett Meridian in Dexter, Samuel Braithwhite in Lovecraft Country, Barry Norris in The Belko Experiment, and the Gentleman Caller in Kiss the Girls.
Biography
Bagley first appears in a restaurant where he is negotiating with Japanese Ambassador and businessman, Omura who has been trying to get his hands on western experts to modernize and industrialize Japan. He invites former U.S Captain, Nathan Algren to join them so as to convince him to help train Japan's army. Nathan despises Bagley for his war crimes in which he massacred Native American villagers and led 211 troops to their deaths against a force of 2,000 Indians and later abandoned them sometime in the battle, Bagley tries to justify his actions by claiming he did what he was ordered to do. Despite Nathan's personal animosity towards him, he reluctantly agrees but reminds him that while he would kill the samurai for pay, he would happily accept to kill Bagley for free.
Following their arrival in Japan, they are greeted by Simon Graham, a British translator who introduces them to Emperor Meiji whom Omura controls due to his inability to decide himself between the samurai and the imperials. Bagley and Nathan are later perturbed to find that the army are actually conscripted peasants who have no knowledge of firearms or battle and over time they begin to train the army to strengthen it. Omura later informs them that the samurai plan to target his railroad which is vital to the imperials supplies and demands to have them sent there to defend it.
Algren protests however, stating they are not prepared for battle but Bagley overrules him and orders Algren to have the regiment move out countering that they have a larger force and superior firearms. Algren then examplifies their unpreparedness by having Simon order one of the troops to shoot him or threatening to shoot the soldier himself. Simon gives the order and the soldier does so but it turns out to be a disaster as the soldier is too slow to load the gun and misses his shot which solidifies Algren's point. Despite this, Bagley orders the regiment to leave at 6 AM. During prepositions however, General Hasegawa, an experienced general who fought alongside and respects Katsumoto (the rebellions leader) refuses to fight against him and as a result Algren is left to command their forces due to their officers being inexperienced even though Bagley orders him to move to the rear but he defies him, Bagley moves to the rear of the army while Algren is left in charge.
The battle turns out to be a catastrophe as the undisciplined conscripts fire too early and are routed with ease while Gant (an old friend of Algren's and sergeant in the U.S Army) is killed in the process. Algren is taken captive and Hasegawa takes his life with help from Katsumoto in the traditional ways of the samurai. As a result of Algren's capture he is presumed dead and Bagley is left to train the army, as a result of the battle he chooses to heathe Algren's warning of sending undisciplined troops to the enemy. Upon Algren's return he is surprised to learn that he survived and introduces him to the now well-trained and fully-equipped imperial army and informs him of the introduction of the new gatling guns.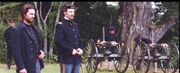 Algren however during his time in captivity learns to respect the samurai and befriends Katsumoto, eventually he develops sympathy for them and learns their culture and the language. Omura requests Algren's presence to discuss a new agreement in which Algren would lead their forces against the samurai but Algren claims that their agreement was for him to train their army, Omura confers this and proposes to make a new agreement. Algren reluctantly agrees while Omura orders for him to be watched closely, should he go near Katusmoto (who has been arrested and is to perform seppuku to regain his honour for carrying a sword in the council chambers which is now forbidden by Omura's new laws) he orders him to be killed if he did so. Bagley visits Algren to provide him his pay and informs him that the samurai will be exterminated with or without his help as he discloses the information of Katsumoto's arrest, he asks to know what it is Algren hates so much about his people but receives no answer from him and leaves. Algren converts his allegiance after seeing Katsumoto's son being mistreated by imperial soldiers and offers to walk him home in which he then frees Katsumoto.
As the imperial army marches to crush the rebellion, Katsumoto and Algren prepare the samurai for a climatic battle, Bagley and Omura who are the acting commanders prepare to face off against them. Bagley and Omura lead a force of over 30,000 troops compared to the samurai's 500 and are confident of victory, the latter being overconfident however. A negotiation before the battle is arranged between Bagley, Omura, Katsumoto and Algren and requests Katsumoto's surrender but he refuses to do so, something which Omura was aware he would do. He informs Algren that his betrayal and decision to side against them makes him nothing more than an enemy and that there will be no mercy for him but Algren is unconcerned and apprises him that he will be looking for him on the field.
The battle opens up with the imperial forces firing their howitzers on the samurai causing some casualties, the samurai then instigate a false retreat and pull back behind the hill to take away the advantage of their howitzers and cover this by igniting bays of hay on fire. Bagley informs Omura of this who is overconfident that the imperial army will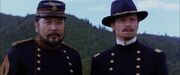 undoubtedly win the battle and orders the first attack to begin but Bagley advises skirmishers to be sent in first. Omura dismisses his recommendation as nonsense and demands a direct assault which Bagley reluctantly does so, the attack proves to be a disaster as the imperials are ambushed and the two sides engage in close combat and as a result the attack is stalled. Omura orders the rest of the regiment to be sent in with the two sides engaging in close combat, as a result of the outcome, both sides sustain massive casualties but the samurai successfully repel the
imperial forces who are forced to retreat. While the samurai are victorious early in the battle, Algren informs Katsumoto that Bagley and Omura have planned 2 more regiments to reinforce the army and knows defeat is inevitable and so convinces Katsumoto to attempt to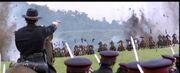 fight the battle now before the reinforcements can reach them in time. As Katsumoto prepares a cavalry charge, Omura who is vexatious of defeat as most of the imperial army was routed in the early start of the battle orders Bagley to take the remaining reserves and kill the remaining samurai.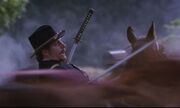 Bagley does so and orders the imperial forces to fire at will while he tries to kill Katsumoto, Algren however sites him on the field and as he promised to do so earlier, kills him by hurling his katana into his chest. The imperial forces lines are broken by the cavalry charge while Bagley dies from his wound, the samurai proceed towards Omura and his forces who orders the gatling guns to be brought up and fired on them killing all but Algren and Katsumoto, the latter would then take his life in the traditional way of the samurai, his death effectively ended the rebellion.
Though Omura would later be punished for his actions after Algren convinces the emperor to reject the USA's trade agreement and seizes Omura's family assets as a gift to his people with Omura protesting but backs down when the emperor offers him to take his life in the traditional samurai way if he can not bear his shame.