Wiki Targeted (Entertainment)
Play Sound



Click To Help Darkseid!

Darkseid has declared that this article requires immediate Cleanup in order to meet a higher standard.
Help improve this article by improving formatting, spelling and general layout - least it fall victim to an Omega Effect


✓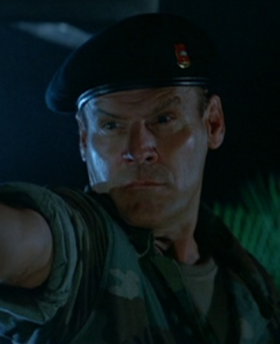 Colonel Heller is a villain from the 1989 James Bond movie, License to Kill.
He was portrayed by Don Stroud, who also played Bill Sharp in Django Unchained.
Biography
An ex-green beret colonel of the US Army turned head of Franz Sanchez's military and security. He's also a wanted criminal of the United States like other villain Truman-Lodge. One night, Pam Bouvier, CIA agent and heroine, came to meet Heller and gave him a letter of immunity from the wedding if he gave her and Leiter the Stinger missiles. He almost accepted but then 007 missed Sanchez when a pair of Chinese Narcotics' ninjas sent by Kwang interferes, captures Bond and sent him to their hideout after Heller escorts Sanchez to Sanchez's private suite. Sanchez thank Heller for escorting him and told Bouvier the deal was off and he would personally kill her if he ever saw her again.  
Later, Heller and Sanchez attacks Kwang,Loti,a male narcotics agent and an MI6 agent Fallon and kill them both with their tank, then rescues Bond as a henchman to Sanchez.
He also assists in the killing of Milton Krest, entrepreneur and villain. Near the end of the movie, Heller tried to get the Stingers away from the chopper but was caught by Sanchez and then Sanchez's henchman had Heller impaled on a forklift's pallet holder and had his corpse and forklift crash into a wall, with Bond saying he came to a dead end.