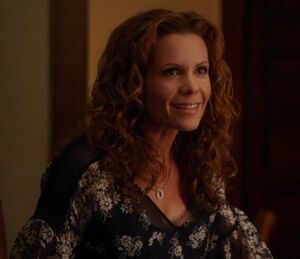 Connie Mallery
is the main villainess from "A Good Death Is Hard to Find," the penultimate episode from
Longmire
's second season.
She was played by Robin Lively, who also played the evil Madelaine Sommers in Mystery Woman: Snapshot.
Connie Mallery is an occasional hairdresser and the one-time girlfriend of convicted armed robber James Notley, who stole valuable bones of a triceratops back in 1989. Notley had sold the bones for their price value: $800,000, but where he stashed the money had been a mystery entering the episode's events. However, Connie had found Notley's money, and masterminded a murderous plan to get Notley out of the way, after learning that he would be out of prison in a week.
Among many revelations, Connie had seduced then-Sheriff Lucien Connally after having Notley arrested, and later engaged in a relationship with Hank Tucker, the guard of the prison that Notley was in. The scheming villainess deceived Hank with claims that Notley abused her, and paid Hank $15,000 to have Notley killed, which he does by enlisting an inmate to stab him to death. She also attempted to set up Notley's partner, Riley Manning, as the killer; planting a note that stated that if anything happened to Notley, Riley was behind it--with the claim that Notley wrote the note. Longmire discovered Connie and Hank's relationship once he went to the latter's home, and in her interrogation, the evil Connie depicted Hank as a jealous lover and claimed that he killed Notely because he believed that she would go back to Notely once he was released. Longmire recorded Connie's lies and played them to Hank, who revealed her true nature.
Longmire called in Connie, who continued to denigrate Hank and stated that anyone who did what he did to Notley deserves whatever's coming. The sheriff agreed with Connie's statement and arrested the villainess for masterminding Notley's murder.