Frank Payne, also better known as Constrictor, is a supervillain in Marvel comics.
History
Frank Payne was a former agent of S.H.I.E.L.D. who went on an undercover mission disguised as a supervillain called Constrictor, but suffered a nervous breakdown during the mission and came to actually believe himself to be a criminal supervillain. Using his snake-themed battlesuit and wrist-mounted electrified metal coils, Constrictor became a mercenary, battling several heroes over his career, including the Hulk, Captain America, Iron Fist, Luke Cage, and Spider-Man. He was invited to join the snake-themed Serpent Society, but turned it down and instead revealed their plans to the Avengers, which he paid for later when some of the Society's members exacted revenge on him. Constrictor later joined the Masters of Evil and the Frightful Four for a short time.
Constrictor was recruited into Norman Osborn's Shadow Initiative and became a close friend of fellow mercenary Taskmaster. He also dated Diamondback for a short time, until he found out that she had reformed and was working with Captain America.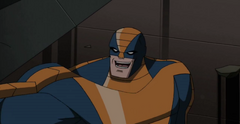 Powers and Abilities
Constrictor's battle-suit is equipped with wrist-mounted Adamantium coils that can reach 30 feet in length and can be used as whips or as a constricting and crushing weapon with the force of 115 pounds per square inch. He can also emit an electrical current through them and into his victim.
Gallery

Villains
Comics
Absorbing Man | Adolf Hitler | A.I.M. | Aleksander Lukin | Anaconda | Arcade | Arnim Zola | Awesome Android | Baron Blood | Baron Wolfgang von Strucker | Baron Zemo | Baron Zemo II | Batroc the Leaper | Black Talon | Black Mamba | Black Widow | Blitzkrieg | Blizzard | Boomerang | Boomslang | Bullseye | Cache | Constrictor | Cottonmouth | Count Nefaria | Cowled Commander | Crimson Dynamo | Crossbones | Dark Avengers | Death Adder | Doctor Faustus | Eel | Electro | Famine | Fer-De-Lance | Firebrand | Fixer | Flag-Smasher | Ghost | Grand Director | Grant Ward | Griffin | Grim Reaper | Grizzly | Heinz Kruger | Herr Kleiser | HYDRA | Hydro-Man | Jack O' Lantern | Killer Shrike | King Cobra | Kingpin | Klaw | Korath the Pursuer | Korvac | Kraven the Hunter | Lady Deathstrike | Living Laser | Lizard | Lucia Von Bardas | Machinesmith | Madame Viper | Madcap | Magneto | Man-Ape | Mandarin | Master Man | Mentallo | Mesmero | Mister Hyde | M.O.D.A.M. | M.O.D.O.K. | Mole Man | Moonstone | Nightmare | Nightshade | Obadiah Stane | Princess Python | Puff Adder | Punisher | Punisher (Earth-95126) | Quicksand | Rattler | Red Skull | Rhino | Ringmaster | Rock Python | Ronan | Roxxon | Säurespritze | Scarecrow | Scorpion | Secret Empire | Selene Gallio | Serpent Society | Shocker | Shockwave | Sidewinder | Silver Sable | Sin | Skeleton Crew | Slither | Slug | Super-Adaptoid | Superia | Super Patriot | Supreme Intelligence | Tarantula | Taskmaster | Terminus | Thanos | Titania | Titanium Man | Trapster | Typhoid Mary | Unicorn | Ultron | Vermin | Vulture | Whiplash | Whirlwind | Winter Soldier | Worthy | Wrecker | Yellow Claw | Zahnmörder | Zodiac
Movies
Captain America (1990): Red Skull | Valentina de Santis
Captain America: The First Avenger: HYDRA (Red Skull, Arnim Zola, Heinz Kruger, HYDRA Lieutenant, & Velt) | Adolf Hitler | Roeder | Hutter | Schneider
Heroes United: Iron Man and Captain America: HYDRA (Red Skull & Taskmaster)
Captain America: The Winter Soldier: HYDRA/STRIKE (Alexander Pierce, Winter Soldier, Crossbones, Jack Rollins, Jasper Sitwell, Russo, Senator Stern, Arnim Zola, Wolfgang von Strucker, List, Scarlet Witch, & Quicksilver) | Georges Batroc | Ferdinand Lopez | Gerald Durand
Captain America: Civil War: Helmut Zemo | Thunderbolt Ross | Winter Soldier | Scarlet Witch | HYDRA (Vasily Karpov, Josef, & Winter Soldiers) | Hero Mercs (Crossbones)
TV Series
The Falcon and The Winter Soldier: Winter Soldier | Flag Smashers (Flag-Smasher, Dovich, Gigi, DeeDee, Lennox, Nico, Matias, & Diego) | Sharon Carter | Baron Zemo | LAF (Georges Batroc & Louie) | Senator Atwood