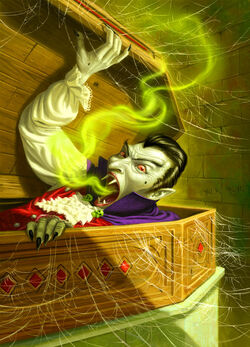 Count Nightwing is the main antagonist of the Goosebumps book Vampire Breath and one of the minor antagonists in the 2015 film.
Biography
When Freddy and Cara discover a secret passage in Freddy's basement, the find that it leads to a room with a coffin and a blue bottle marked "Vampire Breath". After they open the bottle, Count Nightwing appears in the coffin and whisks them back in time to the middle ages, where they find themselves in a Transylvanian castle. He reveals that once he finds his full bottle of Vampire Breath, it will restore him to full power and he will turn Freddy and Cara into vampires. The two try to find the bottle before Count Nightwing does, and when they do, it teleports all three of them back to Freddy's basement. There, he discovers that not only is Count Nightwing his grandfather, but he is in fact a vampire himself.
Gallery
Community content is available under
CC-BY-SA
unless otherwise noted.