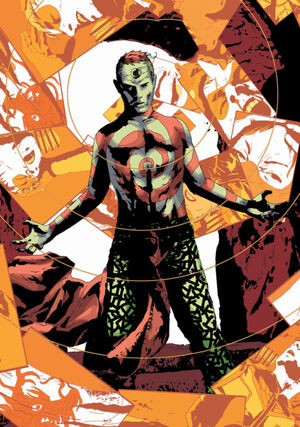 Count Vertigo is the name of two supervillains originating in DC Comics, and are both primarily enemies of the Green Arrow.
History
Werner Vertigo
Werner Vertigo is a man with nothing to lose. Born to a royal family in the small nation of Vlatava, Werner was the victim of an inner ear defect that affected his balance. After having a special device implanted to cure the problem, Werner altered it to allow him to affect other people's sense of balance. After his family lost their fortune, he turned to a life of crime, and became Count Vertigo. He repeatedly ran afoul of Green Arrow and Black Canary, and has been a repeat member of the Suicide Squad. His homeland was destroyed by the Spectre, and Vertigo is now left with nothing.
Vertigo has no superpowers, but the device implanted in his skull allows hims to alter other people's sense of balance, and grants him limited flight.
Werner Zytle
Werner Zytle is the bearer of the Count Vertigo title in the New 52 timeline. Here, he is the ruler of the tiny nation of Vlatava. Though of noble heritage, his family lost their fortunes and had to flee to Canada. While there, Zytle became involved with organized crime, using the profits from his illegal activities to finance return to Vlatava and reclaim his birthright. Though appearing to be a kind and benevolent monarch, he continues to be involved in organized crime, using the alias Count Vertigo. When Green Arrow travels to Vlatava to rescue a kidnapped Shado, Vertigo notes that the Emerald Archer will have to aim to fight him, and his power will make that impossible. Oliver's allies remotely detonate an E.M.P. arrow in his quiver, giving him and Shado a chance to escape. Later, Zytle joins the Longbow Hunters being formed in Seattle in their intention to kill the Green Arrow.
In other media
Arrowverse
Main article: Cecil Adams (Arrowverse)
A modified iteration of the original Count Vertigo debuted on the first season of Arrow, where he is a drug lord who developed a drug called "Vertigo", that causes disorientation in the users. His real name is also changed to Cecil Adams, and his alias was originally "The Count" before he later changed it. He was portrayed by Seth Gabel.
Main article: Werner Zytle (Arrowverse)
Werner Zytle debuts in the Season 3 premiere, where he takes up the name "Vertigo" following the Count's death. He modifies the drug to cause its users to hallucinate fears that they never believed to have. He is portrayed by Peter Stormare.
Suicide Squad: Hell to Pay
Count Vertigo is seen at the beginning working with the Suicide Squad to assassinate Tobias Whale who has a flash drive full of information on the squad's operations. After fighting through Whale's henchmen, Vertigo uses his powers to force the mobster to kill himself with a gunshot to the head. Just then, Count Vertigo turns on Punch and Deadshot revealing that he and Jewelee are working together since their time in prison. Vertigo announces he intends to copy the flash drive, hand Waller the original and have a "nest-egg" with Jewelee. Deadshot exposes Vertigo as a traitor and Waller detonates the bomb, killing him.
Gallery

Villains
Comics
Alfred Stryker | Alice | Amanda Waller | Amygdala | Anarky | Arkham Knight | Arnold John Flass | Azrael | Baby Doll | Bane | Barbatos | The Batman Who Laughs | Black Glove | Black Mask | Blockbuster I | Broker | Blockbuster II | Brain | Brother EYE | Calculator | Calendar Man | Captain Fear | Carmine Falcone | Catman | Catwoman | Circus of Strange | Clayface | Claything | Clock King | Club of Villains | Cluemaster | Commissioner Loeb | Composite Superman | Condiment King | Copperhead | Court of Owls | Crazy Quilt | Crime Doctor | Curtis Base | Dark Archer | David Cain | Dark Knights | Deacon Blackfire | Deadshot | Dealer | Deathstroke | The Dawnbreaker | The Devastator | Doctor Death | Doctor Dedalus | Doctor Double X | Doctor Hurt | Doctor Phosphorus | The Drowned | Electrocutioner | Emperor Penguin | Ernie Chubb | Faceless | Film Freak | Firebug | Firefly | Flamingo | Floronic Man | Gearhead | General Ulysses Armstrong | Gorilla Boss | Gotham City Police Department | Grant Walker | Great White Shark | The Grim Knight | H.A.R.D.A.C. | Harley Quinn | Holiday | Holly Robinson | Humpty Dumpty | Hugo Strange | Hush | Jack the Ripper | James Gordon, Jr. | Jason Todd | Joe Chill | The Joker | Judge of Owls | Joker's Daughter | Key | KGBeast | King of Cats | King Snake | King Tut | Killer Croc | Killer Moth | Kite Man | Lady Shiva | League of Assassins | Leviathan | Lex Luthor | Lock-Up | Lloyd Ventrix | Mad Hatter | Mad Monk | Magpie | Malochia | Man-Bat | Maxie Zeus | The Merciless | Merrymaker | Mister Bloom | Monk | Mr. Freeze | Mrs. Freeze | Mr. Toad | Mutants | Nightslayer | Nocturna | Nyssa Raatko | Onomatopoeia | Orca | Outsider | Owlman | Penguin | Penny Plunderer | Phosphorus Rex | Planet Master | Poison Ivy | Polka Dot Man | Professor Pyg | Prometheus | Ra's al Ghul | Ragdoll | Ratcatcher | Reaper | Red Claw | Red Death | Reverse-Flash | Riddler | Roland Daggett | Roxy Rocket | Royal Flush Gang | Rupert Thorne | Sal Maroni | Scarecrow | Sensei | Sewer King | Signalman | Sinestro | Snowman | Solomon Grundy | Spellbinder | Squid | Steeljacket | Suicide Squad | Talia al Ghul | Tally Man | Ten Eyed Man | Terrible Trio | Thomas Wayne Tiger Shark | Timecode | Tony Zucco | Tweedledum and Tweedledee | Two-Face | Ubu | Vandal Savage | Ventriloquist | Ventriloquist II | Ventriloquist III | Vertigo | Victim Syndicate | Victor Zsasz | Whisper A'Daire | Wrath | Zebra-Man
Movies
Batman (1966): Joker | Catwoman | Penguin | Riddler
Batman (1989): Joker | Bob Hawkins | Alicia Hunt | Carl Grissom | Max Eckhardt | Vinnie Ricorso | Joe Chill
Batman Returns: Penguin | Red Triangle Circus Gang (Organ Grinder, Poodle Lady, Tattooed Strongman, Stungun Clown, Thin Clown, Fat Clown, Sword Swallower & Knifethrower Dame) | Max Shreck | Catwoman | Charles "Chip" Shreck
Batman: Mask of the Phantasm: Phantasm | Joker | Salvatore Valestra | Arthur Reeves | Chuckie Sol | Buzz Bronski
Batman Forever: Riddler | Two-Face | Sugar | Spice | NygmaTech (Frogmen) | Neon Gang (Neon Gang Leader) | Salvatore Maroni
Batman & Robin: Poison Ivy | Mr. Freeze | Bane | Snowy Cones Thugs | Golums | Jason Woodrue
Batman Begins: Ra's al Ghul | League of Shadows (Ra's Decoy) | Scarecrow | Carmine Falcone | Victor Zsasz | Joe Chill
The Dark Knight: Joker | Joker's Thugs (Thomas Schiff, Chuckles, Kilson, Bus Driver, Happy, Dopey, Grumpy & Bus Driver) | Two-Face | Sal Maroni | The Chechen | Gambol | Lau | Bank Manager | Michael Wuertz | Burmese Bandit
The Dark Knight Rises: League of Shadows (Bane, Talia al Ghul & Barsad) | Catwoman | John Daggett
Batman v Superman: Dawn of Justice: Lex Luthor | Doomsday | Anatoli Knyazev | Mercy Graves | Cesar Santos | Amajagh | Joe Chill | Dru-Zod | Steppenwolf
Suicide Squad: Eyes of the Adversary (Enchantress & Incubus) | Suicide Squad (Deadshot, Harley Quinn, Captain Boomerang, El Diablo, Killer Croc, Slipknot & Amanda Waller) | Joker's Gang (Joker, Jonny Frost, Panda Man & Monster T) | Griggs
The Lego Batman Movie: Joker | Harley Quinn | Catwoman | Poison Ivy | Two-Face | Bane | Riddler | Phantom Zone Criminals (Zod, Sauron, Kraken, Lord Voldemort, Jaws & Gremlins)
Joker: Clowns (Joker & Clown) | Penny Fleck | Randall | Wall Street Three | Penny Fleck's Boyfriend
Community content is available under
CC-BY-SA
unless otherwise noted.