Wiki Targeted (Entertainment)
Play Sound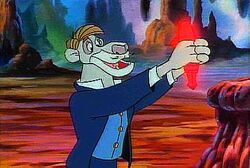 Covington is the main antagonist of the Talespin episode "Molly Coddled". He is a jaguar con artist who wears a formal navy blue suit (including shoes) and a blond toupée.
He was voiced by Jim Cummings.
Role
Covington was first seen during high-speed boat chase around Cape Suzette's inner harbor, where he is trying to escape two criminal badger associates that he double-crossed. To hide his tracks, Covington stashed an ancient wooden cat talisman that lead to a rich treasure on Skull Island in the Sea Duck before surrendering himself to the police so that he could post bail, much to the badgers' anger.
After being bailed out, Covington soon discovered Molly Cunningham took the the doll and began to work his charm on her mother Rebecca by appealing to her heart. Though Rebecca is interested in forming a relationship with Covington, Molly truly sees Covington as the fraud he is and rebuffs at his attempts to bond with her. Despite this, Molly was unable to convince Rebecca about Covington's true occupation.
Eventually, that all came to an end when Covington kidnapped Molly and used the figurine to unravel the secret treasure, which happens to be a ruby stature version of the doll, but not before Molly tricked him into confessing that he only used Rebecca to lead him to the treasure, right in front of an arriving Rebecca, Baloo and Kit. Realizing that Molly was right about Covington, Rebecca angrily breaks her relationship with Covington, who loses the statue into a hot mud pit after being tackled by the badger criminals. Fed up with Covington's actions, the badger criminals offered a deal to Rebecca: they will take Covington in exchange of returning Molly back to Rebecca. Finding this to be fair, Rebecca accepts the deal, and the badger criminals take Covington away, hoping to make him pay for his actions. It is unknown what happened to Covington, but it is likely that he was either beaten up or killed by the badgers for his betrayal against them.
Gallery