The Cowled Commander was a villain appearing as a foe of Captain A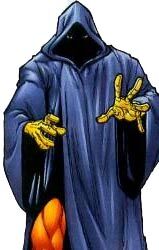 merica in Marvel comics.
New York City police sergeant Brian Muldoon was angered by the unusual behavior and frequent absences and disappearances of rookie policeman Steve Rogers, leading Muldoon to routinely berate him.
Turning to a life of crime, and assuming the guise of The Cowled Commander, Muldoon assembled a group of super-villains he called the Crime Wave. After a looting spree of New York City, Muldoon and his allies were brought to justice by Captain America and the Falcon.
Muldoon became driven to destroy Captain America, hiring the sentient robot Manipulator to kill the hero. Capturing Captain America, Manipulator subjected the hero to a number of simulated scenarios designed to brreak his sanity, but Muldoon, demanding a quick end for him, lost patience and attempted to shoot Captain America. Captain America was able to deflect the bullet and subdue Muldoon. Muldoon has apparently been incarcerated ever since.

Villains
Comics
Absorbing Man | Adolf Hitler | A.I.M. | Aleksander Lukin | Anaconda | Arcade | Arnim Zola | Awesome Android | Baron Blood | Baron Wolfgang von Strucker | Baron Zemo | Batroc the Leaper | Beetle | Bi-Beast | Black Cat | Black Talon | Black Mamba | Black Widow | Blitzkrieg | Blizzard | Blood Brothers | Boomerang | Boomslang | Brothers Grimm | Bulldorzer | Bullseye | Cache | Carnage | Carrion | Chemistro | Constrictor | Cottonmouth | Controller | Count Nefaria | Cowled Commander | Crimson Dynamo | Crossbones | Dark Avengers | Darren Cross | Death Adder | Demogoblin | Doctor Faustus | Doppelganger | Eel | Electro | Famine | Fer-De-Lance | Firebrand | Fixer | Flag-Smasher | Ghost | Gorgon | Grand Director | Grant Ward | Graviton | Grey Gargoyle | Griffin | Grim Reaper | Grizzly | Heinz Kruger | Herr Kleiser | HYDRA | Hydro-Man | Iron Monger | Ironclad | Jack O' Lantern | Kang the Conqueror | Killer Shrike | King Cobra | Kingpin | Klaw | Korath the Pursuer | Korvac | Kraven the Hunter | Lady Deathstrike | Living Laser | Lizard | Loki | Lucia Von Bardas | Machinesmith | Madame Viper | Madcap | Magneto| Man-Ape | Mandarin | Master Man | Masters of Evil | Mentallo | Mesmero | Mister Hyde | M.O.D.A.M. | M.O.D.O.K. | Mole Man | Moonstone | Namor | Nightmare | Nightshade | Nitro | Piledriver | Princess Python | Puff Adder | Punisher | Punisher (Earth-95126) | Quicksand | Rattler | Red Ghost | Red Skull | Rhino | Ringmaster | Rock Python | Ronan | Roxxon | Säurespritze | Scarecrow | Scorpion | Sebastian Shaw | Secret Empire | Selene Gallio | Serpent Society | Shocker | Shockwave | Shriek | Sidewinder | Silver Sable | Sin | Sinister Six | Skeleton Crew | Slither | Slug | Songbird | Super-Adaptoid | Super-Apes | Superia | Super Patriot | Supreme Intelligence | Tarantula | Taskmaster | Terminus | Thanos | Thunderball | Thunderbolt Ross | Thunderbolts | Tiger Shark | Tinkerer | Titania | Titanium Man | Trapster | Typhoid Mary | U-Foes | Unicorn | Ultron | Vapor | Vector | Vermin | Vulture | Whiplash | Whirlwind | Winter Soldier | Wizard | Worthy | Wrecker | X-Ray | Yellow Claw | Zahnmörder | Zodiac
Movies
Captain America (1990): Red Skull | Valentina de Santis
Captain America: The First Avenger: HYDRA (Red Skull, Arnim Zola, Heinz Kruger, HYDRA Lieutenant, & Velt) | Adolf Hitler | Roeder | Hutter | Schneider
Heroes United: Iron Man and Captain America: HYDRA (Red Skull & Taskmaster)
Captain America: The Winter Soldier: HYDRA/STRIKE (Alexander Pierce, Winter Soldier, Crossbones, Jack Rollins, Jasper Sitwell, Russo, Senator Stern, Arnim Zola, Wolfgang von Strucker, List, Scarlet Witch, & Quicksilver) | Georges Batroc | Ferdinand Lopez | Gerald Durand
Captain America: Civil War: Helmut Zemo | Thunderbolt Ross | Winter Soldier | Scarlet Witch | HYDRA (Vasily Karpov, Josef, & Winter Soldiers) | Hero Mercs (Crossbones)
TV Series
The Falcon and The Winter Soldier: Winter Soldier | Flag Smashers (Flag-Smasher, Dovich, Gigi, DeeDee, Lennox, Nico, Matias, & Diego) | Sharon Carter | Baron Zemo | LAF (Georges Batroc & Louie) | Senator Atwood | Valentina Allegra de Fontaine
What If...?: Red Skull | Arnim Zola | Heinz Kruger | HYDRA's Champion

Video Games
The Amazing Spider-Man & Captain America in Doctor Doom's Revenge: Doctor Doom | Electro | Hobgoblin | Rhino | Boomerang | Grey Gargoyle | Oddball | Batroc the Leaper | Mysterio
Captain America and the Avengers: Red Skull | Crossbones | Klaw | Living Laser | Whirlwind | Sentinel | Grim Reaper | Wizard | Mandarin | Juggernaut | Ultron
Captain America Super Soldier: HYDRA (Red Skull, Arnim Zola, Madam Hydra & Baron Strucker) | Baron Zemo
Captain America: The Winter Soldier: Winter Soldier | Sin | Taskmaster | Shockwave | Serpent Society (King Cobra, Puff Adder & Diamondbak)
See Also
Agent Carter Villains