Jafar says: Read my lips and come to grips with the reality!


This article is a stub and is in need of expansion. You can help Villains Wiki by expanding it.                       
The Craniacs are a series of robot drawings that are obsessed with collecting futuristic devices, and dwell in Futuredome, a place where terrible future ideas go and are one of the main antagonists. Whenever a new Craniac appears, the last version is deemed "obsolete", then shuts it down and puts it into a freezing tube, to keep it into a frozen state. The versions are Craniac 1, Craniac 2, Craniac 3, and Craniac 4 (who was drawn by Rudy to shut down Craniac 3). Craniacs 1, 2 and 3 are now shunt down and put in freezing tubes. Craniac 4 became a ally with Skrawl in the episode "Double Trouble".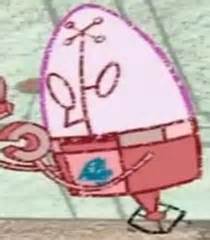 Biography
Beginnings
The 1st Crainiac was created by some sort of inventor and the 2nd one was created by another inventor and the 3rd one was the last one.
In ChalkZone
Crainiac 3 discovered the magic chalk and threatened to torture Rudy if he did not tell them how to use the chalk, but Rudy shut down 3 and created 4. And so, 4 has been trying to get rid of Rudy ever since.
Community content is available under
CC-BY-SA
unless otherwise noted.