Wiki Targeted (Entertainment)
Play Sound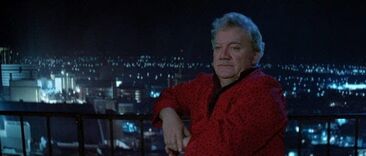 Cressner is the main antagonist in the 1985 Stephen King anthology horror film Cat's Eye, in the segment The Ledge. Based on the short story by Stephen King entitled The Ledge, first published in the July 1976 issue of Penthouse, and later collected in King's 1978 collection Night Shift.
He is portrayed by the late Kenneth McMillan.
Cressner was a wealthy crime boss and casino owner in Atlantic City, New Jersey. He was controlling and that is one of the reasons why his wife started having an affair with Johnny Norris, a former professional tennis player who had problems in his past with drugs. One night while at the casino, Cressner, a long with Westlake, and Westlake's girlfriend see General, a stay cat trying to cross the busy street and made a bet on the cat making it and Cressner won and takes General with him. Cressner that night has two of his men track down Johnny Norris and kidnaps him and Norris is being taken to Cressner.
Cressner reveals his penchant for striking wagers, and offers a chilling ultimatum: if Norris is able to circumnavigate the 5-inch ledge surrounding the multi-story building where Cressner lives in his penthouse, he can have his wife and $20,000. If Norris refuses, he'll be framed for heroin possession and never see his lover again. Cressner also reveals that he has done this to six others, three professional athletes who crossed his path and three ordinary people who got into serious debt with Cressner. Not once has Cressner lost the wager.
Seemingly without any other choice, Norris accepts the wager and proceeds to make his way carefully around the building's cold, windswept exterior. Norris encounters multiple obstacles, particularly from the wind and an obstinate pigeon pecking on his heal. Cressner resorts to tricks, ranging from childish pranks using a toot horn to blasting the protagonist with a fire hose should he linger around a roomier sector of the ledge. Norris completes the harrowing ordeal, only to discover that Cressner had already murdered his wife. Cressner slyly claims that he never welches on his bets and that, while the heroin has been removed from Norris' car and the money is his for the taking, his wife's fate was sealed before the wager was even made. Enraged, Norris overpowers Cressner's bodyguard and obtains his gun. General makes his escape from the penthouse during the distraction. When Cressner pleads for his life, Norris proposes to spare him if only he is able to complete a trip around the ledge, telling Cressner "it's not a wager, it's a bet". Cressner starts his stretch on the ledge and makes a little far. The same pigeon that pecked on Norris's ankle does the same with Cressner's ankle, loses his balance and falls to his death and lands on the toot horn with General watching on the street.
Villains