We're Getting Mutants in the MCU - The Loop
Play Sound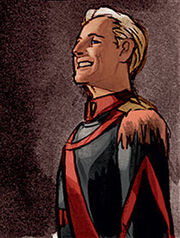 Crispin Hoedaack is a major antagonist in The Star Wars, a comic adaptation of George Lucas' original screenplay for Star Wars published as an alternative Legends continuity.
Biography
Governor Hoedaack, a member of the New Galactic Empire, was appointed by the Emperor as First Lord of the Aquielaen System, the only world still independent from the Empire, effectively being charged with the task of conquering it. Afterwards, Hoedaack met with his general, Darth Vader, confident that by controlling the Aquielaen system they would soon control the dictatorship. However, Vantos Coll warned them that, contrary to the Emperor's propaganda, a surviving Jedi, General Luke Skywalker, led the resistance on Aquilae.
Hoedaack attacked Aquilae with his massive moon-sized space fortress. He was engaged by Devil Squadron on Luke's orders but the treacherous Count Sandage signed a peace treaty with the New Empire, although Hoedaack destroyed the remaining members of Devil Squadron anyway. He reminded Vader that, with Aquilae's king having been killed in the attack, they needed to capture Leia, the rightful heir to the throne. After Vader had led a ground assault, Hoedaack joined him on the surface.
After Vader managed to capture the young Jedi, Annikin Starkiller, with Leia already having been captured by the Sith Prince Valorum, Hoedaack ordered Annikin taken back to Alderaan for public execution. However, worried the Sith would be considered dispensable, Valorum helped Annikin and Leia escape as the space fortress came under attack from a squadron of fighters piloted by Wookies trained by Luke. With the Empire's forces on Aquilae defeated, Vader recommended abandoning ship. Hoedaack insisted that the space fortress was invincible, just as an explosion ripped through the command centre, killing them both.
Trivia
Crispin Hoedaack plays a similar role to that taken by Wilhuff Tarkin in the final film.