Wiki Targeted (Entertainment)
Play Sound
Jafar says: Read my lips and come to grips with the reality!


This article is a stub and is in need of expansion. You can help Villains Wiki by expanding it.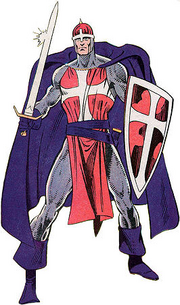 Crusader (also known as Arthur Blackwood) was born in Decatur, Illinois who was a seminary student in Chicago who believed that the church should become more active in fighting paganism and godlessness in modern society but was dismissed from the seminary for getting into an altercation with a superior.
History
Blackwood visited his family crypt to meditate on his life and there he had a religious vision of all of his ancestors who devoted their lives to serving God: in this vision he met the spirit of one of his ancestors who served in the Crusades.
This spirit seemingly bequeathed to him the combined power of all his ancestors and dubbed him knight, and when Blackwood awoke from this vision, he discovered medieval weaponry such as sword, shield, and knight's raiment had inexplicably materialized nearby.
Blackwood decided to take up the sword and use his newfound power to destroy all pagans and infidels. His first target: he chose the thunder god Thor, whose claims of godhood seemed blasphemous.

Villains
Comics
Abomination | Absorbing Man | A.I.M. | Apocalypse | Arcade | Arnim Zola | Aryan | Baron Strucker | Bastion | Batroc | Beyonder | Bi-Beast | Blackheart | Blob | Bolivar Trask | Brotherhood of Mutants | Bushwacker | Cameron Hodge | Cannibals (Marvel Universe Vs) | Cassandra Nova | Collector | Contagion | Crossbones | Crusader | Daken | Damage | Dark Beast | Dark X-Men | Deadpool | Deathwatch | Doctor Doom | Donald Pierce | Dracula | Egghead | Ego | Electro | Galactus | Green Goblin | Hand | HYDRA | Hobgoblin | Holocaust | Hulk | Impossible Man | Iron Monk | Juggernaut | Kingpin | Kraven the Hunter | Lady Deathstrike | Lady Mastermind | Lt. Ethan Warren | M.O.D.O.K. | Madame Masque | Madame Viper | Magneto | Master Mold | Masters of Evil | Master of Illusions | Mauvais | Mister Jip | Mojo | Morlocks | Mr. Sinister | Mysterio | Mystique | Nimrod | Nitro | Norman Osborn | Nuke | Omega Red | Onslaught | Prime Evil | Romulus | Reavers | Sabretooth | Savage Land Mutates | Sauron | Sebastian Shaw | Sentinels | Shadow King | Shingen Yashida | Silver Samurai | Spiral | Spot | Stryfe | Taskmaster | Tiger Shark | Titanium Man | Toad | Venom | Vermin | Vulture | Wendigo | White Rabbit | William Stryker | Winter Soldier | Wrecker
Movies
Hulk Vs. Wolverine: Professor Thorton | Deadpool | Lady Deathstrike | Sabretooth | Omega Red
X-Men Origins: Wolverine: William Stryker Jr. | Sabretooth | Deadpool | Agent Zero | Blob
The Wolverine: Silver Samurai | Madam Viper | Shingen Yashida | Noburo Mori | Magneto
Logan: Essex Corp (Zander Rice, Donald Pierce, X-24 & Reavers)

Television
Brotherhood of Mutants (Magneto, Mystique, Scarlet Witch, Juggernaut, Quicksilver, Avalanche, Blob, Pyro & Toad) | Dark Phoenix | Bolivar Trask | Sentinels | Sabretooth | Mutant Response Division (Colonel Moss) | Shadow King | Hellfire Club (Sebastian Shaw, Donald Pierce, Harry Leland, Selene Gallio, Emma Frost & Stepford Cuckoos) | Master Mold | Silver Samurai
Video Games
Black Cat | Brigade | Fault Zone | Hazmat | Johnny Ohm | Niles Van Roekel | Solara | The Wink | Vulture