Jurassic World: Dominion Dominates Fandom Wikis - The Loop
Play Sound



Click To Help Darkseid!

Darkseid has declared that this article requires immediate Cleanup in order to meet a higher standard.
Help improve this article by improving formatting, spelling and general layout - least it fall victim to an Omega Effect


✓



Click to help Cruella!

This scum Crusher (Iron Man) is driving Cruella insane!
IT MUST BE REWRITTEN OR ADDED TO!!
So sayeth the great Lord of Darkness Sauron, or he will send Darth Vader to terminate you.

Help improve this article by rewriting, expanding, updating the poorly written text of the article. ✓

Crusher is ???
Caldwell Rozza
Caldwell Rozza was a scientist, whose job was to develop weapons for "El Presidente", a Communist dictator. He developed a serum that should have turned the dictator into a super-human. However, because the Presidente didn't trust Rozza, he made him drink the serum himself, turning him into the Crusher. He was sent on a mission to defeat Iron Man to prove his loyalty.
He was defeated by Iron Man and ended up in Subterranea, where he found himself in a lab that supposedly once belonged to Tyrannus. There he created another serum that turned him into the Crusher again. He returned to the surface to attack Iron man again and was defeated once more.
It was later revealed that Rozza failed to rise to the surface and then drowned. During his autopsy, Dr. Jakkelburr stumbled upon the secret of duplicating the process that first created the Crusher who later handed it to the boxeur Juan Aponte turning him in the second Crusher.
Juan Aponte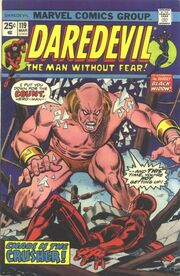 In an attempt to gain weight and box as a heavy-weight, Juan took Dr. Jakkleburr's treatments and mutated into the Crusher. In a rage, he battled Daredevil and died when he regained his senses and took the brunt of building cave-in to save the Man Without Fear.
Villains
Comics
Absorbing Man | A.I.M. | Ani-Men | Arcade | Arnim Zola | Baron Mordo | Baron Wolfgang von Strucker | Baron Zemo | Batroc | Beetle | Black Knight | Black Widow | Blackout | Blizzard | Blood Brothers | Boomerang | Brothers Grimm | Bulldozer | Collector | Commander Kraken | Constrictor | Count Nefaria | Crimson Cowl | Crimson Dynamo | Crossbones | Controller | Crusher | Death's Head | Destroyer | Diablo | Doctor Doom | Doctor Octopus | Dreadknight | Ego | Electro | Ezekiel Stane | Fin Fang Foom | Firebrand | Fixer | Galactus | Gargantus | Ghost | Gladiator | Goliath | Godzilla | Grant Ward | Graviton | Green Goblin | Grey Gargoyle | Griffin | Growing Man | Hammerhead | Hand | Harry Osborn | Hela | High Evolutionary | HYDRA | Iron Monger | Iron Patriot | Justin Hammer | Kang the Conqueror | Killer Shrike | Living Laser | Loki Laufeyson | Lucia Von Bardas | Mad Pharaoh | Mad Thinker | Madame Masque | Madame Viper | Magneto | Malekith | Mandarin | Masked Marauder | Masters of Evil | Mephisto | Melter | Mister Hyde | M.O.D.O.K. | Mole Man | Monica Rappaccinni | Morgan le Fay | Moses Magnum | Nitro | Norman Osborn | Omega Red | Paladin | Piledriver | Porcupine | Puppet Master | The Punisher (Earth-95126) | Radioactive Man | Red Ghost | Rhino | Ronan | Roxxon | Sandman | Scarecrow | Secret Empire | Shocker | Shockwave | Simon Krieger | Sinister Six | Skrulls | Spymaster | Super-Adaptoid | Super-Apes | Supreme Intelligence | Taskmaster | Technovore | Temugin | Thanos | Ten Rings | Thunderball | Thunderbolt Ross | Thundersword | Tinkerer | Titania | Titanium Man | Ulik | Ultimo | Ultron | Unicorn | Vermin | Vulture | Warlord Krang | Whiplash | Whirlwind | Wrecker | Yellow Claw | Zodiac
Movies
The Invincible Iron Man: Mandarin | The Elementals | Deities of Death (Dormammu, Hela, Mephisto & Pluto)
Iron Man: Iron Monger | Ten Rings (Raza Hamidmi Al-Wazar, Abu Bakaar, Ahmed & Omar) | William Ginter Riva
Iron Man 2: Whiplash | Hammer Industries (Justin Hammer, Jack & Hammer Drones) | Ten Rings (Ten Rings Agent) | Senator Stern | Anton Vanko
Iron Man: Rise of Technovore: Technovore | Ezekiel Stane | Obadiah Stane | Black Widow | Punisher
Iron Man 3: A.I.M. (Aldrich Killian, Eric Savin, Trevor Slattery, Ellen Brandt, Sweat Shop Agent, Ponytail Express, Maya Hansen & Extremis Soldiers) | Vice President Rodriguez
Heroes United: Iron Man and Hulk: Zzzax
Heroes United: Iron Man and Captain America: HYDRA (Red Skull & Taskmaster)
All Hail the King: Trevor Slattery | Herman | Ten Rings (Jackson Norriss & The Mandarin) | White Power Dave | Justin Hammer

Television
Iron Man (1994): Mandarin | Whirlwind | Blizzard | Dreadknight | Backlash | Grey Gargoyle | Living Laser | M.O.D.O.K. | Fin Fang Foom | Justin Hammer | Beetle | Crimson Dynamo | Titanium Man | Madame Masque | Ghost | Dark Aegis
Iron Man: Armored Adventures: Mandarin | Obadiah Stane | Madame Masque | Ghost | Zhang | Dreadknight | Crimson Dynamo | Titanium Man | Black Knight | Whiplash | Doctor Doom | Magneto | Unicorn | Count Nefaria | Fixer | M.O.D.O.K. | Justin Hammer | Shockwave | Grim Reaper | Grey Gargoyle | Thunderbolt Ross | Killer Shrike | Unicorn | Rhona Irwin | The Controller | Living Laser | Blizzard | Fin Fang Foom | Technovore
Marvel Anime: Iron Man: Zodiac
What If...?: Infinity Ultron | Yellowjacket | Loki Laufeyson | The Destroyer | Brock Rumlow | Jack Rollins | Thunderbolt Ross | Whiplash | Arnim Zola | Prince Killmonger | Strange Supreme | Georges Batroc | Ego | Zombies (Iron Man) | Ulysses Klaue
Video Games
Iron Man and X-O Manowar in Heavy Metal: Crimson Dynamo | Titanium Man | Arnim Zola | Baron Zemo | Mr. Hyde | Melter | Goliath | Titania | Absorbing Man
The Invincible Iron Man: Crimson Dynamo | Blizzard
Iron Man Iron Monger | Ten Rings | Backlash | Whitney Frost | Count Nefaria | A.I.M. (Titanium Man, The Controller & Melter)
Iron Man 2: Whiplash | A.I.M. (Ghost) | Roxxon Energy Corporation (Crimson Dynamo)
Iron Man 3: The Official Game: Crimson Dynamo | A.I.M. (M.O.D.O.K, Ezekiel Stane & Living Laser)
Iron Man VR: Gunsmith | Ghost | Living Laser
See Also
War Machine Villains