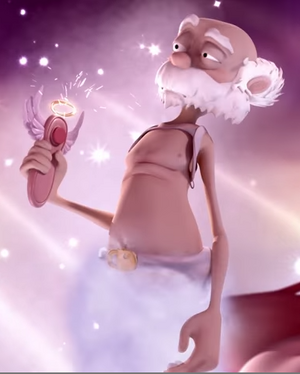 Cupid is the main antagonist of the short animated film Devils, Angels & Dating and is a humorous take on the God of Love.
Basic Story
Cupid is an ancient (1,000-year-old) deity who alongside Death and the Devil has responsibility for the mortal world - Cupid would create love, the Devil would break love apart and Death acted as a kind of "neutral" force between them.
However Cupid was in love with Death and rather obnoxious about it (such as slapping her bottom), despite this Death had a soft spot for him and encouraged his behavior - this would cause conflict when the Devil began to have feelings for Death and an ugly love triangle emerged.
Cupid became angry at the Devil as he noticed Death beginning to get attracted to the Devil (being quite a flirty character by nature) and jealousy began to cause the Devil and Cupid to fight via their cosmic "remotes": causing chaos in the world below. In an effort to stop them Death used her own "remote" but in the process destroyed the world, grieving over her actions Death lets her guard down and Cupid decides to steal her "remote" so that he could usurp the Heavens for himself and force her to be with him (still angry about her flirting with the Devil and uncaring about the world being destroyed).
With Death powerless Cupid goes insane and starts wrecking havoc, the Devil still has his "remote" and battle Cupid, ultimately defeating him when all the souls of the previous world grabbed Cupid and dragged him into what would become a new world. As the new world is formed the old Cupid is destroyed but a new, baby Cupid emerges later and is shown to somehow still have the "remotes" - however being an infant he is unlikely to use them for selfish gains (though the ultimate fate of the trio is unknown).
Gallery
Images
Videos
Community content is available under
CC-BY-SA
unless otherwise noted.