"
They are here They are here, You're Surrender

~ End from the Cursed song from Howl o Scream 2014

"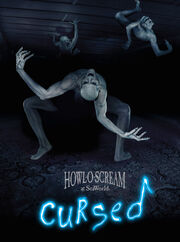 The Cursed Ones are males evil spirit from Howl O Scream: Cursed.
They appears only when peoples heard the song from their phone or ipod, they attacked their victims when they appear front of them, and drag them with them in the underworld. Because people are warned to not answer their phones or listen to music, but when they do listen the music or anwer their phones, they grabbed them for take them with them, the victims are man and woman young or not, theses spirits will stop nothing, because people still listening their music. And that make them angry, that's why they take action and take the souls from their victims into the Underworld, they want to punished anyone who go to listen the music completely or talk to their cell, without any remorse they killed their victims, and nothing to stop theses monsters from doing their job. They also have a scare zone named Cursed, in the howl o Scream area, they are waiting for victims for trapped them in their world.