This article's content is marked as Mature
The page Mature contains mature content that may include coarse language, sexual references, and/or graphic violent images which may be disturbing to some. Mature pages are recommended for those who are 18 years of age and older.


If you are 18 years or older or are comfortable with graphic material, you are free to view this page. Otherwise, you should close this page and view another page.

✓



Click To Help Dr. Wily!

Dr. Wily has declared that this article is still under construction.
Please don't delete or edit this article yet, it may contrast with the original author's edits.
After I finish this article, the world will be mine! MWAHAHAHAHA!

The Cyber Ninjas are originated from a program called Cyber Initiative which is initiated by the Lin Kuei clan of assassins with the intention of transforming their warriors into Cyborgs. It was campaigned by the Lin Kuei Grandmaster, who made an aggressive plan on turning many of the clan warriors: willingly or unwillingly makes no difference. Those that supported the Initiative felt that it would remove insubordination from their ranks, whilst those that opposed it believed that they were surrendering their free will.
The Grandmaster proceeded with his plans of transforming his warriors into Cyborgs. Among those chosen were both Cyrax and Sektor; the former of whom had great reservations on this plan as he felt that it turned them into cold, soulless machines instead of true warriors.
Members
More coming soon!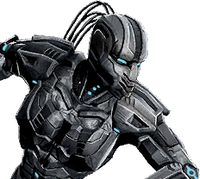 Unit 5 is a minor villain in the Mortal Kombat video games series. He appears only in the 9th sequel. Unit 5 is a cyborg who worked for the Lin Kuei. He was given the assignment to locate Reptile. Eventually, he found his target and notified the Lin Kuei. This prompted Reptile to hide by cloaking his body. His invisibility was detected by Unit 5's sensors. The cyborg and the Saurian engaged in kombat. Unit 5 was immune to physical damage. Reptile killed him by spraying acid on his body. He took the cyborg's armor and left. Sektor and Cyrax arrived but Reptile was already gone.
Trivia
When Reptile wears the stolen armor, he almost looks similar to Cyber Sub-Zero. His green appearance is the only exception.
Community content is available under
CC-BY-SA
unless otherwise noted.