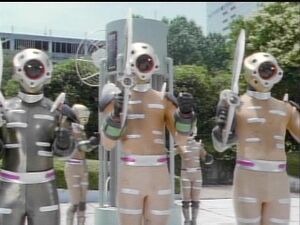 The Cyclobots are Ransik's robotic soldiers, which can be summoned from nuts and bolts. They carry swords which double as blasters. Hundreds of Cyclobots raided the Clock Tower, which led to its destruction.
They are recurring antagonists in Power Rangers Time Force due to being primary foot soldiers.
Overview
In Frax's Fury, it's revealed that many of the first of these robots are created by Dr. Ferricks, but when Ransik murdered the doctor in cold blood due to his kindness disgusted him, many of them also stolen alongside the serum that would keep him alive. Not long afterwards, Ransik met Frax whom aid him in modifying the robots into his personal foot soldiers, unaware that Frax and Dr. Ferricks are the same person.
Enemies
Jennifer "Jen" Scotts.
Wesley "Wes" Collins.
Trip.
Lucas Kendall.
Eric Myers.
Katie Walker.
Silver Guardians.
Characteristics
Much like various standard foot-soldiers whom worked for various antagonists in Power Rangers franchise, Cyclobots are loyal to their master and willing to do their said master's bidding, even if it includes fighting to death. Being the robots whom programmed that way, they seemed to able to endure Ransik's abuse. Cyclobots also seem to move in unusual ways. When moving at a walking pace they will instead hop forward while raising their arms in a pumping action and they will also sometimes do this while staying in one position or just pump their arms. When engaging an enemy they will stop this and run normally.
Cyclobots have the ability to be compacted down to the size and shape of nuts and bolts, only taking moments to reach their full size once more. Nadira usually carries a number of them in her purse. Each Cyclobot carried a sword which could be switched to a laser blaster mode.