Jurassic World: Dominion Dominates Fandom Wikis - The Loop
Play Sound

✓
This villain was proposed but was rejected by the community for not being heinous enough or lacks what is necessary to be a Pure Evil villain. Therefore, this villain shall be added to our "Never Again List", where proposed villains rejected by the community shall be placed to prevent future proposals of the same evil-doer. They can be proposed again (with the permission of an administrator) if new elements appear in their series that can change their status as non-PE villains.
Any act of adding this villain to the Pure Evil category without a proposal or creating a proposal for this villain without the permission of an administrator will result in a ban.
Additional Notice: This template is meant for admin maintenance only. Users who misuse the template will be blocked for a week minimum.
This article's content is marked as Mature
The page Mature contains mature content that may include coarse language, sexual references, and/or graphic violent images which may be disturbing to some. Mature pages are recommended for those who are 18 years of age and older.


If you are 18 years or older or are comfortable with graphic material, you are free to view this page. Otherwise, you should close this page and view another page.
| | | |
| --- | --- | --- |
| " | Free. You call this free? All I do is what he tells me to do. If I have to choose between that and the Matrix, I choose the Matrix! | " |
| | ~ Cypher to Trinity. | |
Cypher Reagan is the secondary antagonist of the 1999 film The Matrix and a posthumous antagonist in its 2005 spin-off video game The Matrix Online.
He was a human released from the Matrix by Morpheus. But he hated the real world, and after nine years on the Nebuchadnezzar, he decided he had to get back into the Matrix by selling Morpheus and the Nebuchadnezzar's crew to Agent Smith and the Agents.
He was portrayed by Joe Pantoliano, who also played Francis Fratelli in The Goonies, Ralph Cifaretto in The Sopranos, Gabe Ugliano in Percy Jackson and the Olympians: The Lightning Thief, Albert Arlington in Call of Duty: Black Ops II and Stickyfins Whiting in SpongeBob SquarePants.
History
When Morpheus believed that their next target, Neo, was the One, Cypher made contact with Agent Smith. When Trinity was in the Matrix, Cypher contacted her and enabled the Agents to trace the line, but Trinity got away.
Later on in the movie, after Neo was on the ship with them, Cypher went into the Matrix and met with Agent Smith in a restaurant. Cypher told Smith that he wanted to have his memory erased and be reinserted into the Matrix, stating that "ignorance is bliss." He also said that he wanted to be someone rich and important, like an actor. Smith told him that Cypher could have anything he wanted, if he gave Smith the access codes to the Zion Mainframe. Cypher told Agent Smith that he did not know them, but Morpheus did. So the two of them made a plan to trap Morpheus.
When the crew went into the Matrix to visit the Oracle, Agent Smith, who had been told by Cypher the whereabouts of their hideout, organized a police squad. When the crew got back to their hideout to exit the Matrix, The Machines used a De ja vu to block their escape, then sent Smith, the other agents, and their squad in to catch them. Mouse was killed, and Morpheus was caught by Agent Smith and the police.
The rest escaped through the walls. But Cypher, pretending to fall behind, was let out by the police, who knew he was on their side. He then took a short cut to the nearest Phone and got out before the others. When Cypher was back on the ship, he took a lightning rifle, killed Dozer and wounded Tank before they could get the others out.
Cypher then answered Trinity's wireless phone and revealed his treachery. He then pulled Apoc and Switch's plugs, killing them. He wanted to save Trinity for last, because he still had a bit of love for her, so he went for Neo. Cypher tested Morpheus' theory that Neo was the One, saying that if what Morpheus believed was true, there would have to be a miracle to stop him from pulling the plug. Unfortunately for Cypher, Tank was not dead and he blasted Cypher with the rifle, killing him.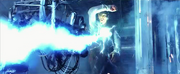 After Cypher's death, a group called Cypherites were eventually formed. They hold the same foolish beliefs as Cypher.
Quotes
| | | |
| --- | --- | --- |
| " | Ignorance is bliss. | " |
| | ~ Cypher | |
| | | |
| --- | --- | --- |
| " | Why didn't I take the blue pill? | " |
| | ~ Cypher | |
| | | |
| --- | --- | --- |
| " | I should have taken the red pill straight up your ass! | " |
| | ~ Cypher | |
Trivia
In recent years, The Matrix has been looked back as an allegory to gender transition in a transgender analysis approved by the Wachowskis, who came out in the 2010s as transgender women. According to this analysis, Cypher's insistence at the film's beginning that the attempt to free Neo from the Matrix will kill him represents the toxic narrative among transgender individuals formed by the continuous pressure of the gender-normative society to conform its established standards, like that no one will ever be able to truly identify with the gender they feel if they do not transition before puberty.
Despite that Cypher was killed in the original film, Joe Pantoliano lobbied hard to reprise his role in The Matrix Resurrections, which is slated for release in 2021. According to Pantoliano, he even send messages to Lana Wachowski to ask her to include Cypher in the fourth film, but received no response.
See Also
Villains

Villains
Animated Features
Noah the Elder | Leopard Seal | Killer Whales | Surtr | Nyra | Kludd | Allomere | Jatt and Jutt | Pure Ones | Doomberg | Lord Business | Super Secret Police (Bad Cop & Sheriff Not-A-Robot) | Duplo Aliens | Joker | Harley Quinn | Phantom Zone Criminals (Zod, Sauron, Kraken, Lord Voldemort, Agent Smith, Jaws, Gremlins, Medusa, Lord Vampyre, Wicked Witch of the West, Flying Monkeys, The Swamp Creature & Daleks) | Catwoman | Poison Ivy | Two-Face | Bane | Riddler | Salvatore Maroni | Nolan Sorrento | Innovative Online Industries (I-R0k, F'Nale Zandor & Sixers)
Live-Action Films
Hughie Warriner | Sala | Sky Bandits | Xander Drax | Charlie Zephro | Skulls of Touganda | Quill | Singh Brotherhood (The Great Kabai Sengh, The Evil Kabai Sengh & Kabai Sengh) | Ray Zephro | Styles | Jack Farley | Morgan | Breen | Agent Smith | Cypher Reagan | Agents (Agent Jones, Agent Brown & Agent Johnson) | Susan McCallister | Jim Whitlock | Mako Sharks | Kathy Morningside | Jeremy Melton | Judith Fessbeggler | Lewis Strutt | Stanley Jobson | Gabriel Shear | Mr. Tinkles | Calico | The Russian | Alonzo Harris | Patrick Koster | Roger | Jacobim Mugatu | Terry Benedict | Lestat | Akasha | Spiders (Consuela & Tank) | Mayor Wade | Jack Ferriman | Francesca | Mr. Gray | Byrus | Machines (The Architect) | The Merovingian | Agent Thompson | Agent Jackson | Twins | Bane | Vamps | Deus Ex Machina | Trainman | Henry James | Jay McPherson | China | Luther | Martin Asher | Patience Phillips/Catwoman | Hedare Beauty (Laurel Hedare & George Hedare) | Gabriel | Mammon | Balthazar | Lucifer Morningstar | Bo Sinclair | Vincent Sinclair | Arthur Slugworth | Boss Hogg | Sheriff Rosco P. Coltrane | Bill Cox | Oliver Potter | Willy Bank | Alpha Male | Darkseekers | Royalton Industries (Arnold Royalton & Cruncher Block) | Snake Oiler | Agent 23 | KAOS (Siegfried) | Dalip | Shtarker | Spider | Smokie | Lord Henry Blackwood | Lord Coward | Irene Adler | Kitty Galore | Paws | James Moriarty | Sebastian Moran | Keith Clayton | Angelique Bouchard | Dr. Julia Hoffman | Collins Family | Mickey Cohen | Tom Buchanan | Jay Gatsby | Myrtle Wilson | George Wilson | Daisy Buchanan | Donaka Mark | Pearly Soames | Lucifer | Mimics | Nicolai Itchenko | Vladimir Pushkin | Slavi | Guy Danlily | Miss Hannigan | Annie's Fake Parents | Balem Abrasax | Titus Abrasax | Immortan Joe | Cult of the V8 (Rictus Erectus, Prime Imperator, Bullet Farmer, People Eater, Organic Mechanic, Coma-Doof Warrior, Nux, Slit, Ace, Morsov & War Boys) | Daniel Riddick | Susan Riddick | Slappy the Dummy | Monsters (Giant Praying Mantis, Will Blake, Lawn Gnomes, Madame Doom, Brent Green, Haunted Car, Count Nightwing, The Haunted Mask, Igor, Headless Horseman, Nila Rahmad, Grim Reaper & Bride of Frankenstein) | Rhonda George | Léon Rom | Rowan North | Mayhem | Martin Heiss | Electrocuted Ghost | Gertrude Aldridge | Marshmallow Man | Bartholomew Bogue | McCann | Denali | King Vortigern | Mordred | Nolan Sorrento | Innovative Online Industries (I-R0k, F'Nale Zandor & Sixers) | Damian Lewis | Arthur Fleck | Penny Fleck | Clowns (Clown & Ambulance Clown) | Wall Street Three | Penny Fleck's Boyfriend | The Analyst
See Also
20th Century Studios Villains | Amblin Entertainment Villains | Batman Villains | Buena Vista International Villains | Cats & Dogs Villains | Catwoman Villains | Constantine: The Hellblazer Villains | Disney Villains | Lantern Entertainment Villains | Mad Max Villains | Metro-Goldwyn-Mayer Villains | New Line Cinema Villains | Paramount Villains | Sony Pictures Villains | Sherlock Holmes Villains | Stephen King Villains | Steven Spielberg Villains | Tarzan Villains | The Equalizer Villains | The LEGO Movie Villains | The Matrix Villains | Tim Burton Villains | Universal Studios Villains | Warner Bros. Villains