This article's content is marked as Mature
The page Mature contains mature content that may include coarse language, sexual references, and/or graphic violent images which may be disturbing to some. Mature pages are recommended for those who are 18 years of age and older.


If you are 18 years or older or are comfortable with graphic material, you are free to view this page. Otherwise, you should close this page and view another page.
| | | |
| --- | --- | --- |
| " | Make a move and the bunny gets it! | " |
| | ~ Cyrus's most famous line. | |
| | | |
| --- | --- | --- |
| " | Before I kill you, Poe, I just wanted you to know that the last thing that little Casey Poe ever gets to smell will be my...stinking...breath. (Poe: You ain't gettin' near my daughter. BUCKLE UP!) | " |
| | ~ Grissom's last words to Cameron Poe before his brutal demise. | |
Cyrus Grissom (also known as Cyrus the Virus) is the main antagonist of the 1997 action film Con Air. Grissom is a psychopathic career criminal and murderer who masterminds the hijacking of the titular airplane.
He was portrayed by John Malkovich, who also played Mitch Leary in In the Line of Fire, Tom Ripley in Ripley's Game, Humma Kavula in Hitch-hiker's Guide to the Galaxy, Quentin Turnbull in Jonah Hex, Teddy Deserve in Knockaround Guys, Pascal Sauvage in Johnny English and Vicomte Sébastien de Valmont in Dangerous Liaisons.
Biography
Taking over the Flight
Sometime before the movie began, Cyrus Grissom murdered, kidnapped, robbed, extorted and other criminal acts. He had spent 25 years in jail as it started at the age of 14. He earned two degrees while in jail, murdered 11 inmates, instigated 3 riots and escaped lawful custody twice. He is first seen being boarded onto the Jailbird plane along with several other inmates. When an inmate named Pinball starts a fire and opens the locks, Cyrus takes over and calls the flight, Con Air. His boss is Francisco Cindino, a South American drug lord.
Escape to Vegas and Killing Cindino
If all went as planned, Cyrus and his gang would have lived in a country with no extradition charges. Upon discovering his plane being taken by his boss who betrayed him, Cyrus executes Cindino.
Final Showdown with Poe and Death
When the Jailbird crashed into Las Vegas, Cyrus and 2 other inmates named Nathan Jones and Earl Williams try to escape on a stolen fire truck. Cameron Poe a former U.S. Army Ranger and Larkin a U.S. Marshall chase after the villain on police motorcycles. In a scuffle on the truck, Poe handcuffs Cyrus to the ladder telling him he will not get near his daughter Casey Poe, which sends him flying through an overhead walkway, onto some power lines, electrocuting him, and finally landing in the pile driver which leaves him to die under a pile driver, which falls on his head, beheading him.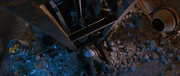 Personality
He is a very vicious, ruthless and manipulative criminal who doesn't hesitate in any means to kill people and has little to no regards to other's lives. This is his own hobby: to kill people, even saying he killed more men then cancer, but after meeting Poe, he likes to antagonize him by also mentioning his daughter: "The last thing little Casey Poe will ever get to smell will be my stinking breath!". Because of this, he is shown to have a twisted sense of humor, often reacting to events with sarcasim even to death. 
Nevertheless, he does have standards; he despises sex offenders, and at one point threatens to kill serial rapist Johnny 23 if he harms the female guard Bishop.
Quotes
| | | |
| --- | --- | --- |
| " | Ladies and gentlemen, this is your captain speaking. I have the only gun on board. Welcome to Con Air. | " |
| | ~ Cyrus Grissom after taking over the Jailbird. | |
| | | |
| --- | --- | --- |
| " | I despise rapists. For me, you're somewhere between a cockroach and that white stuff that accumulates at the corner of your mouth when you're really thirsty. But, in your case, I'll make an exception. | " |
| | ~ Grissom, to Johnny 23. | |
| | | |
| --- | --- | --- |
| " | THAT'S MY F**KING PLANE! | " |
| | ~ Grissom, as his escape vehicle leaves without him. | |
| | | |
| --- | --- | --- |
| " | Looks like you missed your connection. | " |
| | ~ Grissom, to Cindino, after the latter's failed attempt to flee. | |
Community content is available under
CC-BY-SA
unless otherwise noted.