Jurassic World: Dominion Dominates Fandom Wikis - The Loop
Play Sound
| | | |
| --- | --- | --- |
| " | Imagine peering into the depths of the criminal mind, unlocking its terrible secrets. I, Professor Hugo Strange, bring you the next generation in crime-fighting technology. The Digitally-Advanced Villain Emulator, or D.A.V.E. D.A.V.E. is made up of the combined psychological profiles of the most diabolical criminals committed to Arkham Asylum. Designed to mimic their very thought patterns, D.A.V.E can be relied upon to better catch these criminals, even anticipate their crimes before they're committed. D.A.V.E.'s artificial intelligence is so advanced, he doesn't even realize he's a computer program. | " |
| | ~ Hugo Strange introducing D.A.V.E.. | |
| | | |
| --- | --- | --- |
| " | Hello Gotham, I am D.A.V.E. For years you have listened to the idle threats of criminals who have vowed and failed to bring this city to its knees. Well, I am no ordinary criminal. I am Gotham's ultimate criminal mastermind. And I'm about to prove that even the most heavily secure institutions can't prevent me from committing the ultimate crime, a crime of such scope and genius that soon all of Gotham will be mine. | " |
| | ~ D.A.V.E announcing himself to Gotham City. | |
D.A.V.E. is an antagonist of the TV show The Batman, serving as the main antagonist of the third season's 13th and last episode "Gotham's Ultimate Criminal Mastermind" and issue #34 of the show's comic book tie-in The Batman Strikes!, "Riddlers, Robots & Wreaking Havoc!".
He was voiced by Jeff Bennett, who also played H.A.R.D.A.C. in Batman: the Animated Series.
Biography
Gotham's Ultimate Criminal Mastermind
D.A.V.E. was created by Doctor Hugo Strange. D.A.V.E. stands for Digitally Advanced Villain Emulator. He's an Artificial Intelligence that has the brainwaves of several Batman villains, this allowed D.A.V.E. to guess correctly most of Batman's moves, and can imitate other villains', such as the initial acrobatic feats the Joker was capable of accomplishing or Catwoman's agile gymnastic routines, or the Penguin's mastery of martial arts, making him a tough opponent to battle hand-to-hand. Its robotic body is light, resilient and flexible enough to take on Batman on far more than equal terms. D.A.V.E. is as knowledgeable as the Riddler and Hugo Strange, giving it the psychological advantage; it can hack into any computer and control every machine it encounters.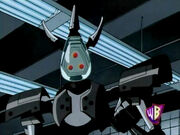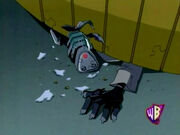 This metallic "Frankenstein" was allowed to unleash itself upon Gotham by Strange programming it to "escape" from Arkham, and allowed it to lure and study Batman. Though he had set the ultimate trap for Batman in the Batcave- having deduced Batman's identity via an elaborate process of elimination- which would either expose Batman's identity or kill Alfred Pennyworth, D.A.V.E. hadn't planned on Batman using reverse logic on him. He was defeated when Batman questioned D.A.V.E's own origins as D.A.V.E didn't have an actual origin, even being unaware that he was a computer program. Although D.A.V.E. knew of the origins of others, he didn't know the origin of himself- or even that he wasn't even human. After Batman told him this, it bought him enough time to crush D.A.V.E. under the giant penny kept within the Batcave that had been rigged to crush Alfred in the death-trap. Alfred then stated that D.A.V.E.'s flattened remains would make for the "ultimate addition" to the Batcave's trophy room.
It turned out that Hugo Strange was the one who let D.A.V.E. "escape" in the first place, wanting to pit his creation against Batman as the utimate test and to unveil his identity to all of Gotham and the world. When Batman found out, Strange was arrested for endangering the city and placed alongside his patients in Arkham Asylum.
Riddlers, Robots & Wreaking Havoc!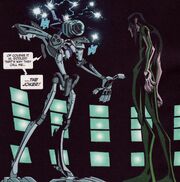 Despite not appearing again on the show, Issue 34 of the tie-in comic The Batman Strikes! entitled "Shtick Shift" reveals that D.A.V.E. did indeed somehow survive his encounter with the Dark Knight.
After being crushed by the giant penny, D.A.V.E.'s remains were placed within the trophy room with Batman's other case-related memorabilia, where he managed to amazingly bring himself back online and piece himself back together in an imperfect manner, as well as make a stealthy escape that went unnoticed by the Bat Family. The AI was left constantly sparking from his joints and head, the glass framing his face was cracked, his voice constantly glitched in between words, and he lacked his usual labcoat. More importantly, his altercation with Batman had seemingly erased his memory of the hero's true identity and fragmented much of the personalities he had installed- the only one left intact was that of the Joker, leaving D.A.V.E. to actually believe that he seriously was the villain, even adopting his usual laughs and wise-cracking speech patterns. He even wore a purple boutonnière on his chest to emulate the madman and didn't seem to notice (or even care) about others constantly pointing out that he was a machine and not the Joker himself. Another persoality that seemed to stay was the Riddler's persona, intertwined with that of the dominant Joker identity. This resulted in D.A.V.E. structuring corny jokes in the way the Riddler presented his brain-teasers to his victims.
Somehow D.A.V.E. found his way to the Riddler's newest hideout and, proclaiming that he was the Joker all the while, challenged the Prince of Puzzles to a contest to see who the better villain was. Riddler was confused and disinterested until the robotic imposter revealed that he had managed to capture Batman and imprison him within a massive plastic container like an action figure. If Riddler managed to win, D.A.V.E. would allow him to keep Batman and do whatever he pleased with him. Relishing the chance to test his intelligence against an AI and capture his greatest foe, Riddler accepted. The two villains began their contest by luring in the attention of Robin and Batgirl through Commissoner Gordon, informing them of Batman's capture. Both sidekicks were made to seperately navigate a building filled with death-traps while getting directions by answering the jokes and riddles of the villain assigned to them (D.A.V.E. being Batgirl's guide and Riddler with Robin). Whichever villain killed their prey was the winner, although neither noticed Batman using acid-pellets from his utility belt to melt the plastic casing around him.
Both heroes eventually avoided the traps set for them and broke into the control room where Riddler and D.A.V.E. were arguing about each other's methods. With Batman already free from his prison, Robin took out the Riddler with a single jump-kick, knocking him out. D.A.V.E. moved in to slam Batgirl with an overhead smash, but the young heroine quickly rushed him and electrocuted his already damaged chest with a taser. The shock short-circuited the mechanical villain, sending him crashing to the floor in a heap. While the Riddler was most likely sent to Arkham Asylum, it is unknown what the heroes did with D.A.V.E. afterward. Although this is the villain's only appearance in the comics, his fingers and limbs are still seen twitching after Batgirl shocked him, indicating that he may not have been fully destroyed, leaving D.A.V.E.'s true eventual fate unknown.
Powers and Abilities
| | | |
| --- | --- | --- |
| " | Not only am I smarter than you, Batman... I am faster and stronger. | " |
| | ~ D.A.V.E. as he overwhelms Batman with a barrage of hits and punches him from one rooftop to another. | |
| | | |
| --- | --- | --- |
| " | Don't let my appearance fool you, Batman. My mind is most human. Or should I say, superhuman? | " |
| | ~ D.A.V.E. as he battles Batman. | |
Being a machine, D.A.V.E. naturally has a very durable metallic body and packs immense strength. He stands taller than Batman and since he possesses the knowledge and skills of all of Batman's enemies up to that point, D.A.V.E. can not only match but surpass Batman when it comes to fighting skills, as shown during all three of their first encounters where Batman was mostly on the defensive, unable to land a blow or even hurt D.A.V.E., giving him more trouble than any villain beforehand and beating him three times consecutively, also unique to D.A.V.E. among the villains in the series.
His computer mind also allows him to think considerably faster than a human, able to find a four-digit password in seconds and granting him higher intelligence than Batman, especially since he has data on just about everything relevant in the city, which allowed him to uncover Batman's true identity.
| | | |
| --- | --- | --- |
| " | You probably want to know how I uncovered your secret. It was simple, really. Using information readily available to anyone, I began by narrowing down Gotham's population of 750,832 males. Those not falling inside the Batman's probable age range of 18 to 36 were eliminated. Medical records revealed body type matches. Tax records indicated those who possess the wealth and resources to create his technology. But the true key to the puzzle was deducing who of the remaining candidates had motive to become the Batman. After all, every great hero must have an origin. And once Gotham's ultimate criminal mastermind put it all together, the answer was obvious. Bruce Wayne, son of the late Thomas and Martha Wayne. [D.A.V.E. shows newspapers on the Batcave's screen, the front pages showing Batman's parents following their deaths] | " |
| | ~ D.A.V.E. reveals how he came to find the truth about Batman. | |
Trivia
Whether it's coincidence or intentional, D.A.V.E.'s eyes are the exact same as Brainiac's three-orbed triangular symbol, but reversed. Since D.A.V.E. and Brainiac are highly powerful and extremely intelligent machine-like organisms and fairly big threats towards their respective heroes, it's possible Brainiac influence D.A.V.E.'s creation.

Villains
Comics
2-Face-2 | Abraham Langstrom | Alfred Protocol | Alfred Stryker | Alice | Amanda Waller | Amygdala | Anarky | An Innocent Guy | Ares | Arkham Knight | Arnold John Flass | Azrael | Baby Doll | Bane | Barbatos | Bat-Mite | The Batman Who Laughs | Black Glove | Black Mask | Blockbuster I | Blockbuster II | Brain | Broker | Brother EYE | Calculator | Calendar Man | Castle Bat | Captain Fear | Captain Boomerang | Carmine Falcone | Catman | Catwoman | Cheetah | Cheshire | Circus of Strange | Clayface | Clayface (Matt Hagen) | Claything | Clock King | Clownface | Club of Villains | Cluemaster | Composite Superman | Condiment King | Copperhead | Cornelius Stirk | Court of Owls | Crazy Quilt | Crime Doctor | Curtis Base | Dark Archer | David Cain | David Li | Dark Knights | Deacon Blackfire | Deadshot | Dealer | Deathstroke | Dick Grayson (Frank Miller) | The Dawnbreaker | The Devastator | Dr. Crane | Doctor Death | Doctor Double X | Doctor Phosphorus | Doctor Randolph Porter | Donna Troy | Dr. Silversmith | The Drowned | Electrocutioner | Emperor Penguin | Enigma | Ernie Chubb | Faceless | Falcone Crime Family | Film Freak | Firebug | Firefly | Flamingo | Floronic Man | Gearhead | General Ulysses Armstrong | Gilda Dent | Gorilla Boss | Gotham City Police Department | Gillian B. Loeb | Great White Shark | The Grim Knight | Harley Quinn | Holiday | Holly Robinson | Humpty Dumpty | Hugo Strange | Hush | Instigator | Jack the Ripper | James Gordon, Jr. | Jason Todd | Jeremiah Arkham | Joe Chill | Joker (Earth-22, 2008 Graphic Novel) | Judge of Owls | Joker's Daughter | Key | KGBeast | King of Cats | King Snake | King Tut | Killer Croc | Killer Moth | Kite Man | Lady Shiva | League of Assassins | Leviathan | Lex Luthor | Lock-Up | Lord Death Man | Mad Hatter | Mad Monk | Magpie | Malochia | Man-Bat | Mary Keeny | Maxie Zeus | Maxwell Lord | The Merciless | Merrymaker | Micheal Atkins | Monk | Mr. Bloom | Mr. Freeze | Mrs. Freeze | Mayor Oswald Cobblepot | Mr. Toad | Mr. Whisper | Mutants | Neo Joker | Neron | Nightslayer | Nocturna | Omega | Onomatopoeia | Orca | Outsider | Owlman | Phantasm | Penguin | Penny Plunderer | Phosphorus Rex | Planet Master | Poison Ivy | Polka Dot Man | Professor Arnold Hugo | Professor Pyg | Prometheus | Punchline | Ra's al Ghul | Ragdoll | Ratcatcher | Reaper | Red Death | Reverse-Flash | Riddler | Robin King | Roland Daggett | Roxy Rocket | Royal Flush Gang | Rupert Thorne | Saint Batman | Sal Maroni | Scarecrow | Sensei | Sewer King | Signalman | Simon Hurt | Sinestro | Snowman | Solomon Grundy | Spellbinder | Squid | Steeljacket | Suicide Squad | Talia al Ghul | Talon | Tally Man | Ten Eyed Man | Terrible Trio | Thomas Wayne | Tiger Shark | Timecode | Tony Zucco | Tweedledum and Tweedledee | Two-Face | Ubu | Vandal Savage | Ventriloquist | Ventriloquist II | Ventriloquist III | Vertigo | Victor Zsasz | Whisper A'Daire | White Rabbit | Wrath | The Wonderland Gang | Zebra-Man
Theatrical Movies
Batman (1966): Penguin | Catwoman | Joker | Riddler
Batman (1989): Joker | Joker Goons (Bob Hawkins) | Alicia Hunt | Carl Grissom | Max Eckhardt | Vinnie Ricorso | Joe Chill | Harvey Dent
Batman Returns: Penguin | Red Triangle Circus Gang (Organ Grinder, Poodle Lady, Tattooed Strongman, Stungun Clown, Thin Clown, Fat Clown, Sword Swallower, Knifethrower Dame & Fire Breather) | Max Shreck | Catwoman
Batman: Mask of the Phantasm: Phantasm | Joker | Salvatore Valestra | Arthur Reeves | Chuckie Sol | Buzz Bronski
Batman Forever: Riddler | Two-Face | Sugar | Spice | NygmaTech (Frogmen) | Neon Gang (Neon Gang Leader) | Salvatore Maroni
Batman & Robin: Poison Ivy | Mr. Freeze | Bane | Snowy Cones Thugs | Golums | Jason Woodrue
Batman Begins: Ra's al Ghul | League of Shadows (Ra's Decoy) | Scarecrow | Falcone Crime Family (Carmine Falcone, Victor Zsasz, & Arnold Flass) | Joe Chill
The Dark Knight: Joker | Joker's Thugs (Thomas Schiff, Chuckles, Kilson, Happy, Dopey, Grumpy & Bus Driver) | Two-Face | Sal Maroni | The Chechen | Gambol | Lau | Bank Manager | Michael Wuertz | Burmese Bandit
The Dark Knight Rises: League of Shadows (Bane, Talia al Ghul & Barsad) | Catwoman | John Daggett | Phillip Stryver | Ra's al Ghul | Scarecrow
Batman v Superman: Dawn of Justice: Lex Luthor | Doomsday | Anatoli Knyazev | Mercy Graves | Cesar Santos | Amajagh | Joe Chill | Zod | Joker | Steppenwolf
Suicide Squad: Eyes of the Adversary (Enchantress & Incubus) | Suicide Squad (Deadshot, Harley Quinn, Captain Boomerang, El Diablo, Killer Croc, Slipknot & Amanda Waller) | Joker's Gang (Joker, Jonny Frost, Panda Man & Monster T) | Griggs
The Lego Batman Movie: Joker | Harley Quinn | Phantom Zone Criminals (Zod, Sauron, Kraken, Lord Voldemort, Agent Smith, Jaws, Gremlins, Medusa, Lord Vampyre, Wicked Witch of the West, Flying Monkeys, The Swamp Creature & Daleks) | Catwoman | Poison Ivy | Two-Face | Bane | Riddler | Salvatore Maroni
Joker: Clowns (Joker, Clown & Ambulance Clown) | Penny Fleck | Wall Street Three | Penny Fleck's Boyfriend
The Batman (2022): Riddler | Falcone Crime Syndicate (Carmine Falcone, Penguin, William Kenzie, Vinnie, & The Twins) | Catwoman | Salvatore Maroni | Riddler's Cult | Pete Savage | Gil Colson | Don Mitchell Jr. | Train Gang | Joker
Direct-to-video Movies
Batman & Mr. Freeze: SubZero: Mr. Freeze | Dr. Gregory Belson
Batman Beyond: Return of the Joker: Joker | The Jokerz (Chucko, Dee-Dee, Ghoul, Bonk, & Woof) | Harley Quinn
Batman: Mystery of the Batwoman: Penguin | Bane | Rupert Thorne | Carlton Duquesne
The Batman vs. Dracula: Dracula | Penguin | Joker
Superman/Batman: Public Enemies: Lex Luthor | Major Force | Metallo | Amanda Waller | Toyman | Solomon Grundy | Gorilla Grodd | Killer Frost | Lady Shiva | Giganta | Mongul | Captain Cold
Batman: Under the Red Hood: Jason Todd | Joker | Black Mask | Ra's al Ghul | Riddler | Ms. Li
Superman/Batman: Apocalypse: Darkseid | Female Furies (Granny Goodness, Gilotina, Mad Harriet, Lashina & Stompa) | Doomsday
Batman: Year One: Batman | Gotham City Police Department (Commissioner Loeb, Arnold John Flass, & Howard Branden) | Falcone Crime Family (Carmine Falcone & Johnny Viti) | Catwoman | Joker
Batman: The Dark Knight Returns: Batman | Joker | Mutant Leader | Ellen Yindel | Harvey Dent | Selina Kyle
Son of Batman: Deathstroke | League of Assassins (Ra's al Ghul & Talia al Ghul) | Ubu | Killer Croc | Man-Bats
Batman: Assault on Arkham: Suicide Squad (Amanda Waller, Deadshot, Harley Quinn, Captain Boomerang, Killer Frost, King Shark, Black Spider, KGBeast) | Joker | Riddler | Penguin | Scarecrow | Victor Zsasz | Bane | Two-Face | Poison Ivy
Lego DC Comics: Batman Be-Leaguered: Bat-Mite | Lex Luthor | Joker | Penguin | Man-Bat | Captain Cold | Black Manta
Batman vs. Robin: Court of Owls (Samantha Vanaver, Talon, Owls Lieutenant, & Talon Warriors) | Dollmaker
Batman Unlimited: Animal Instincts: Animalitia (Penguin, Killer Croc, Man-Bat, Cheetah & Silverback)
Batman Unlimited: Monster Mayhem: Joker | Scarecrow | Clayface | Silver Banshee | Solomon Grundy
Batman: Bad Blood: League of Assassins (Talia al Ghul, The Heretic, Onyx, Firefly, Tusk, Mad Hatter, Electrocutioner, Hellhound, Calculator, & Killer Moth) | Black Mask
Batman: The Killing Joke: Joker | Vinnie & Joe | Paris Franz
Batman Unlimited: Mechs vs. Mutants: Penguin | Mr. Freeze | Cheetah | Hush | Mad Hatter | Two-Face | Bane | Chemo | Killer Croc | Clayface | Joker | Dr. Kirk Langstrom
Batman: Return of the Caped Crusaders: Joker | Penguin | Riddler | Catwoman | Archer | Black Widow | Bookworm | Clock King | Egghead | False Face | King Tut | Louie the Lilac | Mad Hatter | Minstrel | Mr. Freeze | Sandman | Shame | Siren
Batman and Harley Quinn: Harley Quinn | Poison Ivy | Floronic Man
Batman vs. Two-Face: Two-Face | Hugo Strange | Catwoman | King Tut | Bookworm | Joker | Penguin | Riddler | Clock King | Egghead | Mr. Freeze | Shame | Harley Quinn
Scooby-Doo! & Batman: The Brave and the Bold: Riddler | Clayface | Joker | Mr. Freeze | Catwoman | Penguin | Harley Quinn | Poison Ivy
Batman: Gotham by Gaslight: Jack the Ripper | Barbara-Eileen Gordon | Selina Kyle | Harvey Dent | Hugo Strange
Batman Ninja: Joker | Harley Quinn | Catwoman | Gorilla Grodd | Bane | Penguin | Poison Ivy | Deathstroke | Two-Face
Batman vs. Teenage Mutant Ninja Turtles: Foot Clan (Shredder & Baxter Stockman) | League of Assassins (Ra's al Ghul & Ubu) | Joker | Penguin | Harley Quinn | Mr. Freeze | Scarecrow | Two-Face | Poison Ivy | Bane
Batman: Hush: Riddler/Hush | Catwoman | Poison Ivy | Bane | Joker | Harley Quinn | Clayface | Scarecrow | Lex Luthor | Lady Shiva | Two-Face | Penguin | Mr. Freeze | Thomas Elliot
Batman: Death in the Family: Jason Todd | Joker | Black Mask | Ra's al Ghul | Riddler | Talia al Ghul | Cheetah | Two-Face
Batman: Soul of the Dragon: Nāga | Kobra (Jeffery Burr, Schlangenfaust, Lady Eve, King Snake & Rip Jagger) | Ben Turner | Shiva | Richard Dragon | Jade
Batman: The Long Halloween: Holiday | Falcone Crime Family (Carmine Falcone, Milos Grapa, Alberto Falcone, Johnny Viti, & Sofia Falcone) | Two-Face | Joker | Solomon Grundy | Salvatore Maroni | Poison Ivy | Penguin | Scarecrow | Mad Hatter | San Ho Hui (Mickey Chen) | Calendar Man | Catwoman

Television
Batman 60s show
Joker | Penguin | Catwoman | Riddler | Mr. Freeze | The Archer | Black Widow | Bookworm | Egghead | Clock King | Queenie Goldstein | Sandman | Dr. Cassandra Spellcraft | Cabala | Minstrel | Shame | False Face | The Siren | Undine | Chandell & Harry | King Tut | Louie the Lilac | Mad Hatter | Cornelia | Baby Jane Towser | Lydia Limpet | Zelda the Great | The Puzzler | Olga, Queen of Cossacks | Marsha, Queen of Diamonds | Lord Marmaduke Ffogg | Lady Penelope Peasoup | Ma Parker | Freddy the Fence | Lola Lasagne | Nora Clavicle | Colonel Gumm | Minerva | Killer Moth | Calamity Jan
1970s Filmation series
Joker | Catwoman | Penguin | Riddler | Clayface | Mr Freese | Sweet Tooth
Batman: The Animated Series and The New Batman Adventures
Joker | Two-Face | Harley Quinn | Penguin | Catwoman | Rupert Thorne | Riddler | Poison Ivy | Scarecrow | Mad Hatter | Killer Croc | Clayface | Ra's al Ghul | Mr. Freeze | Man-Bat | Ventriloquist and Scarface | Roland Daggett | Clock King | Bane | Hugo Strange | Lloyd Ventrix | Kyodai Ken | Baby Doll | Emile Dorian | Red Claw | Boss Biggis | Sewer King | Talia al Ghul | Maxie Zeus | Lock-Up | Professor Milo | Count Vertigo | Daniel Mockridge | Grant Walker | Gil Mason | Arkady Duvall | Ferris Boyle | Arnold Stromwell | Tony Zucco | H.A.R.D.A.C. | Randa Duane | Batman Clone | Calendar Girl
The Batman (2004)
Joker | Penguin | Bane | Catwoman | Mr. Freeze | Ethan Bennett | Killer Croc | Man-Bat | Firefly | Riddler | Punch & Judy | Kabuki Twins | Hugo Strange | Cluemaster | Ragdoll | Temblor | Poison Ivy | Tony Zucco | Count Vertigo | Harley Quinn | Maxie Zeus | Clayface | Gearhead | Francis Grey | Killer Moth | D.A.V.E. | Dracula | Rumor | Toyman | Mirror Master | Lex Luthor | Black Mask | Sinestro | Joker 2.0 | Prank | Killgore Steed | Team Penguin | Julie | Spellbinder | Blaze | The Joining | Cosmo Krank | Marty Slacker | Scorn | Wrath | Metallo | Shadow-Thief
Batman: The Brave and The Bold
Joker | Music Meister | Catwoman | Penguin | Mr. Freeze | Clayface | Riddler | Poison Ivy | Lex Luthor | Flower Children | Harley Quinn | Morgaine Le Fey | Sweet Tooth | Queenie Goldstein | Bane | Kite Man | Black Manta | Gentleman Ghost | Major Force | Mirror Master | Metallo | Brainiac | Flamingo | Mxyzptlk | Toyman | Thinker | Doctor Sivana | Mister Mind | Black Adam
Beware the Batman
Anarky | Ra's al Ghul | Deathstroke | Harvey Dent | Killer Croc | Simon Stagg | Professor Pyg and Mr. Toad | Man-Bat | Cypher | Magpie | Lady Shiva | Tobias Whale | Phosphorus Rex | Lunkhead | Humpty Dumpty | Silver Monkey | Key | Bethany Ravencroft | Daedalus Boch | Junkyard Dog | Sapphire Stagg | Matatoa | Anatol Mykros
Harley Quinn
Harley Quinn | Poison Ivy | Joker | Scarecrow | Queen of Fables | Darkseid | Parademons | Penguin | Mr. Freeze | Bane | Lex Luthor | Killer Croc | Man-Bat | Riddler | Deadshot | Calendar Man | Condiment King | Solomon Grundy | Kite Man | Doctor Psycho | Clayface | King Shark | Nora Fries | Sy Borgman | Doctor Trap | Frank the Plant | Felix Faust | Toyman | Metallo | Livewire | Parasite | Black Adam | Captain Cold | Gorilla Grodd | Black Manta | Cheetah | Giganta | Sinestro | Maxie Zeus | Eris | KGBeast | Two-Face | Catwoman | Nick Quinzel | Sharon Quinzel
Video Games
LEGO Batman
Joker | Penguin | Riddler | Harley Quinn | Catwoman | Two-Face | Bane | Clayface | Killer Croc | Killer Moth | Mad Hatter | Man-Bat | Mr. Freeze | Poison Ivy | Scarecrow | Ra's al Ghul | Hush
Lego Batman 2: DC Super Heroes
Joker | Lex Luthor | Harley Quinn | Riddler | Two-Face | Catwoman | Bane | Penguin | Poison Ivy | Scarecrow | Captain Boomerang | Clayface | Mad Hatter | Ra's al Ghul | Killer Croc | Bane | Killer Moth | Mr. Freeze | Man-Bat | Hush | Zod | Sinestro | Brainiac | Gorilla Grodd | Captain Cold | Black Manta | Black Adam | Bizarro
Lego Batman 3: Beyond Gotham
Brainiac | Joker | Lex Luthor | Cheetah | Solomon Grundy | Firefly | Killer Croc | Sinestro | Atrocitus | Larfleeze | Star Sapphire | Composite Superman | Bane | Arkillo | Condiment King | Music Meister | Captain Cold | Black Adam | Black Manta | Black Hand | Bronze Tiger Cyborg Superman | Deadshot | Deathstroke | Lobo | Dex-Starr | Doomsday | Gorilla Grodd | Harley Quinn | Hush | Kalibak | Killer Moth | Man-Bat | Mad Hatter | Manchester Black | Metallo | Mr. Freeze | Mr. Mxyzptlk | Parasite | Penguin | Poison Ivy | Polka Dot Man | Red Hood | Riddler | Toyman | The Trickster | Ultra-Humanite | Catwoman | Bizarro | Amanda Waller | Captain Boomerang | El Diablo | King Shark | Killer Frost | Plastique | Terra | Zod | Faora | Joker | Two-Face | Ra's al Ghul | Bane | Catwoman | Scarecrow | Blight | Joker | Mr. Freeze | Arrow Deathstroke | Malcolm Merlyn | Darkseid
Injustice
Superman | Wonder Woman | Yellow Lantern | The Flash | Aquaman | Nightwing | Cyborg | Raven | Solomon Grundy | Catwoman | Bane | Black Adam | Deadshot | Poison Ivy | Scarecrow | Joker | Deathstroke
See Also
Arkhamverse Villains | Batgirl Villains | Batman Beyond Villains | Batwoman Villains | Birds of Prey Villains | Catwoman Villains | Gotham Villains | Harley Quinn Villains | Nightwing Villains | Outsiders Villains | Red Hood Villains | Robin Villains | Telltalle Batman Villains