| | | |
| --- | --- | --- |
| " | You're despicable! | " |
| | ~ Daffy Duck's famous catchphrase. | |
Daffy Duck is the deuteragonist of the Looney Tunes franchise. He has been a regular cast of the mainstream heroes of Looney Tunes, but he is not always a hero. He is more accurately termed as an anti-hero and at times can even become a leading villain.
Daffy can be credited with some rather cruel and unusual incidents throughout his career and has antagonized several notable heroes, such as Bugs Bunny and Speedy Gonzales.
Villainous Acts
Biography
However, Daffy Duck has gone one step further than Bugs Bunny or Foghorn Leghorn and actually passed from the occasional anti-hero to the occasional villain as he is often portrayed as a selfish, mean-spirited, attention-stealing braggart and mostly as a greedy con-artist who craves for fame and riches and who does not really care about honesty. He used to be crazy and a screwball. His designated victim is the gullible Porky Pig, whom he tricks in selling him many useless things, often with the goal of causing him troubles so that he could sell him a more expensive and not more useful "remedy".
For some examples in the cartoon Well Worn Daffy, Daffy's mean-spirited nature is taken to its extremes and he outright denies a group of mice access to desperately needed water out of sheer malice: this is without a doubt one of the most blatantly cruel things that Daffy has done (and, to be fair, is slightly out of a character). He also hates Bugs Bunny and in the cartoon, Rabbit Fire, Daffy tried to get Bugs killed by Elmer Fudd.
It should still be remembered that, while Daffy may be mostly evil, he has done plenty of heroic acts which have shown that he has a good side to him. In Duck Dodgers, for example, he is always the hero. An idiot hero, but still certainly not an anti-hero (there is one exception, see below).
Bugs Bunny Rabbit Rampage
Believe it or not, Daffy Duck is featured as the final boss and the main antagonist of the video-game Bugs Bunny Rabbit Rampage - in this version of events, Daffy has taken his rivalry with Bugs to a whole new level and gained the power of the artist in a similar fashion to Elmer Fudd during a famous Looney Tunes cartoon.
Using his newfound powers, Daffy Duck causes all manner of mischief for Bugs Bunny, but is ultimately resigned to his usual defeat at the hands of his rival.
It is very likely that Daffy Duck was also trying to exact revenge on Bugs Bunny for pulling a similar trick on him in the Looney Tunes cartoon "Duck Amuck".
Duck Dodgers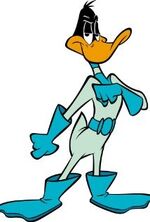 In Duck Dodgers, Daffy Duck (aka Duck Dodgers) serves to protect the galaxy alongside Porky Pig (aka The Cadet) from Marvin the Martian.
While still lazy, dimwitted and sometimes coward, Daffy maintains a heroic status on that series, the only exception occurring on a two-part episode in which he sabotages a peace treaty to prevent losing his job, an act for which the Cadet takes the blame. Dodgers later regrets the sabotage, saves the Cadet from prison and publicly admits his guilt.
Bah, Humduck! A Looney Tunes Christmas
On that TV special adapted from A Christmas Carol, Daffy plays the role of the greedy, heartless and abusive owner of a mega-store who changes his behavior and becomes a generous fellow after being visited by three spirits on the Christmas Eve night; as happened with Ebenezer Scrooge in the original story.
The Looney Tunes Show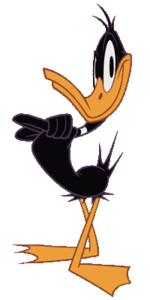 | | | |
| --- | --- | --- |
| " | Sometimes you have to treat others wrong to treat yourself right. | " |
| | ~ Daffy in "We're in Big Truffle". | |
Daffy returns as a main character in this 2011 spin-off of the Looney Tunes. Although mostly being a neutral character, he has had some villainous roles.
Villainous Acts
However, this is balanced out with more positive portrayals, such as in "Bobcats on Three" where he goes out of his way to help a children's water polo team win. "Best Friends" where he goes to extreme lengths to try and prove he's good friend to Bugs (their rivalry turned down to more of a competing friendship, that Daffy always loses, in this adaptation). Perhaps the best example is "We're in a Big Truffle" where he willingly gives up a fortune to save Porky. These traits prevent him from ever becoming the villain of the series.
New Looney Tunes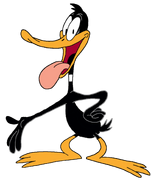 Daffy finally appears again after Looney Tunes: Rabbits Run (2015) in a New Looney Tunes clip from "Porky's Duck-Livery Service", his only appearance in season 1. Daffy appears more in seasons 2 and 3. This Daffy retains his original pre-Chuck Jones characteristics and wild, zany screwball character as perfected by Tex Avery and Bob Clampett. This Daffy is voiced by Dee Bradley Baker.
He has shown to be an antagonist sometimes, such as harassing Porky in several episodes, tormenting Bugs on an computer sketching him (similar to Duck Amuck and in revenge for what Bugs did to him in that cartoon), and trying to steal the spotlight.
Trivia
External Links