Jafar says: Read my lips and come to grips with the reality!


This article is a stub and is in need of expansion. You can help Villains Wiki by expanding it.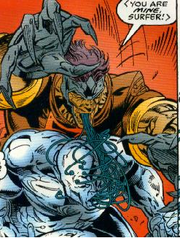 Dampyre was a villain from Marvel comics and an enemy of the Silver Surfer.
History
Dampyre and Throk confronted a party of Rigellians who had come to investigate the massacre of Charter members at the Hub. They took the Rigellians captive.
Later, when the Star Masters invaded their vessel at the Hub, Dampyre attacked the Silver Surfer, and used his tendrils to incapacitate him. Dampyre was pleased to have defeated the Silver Surfer, and bragged to his allies of the accomplishment as they turned the Star Masters over to Sidereus so that they could placed into the Cauldron of Conversion.
However, the Star Masters escaped the Cauldron, and led another attack on their vessel after they had left the Hub. Dampyre tried to drain Quasar's energies, but found the Quantum energies to be too powerful for him to handle, and collapsed. Dampyre was onboard the vessel when Lord Votan ordered it to self-destruct, and he was likely killed.
Powers / Abilities
Dampyre can release several tendrils from his mouth which affix themselves to his opponents' body, and slowly drain their life energy into himself. He cannot handle the cosmic energies wielded by foes such as Quasar.
Community content is available under
CC-BY-SA
unless otherwise noted.