This article's content is marked as Mature
The page Mature contains mature content that may include coarse language, sexual references, and/or graphic violent images which may be disturbing to some. Mature pages are recommended for those who are 18 years of age and older.


If you are 18 years or older or are comfortable with graphic material, you are free to view this page. Otherwise, you should close this page and view another page.
| | | |
| --- | --- | --- |
| " | Thing is, I'm something of a gambling man. I've been known to be a sucker for cheap thrills and some would even go far as to say I'm a addict. However, when all's said and done, gambling's how I make my living. Tell me, any of you boys like to gamble? | " |
| | ~ Daniel J. D'Arby. | |
| | | |
| --- | --- | --- |
| " | Okay, open the game! | " |
| | ~ Daniel J. D'Arby. | |
| | | |
| --- | --- | --- |
| " | It's only cheating if you're caught! | " |
| | ~ Daniel J. D'Arby. | |
Daniel J. D'Arby is minor antagonist in JoJo's Bizarre Adventure: Stardust Crusaders. He is one of the assassins hired by Dio Brando and a member of the Egypt 9 Glory Gods. He wields the Stand Osiris, which represents one of the nine Egyptian gods of prosperity.
In Japanese, Daniel J. D'Arby is voiced by Yūji Kishi in JoJo's Bizarre Adventure: Heritage for the Future, the late Kenji Utsumi in the OVA, Kōji Ishii in JoJo's Bizarre Adventure: All Star Battle, and Banjō Ginga in the anime, JoJo's Bizarre Adventure: Eyes of Heaven, and other modern appearances. In English, Daniel J. D'Arby is voiced by Cam Clarke in the OVA and Curt Mann in the anime.
Biography
JoJo's Bizarre Adventure: Stardust Crusaders
Daniel J. D'Arby is a professional gambler and skilled cheater. He and his younger brother Terence T. D'Arby both earned their lives only with gambling. He is hired by Dio to defeat Jotaro Kujo and his group. When they arrive at Egypt, looking for Dio's Mansion, he tricks them into gambling with him, in exchange for information.
D'Arby throws two pieces of meat, to bet which one a cat in the wall nearby would get first. Jean Pierre Polnareff accepts his challenge, but loses, which is when D'Arby reveals his stand, who takes Polnareff's soul and turns it into a poker chip. He then reveals that the cat was actually his, angering them all. Joseph Joestar then puts a cup into the table and fills it with wine to the edge. The game this time would be that they had to drop coins into the cup, and the one who spilled the wine out loses. D'Arby inspects the cup, then starts the game by dropping five coins at once. Joseph cheats, using a piece of cotton hidden in his finger to drip more wine into the glass, but even so he ends losing and his soul is taken. Jotaro discovers that D'Arby had put a little piece of chocolate in the cup prior to the start of the game, tilting the cup a little. When he switches his place, the sun melts the chocolate, allowing him to put one more coin.
Jotaro decides to challenge D'Arby to a poker game, which D'Arby states is the game he's the best at. As D'Arby starts dealing the cards, Jotaro breaks his finger, having noticed D'Arby was cheating by dealing him the second card of the deck. Avdol then asks a nearby boy to deal for them. After the cards are dealt, Jotaro keeps his cards on the table, telling he's fine with them. Jotaro starts an elaborate bluff, tricking D'Arby into thinking he was switching his cards with his stand Star Platinum by fetching himself a cigarette and a cup of juice while D'Arby wasn't looking. Although D'Arby was confident, because the boy was actually his servant, Jotaro starts raising the bets with his friends' souls and even his mother's soul, asking for D'Arby to bet on information about Dio. Knowing Dio would kill him if he revealed the information, D'Arby falls for the bluff and admits defeat, fainting over the table and releasing all the souls he had captured. The high pressure of the game brings him to the point of madness, as he starts to talk with the souls of his collection and asks them to play a game with him.
JoJo's Bizarre Adventure: Eyes of Heaven
D'Arby acted as one of Heaven Ascension DIO's minions. He is first seen taking the soul of Jotaro's future daughter Jolyne, in an act of revenge for his previous defeat by Jotaro. Jotaro then defeats him in a poker game, forcing him to release the soul of Jolyne.
He later reappears in Morioh, now holding a saint's corpse. Defeated by Jotaro once again, he gave him the corpse part and told him that the only person who knows DIO's weakness is Enrico Pucci, possibly out of honour. He then disappears and was never seen again.
Powers and Abilities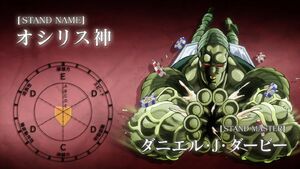 "
Daniel J. D'Arby: Well, if there's nothing else, I ask per our agreement it's time to pay up.
Jean Pierre Polanreff: Huh? Pay? With what?
Daniel J. D'Arby: Your soul, of course. Surely you didn't forget about our wager, Polnareff. I want your soul, as I'm a Stand User who prides himself on stealing them. I find it's far easier to take a person's soul if they lose it in a bet, which is when my Stand's power activates and collects what's mine!
"
~ Daniel J. D'Arby before stealing Polnareff's soul.
Daniel J. D'Arby's Stand, Osiris, gives him the power to take other's souls, and turn them into poker chips. He could do this normally, but because he thinks this is too boring, he prefers to take souls by gambling for them, so he set his stand to take over a soul only when his opponent admits defeat.
Aside from that, D'Arby is very skilled at cheating in games, and has an expert sense of touch, the latter allowing him to know the number of a book page or card by touch alone.
Trivia
Araki created Daniel J. D'Arby after wanting to see a showdown between someone who could match Joseph's expertise in cheating.
The coin game Daniel and Joseph play is inspired by the movie Farewell Friend.
In the anime, the animations used for his hands were based off motion captures done using a real magician's hands.
Despite being a minor antagonist, Daniel's showdown with Jotaro has been praised by many critics, due to the battle being unique for showing how Jotaro can be a creative fighter without his Stand employed in direct combat, but rather in a battle of wits and mind games. Due to this, it's often considered to be one of the best and most amusing fights in the series.