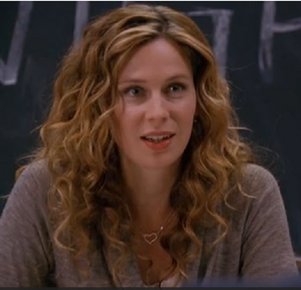 Danielle McCaskin is a villainess from "Tru Love," episode 6.02 of Law & Order: Criminal Intent.
She was played by Anne Dudek, who also portrayed Dawn Lin on NCIS: New Orleans and Emma Kerrigan in Criminal Minds.
Danielle McCaskin is an English teacher and the wife of Jack McCaskin, though it was later revealed that she was engaged in an illicit affair with 16-year-old Keith Tyler, one of her students. Keith's father, plastic surgeon Grant Tyler, found out about his son's dalliance with Danielle and blackmailed Danielle into having sex with him, with the tryst being recorded on a hidden video camera. Keith later sabotaged Grant's motorcycle as payback for his abuse, though in the beginning of the episode, the sabotage resulted in Grant flying off the bike and being fatally impaled on a fence.
After learning about Grant's death and Keith's role, Danielle colluded with Keith to frame Jack for the murder, but it was during the investigation into Jack that Danielle and Keith's illicit romance was revealed. She was taken into custody and charged with statutory rape, despite Keith's protests. However, Danielle later escaped with Keith, and they were shown making out with each other while heading to Canada.
After Danielle (who dyed her hair a dark color) was caught, Keith confessed to sabotaging the motorcycle, and it was following this that Detective Megan Wheeler talked with Danielle, after she uncovered that Danielle having to move from her town and school as a teenager kept her from living as a typical teenage girl, which prompted her to begin her relationship with Keith. After Wheeler and her partner Mike Logan showed Danielle the prison that Keith would be in for his role in his father's death, Danielle decided to plead guilty to all of the charges against her. During the procedure, it was revealed that Danielle was pregnant, and she was later sentenced to a year in jail and ordered to have no more contact with Keith, who believed he was the father. Following her sentence, however, Danielle revealed to Keith that Grant was the baby's father.
External links

Villains