Jurassic World: Dominion Dominates Fandom Wikis - The Loop
Play Sound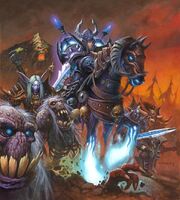 Darion Mograine, also known as The Ebon Watcher, is a character in World of Warcraft. He was first introduced in the Wrath of the Lich King expansion as the leader of the Death Knights of Acherus, but is later redeemed by Tirion Fordring during the battle of Light's Hope Chapel and becomes the leader of the Knights of the Ebon Blade.
In Wrath of the Lich King
Sometime later Darion was made Highlord of the Death Knights of Acherus, an order of Death Knights with the sole purpose of annihilating the remaining living in the Eastern Plaguelands. He also planned and formulated not only the forces in the Eastern Kingdoms but also the strategy of the forces of Northrend and the would-be assault on Kalimdor. He gave command to all newly created Death Knights under his authority, orders to aid in the taking of the Eastern Plaguelands in the name of the Lich King from the fortress that is Ebon Hold.
After the crushing of the Scarlet Crusade, the Death Knights of Acherus began preparation for their final assault on Light's Hope Chapel. Darion assembled his most worthy and strongest Death Knights to begin the Second Battle for Light's Hope. There he learned that the Ashbringer would refuse to strike down any foe, and refused to obey his commands. One of his three generals then fled, as he was forced to face the tremendous power of Lights Hope Chapel's consecrated ground. As Tirion arrived, Darion admitted defeat to the superior forces of the combined Silver Hand and Argent Dawn. At that moment, his father's spirit appeared to him briefly, before the Lich King appeared and trapped his soul within Frostmourne. After the Lich King admitted to sending the Death Knights to their doom just to bring Tirion Fordring out of hiding, Darion attempted to attack his master, only to be sent flying. As the Lich King was about to end the Death Knight's life, Darion threw the [Corrupted Ashbringer] to Tirion who in turn was able to purify it and push the Lich King back with the combined forces of the redeemed blade and the sacred ground. In response to the Lich King's betrayal, Darion now leads the newly freed Death Knights, now known as the Knights of the Ebon Blade, in a campaign to wipe out the forces loyal to the Lich King from Ebon Hold and establish it as a neutral haven for all Death Knights to call home.