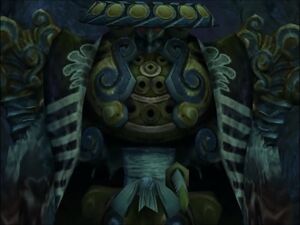 The Dark Aeons (ヘレティック召喚獣 translation: Heretic beasts) are dark counterparts of the aeons from Final Fantasy X. They are optional bosses that are part of the International and PAL and the HD remaster versions of the game. They appear after the party obtains the Al Bhed airship. A group of Yevon zealots start an aggressive campaign to eliminate the heroes by summoning super-powered versions of the aeons called Dark Aeons. The Dark Aeons do not have the same weaknesses as the original aeons. After the Dark Aeons have been destroyed, the party has a chance to fight one of the most powerful Super-Bosses in the Final Fantasy series, Penance.
See also
Dark Aeon in Final Fantasy Wiki

Villains
Video Games
Final Fantasy: Garland | Fiends of Chaos | Chaos | Astos
Final Fantasy II: Palamecian Empire (Emperor Mateus, Leon, Borghen, Dark Emperor & Light Emperor)
Final Fantasy III: Xande | Djinn | Gigameth | Goldor | Gutsco | Hein | Cloud of Darkness
Final Fantasy IV: Baron Empire (Golbez, Kain Highwind, Baigan, Dr. Lugae & Red Wings) | Elemental Archfiends (Scarmiglione, Cagnazzo, Barbariccia & Rubicante) | Zemus/Zeromus | Maenad | The Creator
Final Fantasy V: Exdeath | Gilgamesh | Enkidu | Neo Exdeath | Demons of the Rift | Void | Enuo
Final Fantasy VI: Gestahlian Empire (Emperor Gestahl, Kefka Palazzo, Typhon & Ultros) | Cult of Kefka (Kefka Palazzo & Magic Master)
Final Fantasy VII: Shinra Inc. (President Shinra, Rufus Shinra, Heidegger, Palmer, Professor Hojo, Professor Hollander & Scarlet) | Turks (Elena, Reno, Rude & Tseng) | Remnants (Kadaj, Loz & Yazoo) | Don Corneo | Genesis | Jenova | Omega Weiss | Sephiroth
Final Fantasy VIII: Adel | Fujin | Griever | NORG | President Vinzer Deling | Raijin | Seifer Almasy | Ultimecia
Final Fantasy IX: Alexandrian Empire (Queen Brahne, Thorn and Zorn, Meltigemini & Kuja) | Garland | Necron
Final Fantasy X: Yevon (Seymour Guado, Yo Mika, Wen Kinoc & Lady Yunalesca) | Jecht | Shuyin | Sin | Leblanc Syndicate (Leblanc, Logos & Ormi) | Yu Yevon
Final Fantasy XI: Promathia | Shadow Lord | Shantotto
Final Fantasy XII: Archadian Empire (Vayne Solidor, Doctor Cid, Gabranth, Ba'Gamnan, Bergan, Ghis, Judge of Wings & Venat)
Final Fantasy XIII: Barthandelus | Bhunivelze | Caius Ballad | Jihl Nabaat | Order of Salvation | Orphan | Yaag Rosch
Final Fantasy XIV: Archbishop Thordan VII | Ascians (Elidibus, Igeyorhm, Lahabrea, Nabriales & Warriors of Darkness) | Gaius Van Baelsar | Heavens' Ward | Illuminati | Livia Sas Junius | Lolorito | Nael Van Darnus | Nero Tol Scaeva | Nidhogg | Quickthinx Allthoughts | Regula Van Hydrus | Rhitahtyn Sas Arvina | Teledji Adeledji | True Brothers of the Faith | Varis Zos Galvus
Final Fantasy XV: Ardyn Izunia | Iedolas Aldercapt | Glauca | Ravus Nox Fleuret | Loqi Tummelt | Caligo Ulldor | Verstael Besithia
Final Fantasy: The 4 Heroes of Light: Chaos | Servants of Chaos (Asmodeus, Beezlebub, Belphegor, Leviathan, Lucifer & Mammon)
Final Fantasy: The Spirits Within:General Hein | Phantoms
Final Fantasy: Unlimited: Earl Tyrant | Fungus | Herba | Oshca | Pist Shaz XI | Solijashy
Final Fantasy Adventure: Dark Lord | Julius
Final Fantasy Chrystal Chronicles: Meteor Parasite | Raem
Final Fantasy Crystal Chronicles: Echoes of Time: Larkeicus
Final Fantasy Chrystal Chronicles: My Life as a King: Dark Lord
Final Fantasy Crystal Chronicles: Ring of Fates: Cu Caspel | Galdes
Final Fantasy Dimensions: Elgo | Four Generals (Asmodai, Baugauven, Styx & Vata)
Final Fantasy Mystic Quest: Dark Lord | Skullrus Rex | Stone Golem | Twinhead Wyvern | Vile Four (Dualhead Hydra, Flamerus Rex, Ice Golem & Pazuzu)
Final Fantasy Tactics:Algus | Delita Hyral | Gafgarion | Gerrith Barrington | St. Ajora | The Lucavi (Belias, Cuchulainn, Dycedarg Beoulve, Marquis Elmdor & Vormav Tingel/Hashmal) | Wiegraf Folles
Final Fantasy Tactics A2: Duelhorn (Alys the Ensorceled, Duke Snakeheart, Maquis & The Night Dancer) | Khamja (Ewen & Illua) | Klesta | Neukhia
Final Fantasy Tactics Advance: Llednar Twem | Queen Remedi
Final Fantasy Type-0: Cid Aulstyne | Gala | Gilgamesh Ashur | Nimbus | Qator Bashtar | Qun'mi Tru'e
Community content is available under
CC-BY-SA
unless otherwise noted.