Jurassic World: Dominion Dominates Fandom Wikis - The Loop
Play Sound
| | | |
| --- | --- | --- |
| " | In the London of ages past, seventy-two percent of all deaths were releated to those grotesque beings known as dragons. | " |
| | ~ A quote about the Dark Dragons. | |
Dark Dragons serve as the main antagonists in the manga and anime Burn the Witch by Tite Kubo, which is a spin-off of the anime and manga Bleach. They are malicious creatures that arise when ordinary dragons absorb negative energy from humans. They are London's equivalent of Hollows. 
History
Overview
Dragons have always existed in London. They can only be seen by the residents of Reverse London, so most ordinary humans believe them to be just a myth.
Dragons used to be responsible for seventy-two percent of deaths in London. This is due to the fact that ordinary dragons absorb negative energy from humans and turn into dark dragons. In 1609, the Dragon Contact Prohibition was passed, which outlawed ordinary people from interaction with dragons. Only licensed witches and wizards are legally allowed to interact with dragons. Violation of this law will result in one hundred years of imprisonment or execution.
Dark Dragons
When an ordinary dragon interacts with a human for too long, it will become a Dark Dragon, Dark dragons will hunt and attempt to eat humans. They also are intelligent, with the ability to speak. However, they often just parrot what humans have said (like when Osushi repeats that he wants to see Noel's knickers). Some Dark Dragons, like Shelby, will actively hunt wizards and witches, believing it will give them power. 
While most Dark Dragons are aggressive and must be killed, there are rare exceptions, like Osushi, that can retain their previous form and be domesticated.
Interactions with Wizards and Witches
Only wizards and witches may interact with dragons. Ordinary dragons are used for farming, transportation, and other tasks. It is the job of the western branch of the Soul Society, know as Wing Bind, to regulate dragons.  The Pipers regulate and take care of ordinary dragons, while the Sabres kill Dark Dragons.
The Märchens
The Märchens are ancient dragons that are said to be the origin of all Dark Dragons. They have many powerful techniques, such as the Stealth Scale Technique used to hide from Wizards and Witches. They are named after fairy tales. The seven Märchens are named: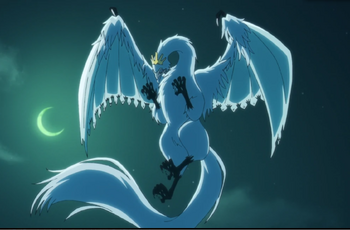 Snow White (From the fairy tale of the same name)
Red Dress (From Little Red Riding Hood)
Golden Axe (From the Honest Woodcutter, a story in Aesop's Fables)
Bubbles (From the Little Mermaid)
Sugar House (From Hansel and Gretel)
Band of Animals (From the Town Musicians of Bremen)
Cinderella (From the fairy tale of the same name)
Disguisers
Disguisers are a type of Dark Dragon that inhabit and control corpses. They used to be more common when corpses were plentiful on the streets of London, though they are rare in modern times. Shelby is an example of a disguiser, who took the form of the real Shelby, who sacrificed himself to save Balgo. Shelby actually lived peacefully around Balgo for ten years before attacking him.