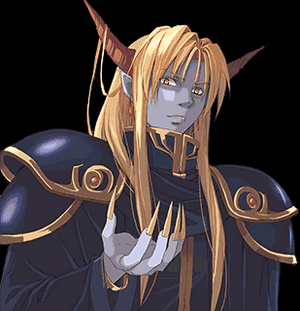 Dark Fact is the main villain from Ys: Ancient Ys Vanished. A descendant of the six priests of Ys, Dark Fact is seeking the six books of Ys, which he wants to reach the floating island of Ys. He is responsible for unleashing the devils in the land of Esteria and breaking the seal of Darm, the main villain of the second game.
History
Dark Fact is mentioned throughout the game as the mysterious dark-cloaked man, who for some reason have been wandering the towns and stealing various objects made of silver. He have also kidnapped the amnesiac Feena and locked her (it is revealed in the second game she is actually one of the two goddesses of Ys). When he learns that the hero Adol is collecting the books of Ys, Dark Fact kills the fortune-teller Sarah, who had been guiding Adol on his journey. Adol finally confronts Dark Fact on the top of Darm Tower, who protects himself inside his dark cloak made of Cleria (a mysterious ore responsible for the lifting of Ys to the skies, and which can only be pierced by weapons made of silver, thus the reason he's been stealing objects made of silver) and floats around the arena while shooting fireballs. Adol emerges victorious, retrieving the last book of Ys from Dark Fact. After Adol reads the last book, he is magically transported to Ys, where his adventure continues.
Gallery
Community content is available under
CC-BY-SA
unless otherwise noted.