Jurassic World: Dominion Dominates Fandom Wikis - The Loop
Play Sound
The Dark Lord (the Shadow Knight in Japanese) is a major villain in the first video game of the Mana series, known in Occident as Final Fantasy Adventure, and its two remakes. He is the ruler of the Duchy of Glaive, (the Granz Realm in Sword of Mana) invading the world of Fa'Diel but is used and betrayed by his court mage Julius Vandole. He is far less evil in Sword of Mana, in which his name is Stroud, later used for the central villain in Dawn of Mana.
Characteristics
In Fighting Fantasy Adventure and its last remake Adventures of Mana, the Dark Lord is an unabashedly evil tyrant, without personality aside from cruelty, ruthlessness and sadism.
He revels in watching slaves risk their lives in his arena, slaughters indiscriminately, and seeks to rule the world of Fa'Diel purely for the sake of domination. He is exceedingly arrogant, scorning any foe as worthless despite their resistance.
He is collected, cold and uncaring, but exceedingly arrogant, scorning any foe as worthless despite their continuous resistance. While a very talented general and top-tier swordsman, his bark is worse than his bite, being played all along by his much more dangerous right-hand.
In Sword of Mana he is way more ambiguous, despite retaining his villainous role and being a considerably mightier half-demon. In this setting, demons are neutral and he is more misguided than evil, a formidable conqueror who committed many exactions, but at the same time a good ruler liked by his subjects. He is a bitter, prejudiced hateful and dangerous extremist, albeit poised, polite, and honorable, bearing no ill will to foes.
He wants to eliminate the power of Mana to mend the rift between Fa'Diel and Mavolia, and save his dying mother no matter the cost. He mistakenly believes that the Mana Clan is oppressing Mavolia and hoarding Mana power, repaying them in kind, and fancies himself as a necessary evil who can build and lead better world.
Background
The Dark Lord has ruled for before the fall of the evil Vandole Empire, which syphoned the power of Mana sustaining everything to rule Fa'Diel.
Shortly after, he found Julius as a baby in a cave and raised him, likely sensing his enormous potential for magic which could prove an asset. He then started his own bid at world domination and furbished his armies in secret, until he was ready to wage his own war, with the Gemma Knights who toppled the Vandole Empire too old to act against him.
In Sword of Mana, Stroud is the hybrid son of Lord Granz (the human leader of the Gemma Knights) and Medusa, Queen of Mavolia and counterpart of Anise. But the law separating mortals from Mavole forced his father to raise him as prince of his realm, away from his mother and twin brother the Illithid Devius, whose power was running too wild to remain in Fa'Diel.
Medusa's memories and her life are ebbing away because of her marriage. Stroud renamed himself the Dark Lord, deposed his father and began outlawing the Mana Clan as "heretics", believing that Mana is what makes his mother ill.
He killed the hero's parents when he was a child, despite his father Hermann being a consul of his realm who tried in vain to stop his deluded crusade, for sheltering Elena. And he later captured the hero.
Role in the Games
Final Fantasy Adventure/Adventures of Mana
The Hero (named Duke in adaptations) starts as a gladiator slave in the Dark Lord's arena. His best friend Willy dies in his arms, likely after failing to escape, revealing that the Mana Tree is in danger.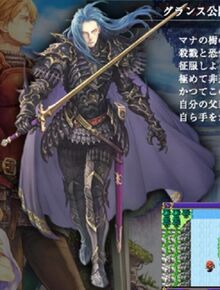 Duke escapes through the pit of monsters and eavesdrops the Dark Lord ordering Julius to find the key to the Mana Tree. He is spotted and thrown down the waterfall by the despot.
Duke survives by miracle and later saves the Heroine (named Elena in adaptations), the sole survivor of the Mana Clan that was slaughtered by the Dark Lord. They seek help in the Holy City of Wendel, but the Dark Lord attacks it and Elena is abducted by Julius, for her pendant is the only key to access the Mana Tree.
Duke boards the Dark Lord's airship but can only take Elena's pendant, later stolen by the Illithid Davias (Devius) and given to the Dark Lord's pet Garuda. But Duke obtains the legendary Sword of Mana (albeit in a rusted state) and manages to storm the castle and avenge his friends at last.
With the Dark Lord gone, Julius takes centre stage and eventually gains godly power from the Mana Tree, becoming an extremely powerful demon ready to take over the world. Duke slays him in turn with the restored Sword of Mana, but Elena must merge with the Mana Tree and Duke becomes its guardian.
Sword of Mana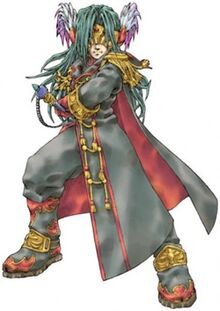 In this game, the Dark Lord is genuinely friend with Julius (who is a reincarnation of sorts of the evil Emperor Vandole) and seems able to canalise his worst impulses. He has Goremand as his (barely loyal) vassal and later starts a genuinely loving relationship with the Demon Lady Isabella (counterpart of Belladonna).
He notices Duke's and Willy's escape and offers to name them officers, but Duke attacks in a rage, only to have his sword blocked bare-handed and get thrown off.
Here, Duke and Elena fight together, and the Dark Lord is with Julius when Elena is abducted. After the heroes are forced to kill Medusa in self-defence, her furious sons barge in, but the Dark Lord allows Devius to settle the score.
The heroes later confront the Dark Lord, who labels them as hypocrites for calling him out for they have killed as well, and explains is vision of a unified, pacified world under his rule. Duke retorts that they only killed reluctantly when they had no choice, rejecting his goal as deluded and pleading for the innocence of the Mana Clan.
The Dark Lord forbids his vassals to intervene in his battle against the heroes. Before dying, he asks the heroes and Isabella to beware Julius, but Goremand devours his soul to Isabella's outrage.
Boss Battles
In the original, the Dark Lord is strong, fast and sturdy, but easy to beat. He strikes at close range, blocks frontal hits with his shield, and resists magic. Duke must keep away and hit from the sides, mostly with dashes.
Adventures of Mana makes him significantly more powerful, albeit just as easy. He tails Duke, lands energy-infused dashes, and fires blue energy blades. Spinning and Dashing attacks are advised.
In Sword of Mana the Dark Lord fights Duke and Elena together. He is fast and powerful, but not very hard, especially against sufficiently powerful heroes. He strikes, performs stabbing dashes that can paralyze, and fires three energy blades causing the darkness status. He is highly resistant to magic, so he must be harassed with weapons.
Circle of Mana
The Dark Lord is playable in this card-based game featuring most characters of the series, under his Sword of Mana aspect. Each character is played as cards to save the Mana Tree from monsters, and can gain power, equipment and Class Changes. Several cards featuring her are available, each evolving following a distinct path.
Echoes of Mana
The Dark Lord is playable in this mobile game in which the Mana Goddess tasks two heroes from the Mana Tribe to restore the world with memories from different continuities.
He is of the Dark element and fight with his sword. He can boost himself with Support Skill 1, and uses sword skills like Great Gash and Shadow Crescent Slice. His mightiest attack summons the Dark Guardian.