✓
This villain was proposed but was rejected by the community for not being heinous enough or lacks what is necessary to be a Pure Evil villain. Therefore, this villain shall be added to our "Never Again List", where proposed villains rejected by the community shall be placed to prevent future proposals of the same evil-doer. They can be proposed again (with the permission of an administrator) if new elements appear in their series that can change their status as non-PE villains.
Any act of adding this villain to the Pure Evil category without a proposal or creating a proposal for this villain without the permission of an administrator will result in a ban.
Additional Notice: This template is meant for admin maintenance only. Users who misuse the template will be blocked for a week minimum.
| | | |
| --- | --- | --- |
| " | I am Dark Specter, monarch of all that is evil! I have captured the mighty Zordon and am draining him of his powers! As his strength drains, the lava will rise extinguishing the Power forever! | " |
| | ~ Dark Specter | |
Dark Specter is the leader of the United Alliance of Evil and the overarching antagonist of  the entire Power Rangers franchise serving as the overarching antagonist of Power Rangers in Space, well as the main antagonist throughout the entire Zordon era.
He was portrayed by Terence J. Rotolo and voiced by Christopher Cho.
History
Capture of Zordon
Dark Specter had organized an attack on the planet, Eltar, and succeeded in capturing the Power Rangers mentor, Zordon. He began draining him of his power and then called a meeting of the United Alliance of Evil. During the meeting, a Power Ranger was caught spying on them, but he escaped and Dark Specter ordered Astronema to get rid of any Power Rangers to prevent them from saving Zordon. Later, he commanded her to constantly assault Earth to keep the Space Rangers busy.
Battles with the Rangers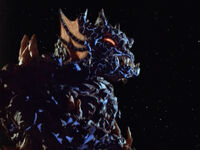 Later when the Space Rangers tried to save Zordon with help from the Phantom Ranger, Dark Specter set up a trap for them and even pretended to be Zordon, however the Rangers escaped. After Astronema managed to remember that she was Karone, Andros' sister, Dark Specter gave Darkonda control of the Dark Fortress before he managed to use cybernetic enhancements to regain control of her. However this backfired on the Grand Monarch of Evil since it made Astronema so evil that she decided to turn on her former master.
Countdown to Destruction
Dark Specter eventually initiated a universal invasion by the United Alliance of Evil, which was an extreme success. However he was assaulted by Darkonda, who attempted to destroy him with a missile capable of annihilating a planet. Though it worked, Dark Specter managed to swallow Darkonda's jet, taking the bounty hunter with him.
Powers and Abilities
It is unknown exactly how powerful Dark Specter is, but he is presumably much more powerful than all of the other villains, since they are so intimidated by him. He is able to unleash fire and lightning, corrupt a person's mind, teleport, spread evil, and drain energy from others.
Trivia
Dark Specter bears an unmistakable resemblance to Maligore, which is even pointed out by Divatox (when he appears at the meeting of the UAE, she said he reminded her of her fiancé). The Maligore costume was most likely reused due to budget cuts that the In Space season received.
Goldgoyle from Power Rangers Turbo may have been his servant.
In Power Rangers Lightspeed Rescue, Prince Olympius unveiled a rock resembling Dark Specter's hide capable of destroying Mariner Bay in seconds.
He is one of the few villains to be larger than a Megazord.
Dark Specter is one of villains who caused their own demise : because as doing Astronema as his favorite whereas Darkonda all time, Darkonda becomes progressively jealous and he will try to take the throne, as killing Dark Specter, Astronema and Ecliptor. Finally Dark Specter and Darkonda die together.
It can be assumed that Dark Specter inspired other alien organizations prime examples being Warstar and the Armada to destroy planets and enslave countless innocence which means even though he was destroyed other aliens and different types of monsters would still replace the previous threats and the cycle would repeat over and over again which has made a great legacy for Dark Specter after his death.   Navigation
Community content is available under
CC-BY-SA
unless otherwise noted.