Jurassic World: Dominion Dominates Fandom Wikis - The Loop
Play Sound
Darkseid's Prophets were three individuals chosen by the Lord of Apokolips to act as his emissaries on Earth in the CW Television series Smallville. They were a major antagonist faction in Season Ten.
They were portrayed by Christine Willes, Steve Byers who also played Cameron Henry and The Executioner in Slasher, and Michael Daingerfield who also voiced Unicorn in Iron Man: Armored Adventures, Joe in Barbie & Her Sisters in the Great Puppy Adventure, Sesshomaru in Inuyasha: The Final Act, Krux in LEGO Ninjago: Masters of Spinjitzu, and Johann Trinity in Mobile Suit Gundam 00.
History
The prophets were Darkseid's closest and most powerful minions that were imbued with a portion of his powers. The Ruler of Apokolips made grand preparations for his invasion of Earth, sowing discord among humanity and inspiring fear and doubt in its heroes, even Clark Kent himself.
But he didn't do it alone. A trio of prophets helped prepare the way for Darkseid's arrival on Earth, scouring the planet in search of individuals to corrupt for their master's agenda - to "save" the souls of mankind.
Together, the three prophets spread Darkseid's message, and came close to destroying Clark Kent and the Justice League.
Gordon Godfrey strongly encouraged the people to shame and despise the vigilantes, deeming them "false gods". He was briefly possessed by Darkseid before being chosen to be one of his prophets on Earth.
Desaad is loyal servant of Darkseid and in his service he has killed those who managed to resist his master's corruption. Desaad was endowed by his dark savior with a few potent abilities in order for his chosen prophet to perform in his duty of corrupting both the righteous and the depraved alike, bringing Darkseid's Apokolips to Earth even quicker.
After infecting a large number of the population with Omega symbols, Darkseid's homeworld, Apokolips began moving towards Earth, in an attempt to create a new Apokolips by merging the worlds for Darkseid to rule. Granny Goodness, in a final attempt at recruiting Tess Mercer, revealed her lord's plans to Tess, who refused to conform and bid her farewell.
After having her orphanage shut down, Granny met with Desaad who introduced their newest member Gordon Godfrey. The unholy trinity was now complete: together they could form an army to serve their Dark Lord.
The prophets prepared for their Dark Lord's eventual conquest of Earth. To ensure this, Granny followed Oliver Queen, so she'd be able to destroy the Bow of Orion, a powerful weapon against Darkseid. After destroying it, she still had use for Oliver and removed his memory of searching for the bow.
Granny then reprogrammed him to be completely under Darkseid's control by using the already branded Omega symbol on his skull. Under her influence, Oliver dug up a piece of Gold Kryptonite for a dangerous purpose.
Granny had a possessed Oliver disable Watchtower's satellites so that Tess could not warn the League. However, thanks to a satellite activated by John Jones, Tess was able to see the oncoming planet.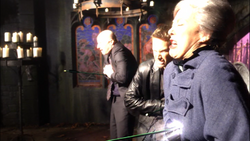 The trinity met at their lair when Oliver arrives and tells them of his accomplished mission of disabling the satellites of Watchtower. They are pleased and then assign him his next task: to remove Clark's powers using a Gold Kryptonite wedding ring.
During Clark and Lois' wedding, the possessed Oliver attempted to subdue Clark using Gold Kryptonite, but Clark was able to free him from Darkseid's control, right as Apokolips came into Earth's orbit.
During the event later known as "Contact", the prophets declared their victory but were confronted by the Green Arrow, who was freed from Darkseid's control. Godfrey was shocked by this. Amidst their condemnation and rebuke, he tells them about his belief in Clark and that he will save them.
Desaad was not pleased that Oliver had reverted to the side of light and taunted him, saying that he could never stop Darkseid. Granny tried to kill him but before she could, Green Arrow raised his bow and fires three arrows simultaneously that vanquishes the trio. Desaad, Granny Goodness and Godfrey were turned into clouds of black smoke and vanished.
Members
Desaad is the owner of a series of nightclubs and throws fetish parties in Metropolis where he encouraged people to give in to their worst vices. He is also a seemingly ageless servant of Darkseid with telekinetic powers as well as the ability to manipulate the minds of his victims to bring Apokolips closer to Earth.
Gordon Godfrey, a Metropolis radio shock jock who had a vendetta against the costumed vigilantes, was briefly possessed by Darkseid, but later chooses to serve him of his own free will. Given the task of weakening humanity, Godfrey used his radio pulpit to condemn all vigilantes in an effort to make people lose faith in their heroes.
Granny Goodness oversees an orphanage for wayward girls. With an array of dark powers, she trains the girls in her care to become deadly warriors in the name of her master.

Villains
Protagonists