| | | |
| --- | --- | --- |
| " | Their order might have already been decimated had it not been for the setback Darth Gravid dealt with the Sith. | " |
| | ~ Darth Plagueis to Darth Sidious, regarding Gravid's role in hindering the Grand Plan against the Jedi. | |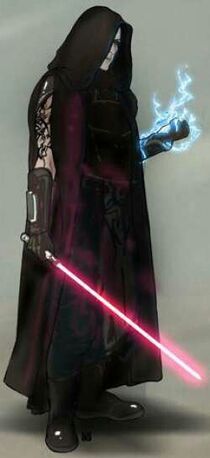 Darth Gravid was a Dark Lord of the Sith at the time of the Rule of Two who served in Darth Bane's Order of the Sith Lords who became Dark Lord and took on an female Twi'lek Sith Apprentice as his Shadow Hand, her name was Darth Gean. Over time, he was drawn to the Light Side and began to lose his sanity as a result of attempting to combine some of the philosophies of the Jedi, the Sith's enemies, with his teachings. He became convinced that he had to sabotage the Sith teachings in order to preserve the Order. Around 552 BBY, Gravid destroyed the majority of the Sith's lore before Gean slew him in his fortress on the planet Jaguada. Gravid's actions against the Sith set the organization back for centuries.

Legends Villains