Click to help Cruella!

This scum Darth Ruyn is driving Cruella insane!
IT MUST BE REWRITTEN OR ADDED TO!!
So sayeth the great Lord of Darkness Sauron, or he will send Darth Vader to terminate you.

Help improve this article by rewriting, expanding, updating the poorly written text of the article. ✓
Jafar says: Read my lips and come to grips with the reality!


This article is a stub and is in need of expansion. You can help Villains Wiki by expanding it.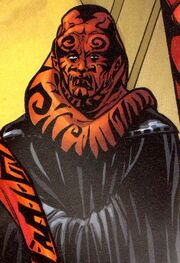 Darth Ruyn is a minor antagonist in the Star Wars: Legends series. A Twi'lek Sith Lord, he served Darth Krayt and is the former master of Darth Talon.
Biography
A old man by the Sith Imperial War, Ruyn was a member of the One Sith Order, serving Krayt. He trained several apperentices, including Darth Talon.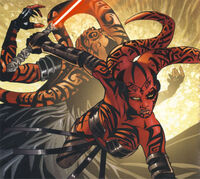 Seven years after Krayt made his empire known, he shown Talon to Krayt. Krayt gave her one mission, to kill Ruyn, who she respected. Despite her love for him, Talon quickly killed Ruyn, and became both a sith and Krayt's hired assassin.

Legends Villains