We're Getting Mutants in the MCU - The Loop
Play Sound
This article's content is marked as Mature
The page Mature contains mature content that may include coarse language, sexual references, and/or graphic violent images which may be disturbing to some. Mature pages are recommended for those who are 18 years of age and older.


If you are 18 years or older or are comfortable with graphic material, you are free to view this page. Otherwise, you should close this page and view another page.
| | | |
| --- | --- | --- |
| " | See, people like us Miriam, we're - we're warm. But she's a - she's an attorney. | " |
| | ~ David Greenhill | |
David Greenhill is the main antagonist of the 1993 thriller film Guilty as Sin.
He is portrayed by Don Johnson.
Biography
Greenhill is a suave, charismatic ladies' man who is accused of murdering his wealthy wife Rita after she mysteriously falls out of a high story window. He watches rising attorney Jennifer Haines winning various cases and decides that she is the perfect person to represent him in court, but despite using his charisma to try and entice her, Haines initially refuses the offer. However, she soon changes her mind after becoming intrigued by him and wanting a big case to show off her own skills, much to Greenhill's delight.
Greenhill becomes to show up in Haines' life on several occasions and starts stalking her, claiming that there is a connection between them, which angers Haines' husband Phil Garson. He tries to convince Haines to drop Greenhill as a client, but she refuses until her law partners inform her that Greenhill's promised fee has gone unpaid. Haines then finally tries to drop the case but is forced to continue representing Greenhill by the judge, claiming that it's her fault for taking the case on in the first place. Meanwhile, Haines' colleague Moe conducts some research into Greenhill's shady past, which reveals that Greenhill has a history of dating older wealthy women who tend to end up dead.
Knowing that Haines is bound to attorney-client confidentiality, Greenhill reveals to her the explicit details of how he did indeed kill his wife and how much he enjoyed doing so - he also knows that Haines values her career so much that she won't repeat this or else she'll be fired and prosecuted. Instead, Haines decides to plant evidence at Greenhill's home in an attempt to have him convicted, but Greenhill realizes that she is the one responsible for this and viciously beats Phil in retaliation (leading him to become hospitalized). After Greenhill's first court hearing ends in a mistrial, Greenhill threatens to blackmail her with his knowledge of the evidence she planted to keep himself in the clear, but Haines eventually decides to reveal all of the information she knows about Greenhill to the court at the cost of her career.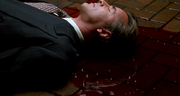 Anticipating this, Greenhill knocks out Moe and sets fire to his office before leaving him to die in the flames. He then confronts Haines outside her apartment building and claims that due to Phil's beating and Moe's death, she is supposedly grieving enough to commit suicide and attempts to throw Haines off the nearby balcony. However, to his horror, Haines manages to grab hold of him and pulls him over the balcony as well, sending them both plummeting onto the ground floor a long way below. Greenhill is killed instantly in the fall, but Haines is cushioned by his body and survives, albeit with serious injuries. She is then taken to hospital and happily says to her worried husband "I beat him, Phil. I beat him. Tough way to win a case."

Villains


Animated Features
Judge Doom | Toon Patrol (Smartass, Greasy, Psycho, Wheezy & Stupid) | Oogie Boogie | Lock, Shock and Barrel | Tybalt | Fawn | Terrafirminator | Roland | Bog King
Live-Action Films
Mr. Dark | Dr. Walter Kornbluth | Eric Kiviat | Sam Stone | Sherman Krader | Bronk Stinson | Joe Gipp | Bleak | Graydon | Richard "Stick" Montgomery | Judge Doom | Toon Patrol (Smartass, Greasy, Psycho, Wheezy & Stupid) | Gale Nolan | Thomas Perry | Richard Cameron | Howard Hyde | Walter Boyett | Zack Gregory | Jingles | Philip Stuckey | Felix Nash | Rubin Bartlett | Eric Stoller | Big Boy | Breathless Mahoney | D.A. Fletcher | Mumbles | Flattop Jones | Itchy | Numbers | 88 Keys | Pruneface | Influence | Lips Manlis | The Brow | Rodent | Shoulders | Little Face | Spaldoni | Texie Garcia | Johnny Ramm | Ribs Mocca | Stooge Viller | Steve the Tramp | Dr. Leo Marvin | Neville Sinclair | Lothar | Trantor | Vince LaRocca | Hugo Snyder | Nigel Brown | Rushmore | Fester Brown | Marcus | Hammer | Bullies (Head Bully) | Darren | Norman Stansfield | Malky | Dracula | Malik | James "Jimmy" Shaker | Maris Conner | Michael Korda | Clarence Teal | Zorg Industries (Jean-Baptiste Emanuel Zorg, Right Arm) | Mangalores | Ultimate Evil | Cyrus Grissom | Nathan "Diamond Dogs" Jones | Francisco Cindino | William "Billy Bedlam" Bedford | Garland Greene | John "Johnny 23" Baca | Swamp Thing | Joe "Pinball" Parker | Earl "Swamp Thing" Williams | Ramon "Sally Can't Dance" Martinez | Conrad | Gator | Viking | Castor Troy | Pollux Troy | Egor Korshunov | Andrei Kolchak | Sergei Lenski | Igor Nevsky | Boris Bazylev | Vladimir Krasin | Agent Gibbs | General Ivan Radek | Arachnids | Kevin Dunne | Coach Red Beaulieu | Thomas Reynolds | Joey Donner | Lo Fong | Nathan Van Cleef | Raymond Calitri | Elijah Price | Orange Man | Sheriff Cooley | Homer Stokes | Big Dan Teague | Ku Klux Klan | Rafe McCawley | Isoroku Yamamoto | John Majors | Jean-Pierre Richard | Mr. Big | Fernand Mondego | Julius Caesar | Brutus | Daisy | Adina | Roberta | Spence | Jimmy | Dragons (Bull Dragon) | Green Alien | Clive Maxtone | Bianca | Bill Cutting | Boss Tweed | Walter Burke | Nelson Rathbone | Wu Chow | Widow | Ashley Sanderson | Mrs. Kline | Dale Massie | The Ladykillers (Professor G. H. Dorr) | Antonio Lopez De Santa Anna | General Manuel Fernandez De Castrillon | King Cerdic | Cynric | Zaphod Beeblebrox | Prostetnic Vogon Jeltz | Vogons | Humma Kavula | Gag Halfrunt | Frankie and Benjy | Natasha Rimsky | Mirror Queen | General Vavarin Delatombe | Gene Carson | Stephanie | Philippe LaRoche | Saw Villain | Zoltar | Kayako Saeki | Japanese Ghost Boy | Carroll Oerstadt | Zero Wolf | Middle Eye | Jack Blade | Lionel Canter | Marcus | Joanna Clark | Setrakus Ra | Piken | Hilly Holbrook | Jerry Dandridge | Evil Ed | Tak Mashido | Ricky | Zeus | Farra Lemkova | Julian Assange | Dino Brewster | Kevin Wendell Crumb | Dr. Ellie Staple
Animated Television
Cleopatra Smith | JFK | Principal Scudworth | Mr. Butlertron | Van Gogh | The Secret Board of Shadowy Figures (Shadowy Figure, E Cybo-Pooch & Scan Grade The Magnificent) | GESH High School (Colonel Principal, Geshy & Detlef Schrempf) | X-Stream Blu | Skunky-Poo | Krabby Kakes | Larry Hardcore | Daniel Feldspar | Prisoners | Mandy Moore

Live-Action Films
Spiders (General Spider & Queen Spider) | Mrs. Mott | Dr. Victor Mott | President Koopa | Iggy and Spike | Lena | Goombas | David Greenhill | Curly Bill Brocius | Johnny Ringo | Ben Pinkwater | Kerr | Aliens | Ernesto Mendoza | Vladimir Radchenko | Rico Dredd | Dr. Ilsa Hayden | ABC Warrior | Judge Griffin | Angel Gang | Roger Chillingworth | Dick Steele | Miss Cheevus | General Rancor | Captain Frye | Captain Darrow | General Hummel | Grocer | John James Urgayle | Claude | Octalus | Simon Canton | Vincent Grey | Mrs. Collins | Tommy Tammisimo | Blood Countess | Gustave
See Also
20th Century Studios Villains | Amblin Entertainment Villains | Blumhouse Productions Villains | Clone High Villains | Disney Villains | DreamWorks Villains | Eastrail 177 Trilogy Villains | Fright Night Villains | ImageMovers Villains | Jerry Bruckheimer Villains | Lucasfilm Villains | Mario Villains | Ridley Scott Villains | Steven Spielberg Villains | The Sandlerverse Villains | Tim Burton Villains