Jurassic World: Dominion Dominates Fandom Wikis - The Loop
Play Sound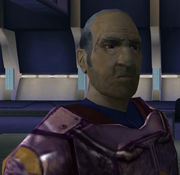 Davik Kang is a minor antagonist in Star Wars: Knights of the Old Republic.
Personality
Davik Kang is the leader of The Exchange, a criminal organization, with Davik being a feared figure throughout Taris, known to put bounties on people who've wrong him, such as Matrik, who's turned in evidence against him to the authorities or those who simply owe him credits. Under his employment is the mercenary Canerdous Ordo and the bounty hunterCalo Nord. He is in possession of the Ebon Hawk, one of the most fastest ships in the galaxy. Like the rest of Taris, Davik is restless having to be quarantined by the Sith and wishes to come and go on the palent as he wishes but is unable to as not even the Ebon Hawk can outrun the Sith automated cannons, and has worked on getting the ship codes to be able to travel as much as he wants for his intergalactic operations. In his headquarters, he manages to keep initiates of the Exchange guests while he checks into their background before he decides to approve of their membership. He also has Twilek slaves to serve as masseuses and rewards them well if they make the guests happy and punishes them harshly if they fail to serve them well.
The Sith Quarantine on Taris
Davik is awaiting the flight codes from the Sith so he will be able to travel off-planet, a task he assigns to Canerdous. After winning the Swoop Race and killing Brejik, Canderous enlists the help of Darth Revan and his allies to help retrieve the codes. Revan and company break in the Sith compound and retrieve the codes. Unknown to Davik, however, is Canderous has grown bored of enforcing for Davik, finding that working for criminal gangs is unfulfilling work and yearns for more adventure, which is why he ends up teaming up with Revan to escape from Taris. After they successfully get the codes from the Sith base, Canderous brings Revan to Davik as a "recommendation" for the Exchange. Davik is impressed with his efforts and is willing to offer him a position on the Exchange per a good background check. While Davik and Calo Nord go about their business, Revan, Canderous and the others manage to get the security codes to be able to access the Ebon Hawk, but around then, Darth Malak orders his Sith fleet to bombard Taris and annihilate the planet. As the Exchange headquarters begin to fall apart due to the bombardment, Davik and Calo Nord catch Revan and the others, leading to a fight where Davik is killed. Calo Nord attempts to take out the others with a thermal detonator, but the Sith gunfire stops him and ends up incapacitating him, giving Revan and the others a chance to escape.