Jurassic World: Dominion Dominates Fandom Wikis - The Loop
Play Sound

✓
This Villain was Headlined on January, 2021.
| | | |
| --- | --- | --- |
| " | Do you fear death? Do you fear that dark abyss? All your deeds laid bare. All your sins punished. I can offer you... an escape. | " |
| | ~ Davy Jones' first and most famous quote. | |
| | | |
| --- | --- | --- |
| " | Life is cruel. Why should the afterlife be any different? I offer you a choice. Join my crew... and postpone the judgment. One hundred years before the mast. Will ye serve? | " |
| | ~ Davy Jones to dying sailors. | |
Davy Jones is one of the main antagonists of Disney's Pirates of the Caribbean film series, serving as a mentioned character in The Curse of the Black Pearl, the main antagonist of Dead Man's Chest, the secondary antagonist of At World's End, and a cameo antagonist in Dead Men Tell No Tales. He is the archenemy of Jack Sparrow and Will Turner.
He is a monster and the dark lord of the Seven Seas who is loosely based on the old seaman's legend of Davy Jones' Locker. He is the cursed captain of the Flying Dutchman and the former lover of the sea goddess Calypso, who betrayed him and led him to cut out his heart in the first place, assigning him the role to ferry the souls of those who died at the sea into the afterlife, though Jones opted to recruit them into his immortal crew.
He was portrayed by Bill Nighy, who also played Viktor in the Underworld film series, Whitey in Flushed Away, Rattlesnake Jake in Rango (which also starred Johnny Depp), General Fallon in Jack the Giant Slayer, The Network from The World's End, Prince Naberius in I, Frankenstein, Leo Argyll in Ordeal of Innocence and Howard Clifford in Pokémon: Detective Pikachu.
Personality
| | | |
| --- | --- | --- |
| " | Many things you were, Davy Jones. But never cruel. You have corrupted your purpose... and so yourself. | " |
| | ~ Calypso. | |
As the dark lord of the Seven Seas, Davy Jones is intelligent, tyrannical and heartless (both meanings). Towards his crew, he appeared to be cold, cruel and hateful. Davy Jones is known for his sadistic and destructive ways.
Very arrogant, dangerous, and manipulative, Jones is shown to be a malicious creature. The only thing he seems to enjoy is to ensure the lives of those around him were as miserable and joyless as his own one. He regularly mistreated his own crew as well, believing that all humans should suffer through the afterlife with much pain; this is backed up by his proclamation of "Life is cruel. Why should the afterlife be any different?".
However, despite being a literally heartless wretch, he's shown having moments of honor, and has a remorseful side. Despite feeling betrayed by Calypso, he still holds a warm heart for her and tells her that his heart will always belong to her. He shows some love to his pet Kraken, as he was left crying after he killed it and he also showed a bit of honor when he congratulated Will on beating him at liar's dice for Bootstrap Bill's freedom in a deleted scene. Despite his tragic past Davy Jones is shown to being cruel just for the sake of it, meaning that Jones likely enjoys being cruel.
Appearance
"
Ragetti: So, he wasn't always so... tentacley?
Calypso: No. He was a man... once.
"
~ Ragetti and Calypso about Davy Jones.
Davy Jones was designed by the films' producers to be a mixture of various aquatic flora and fauna features. Jones's most striking feature is his cephalopod-like head, with octopus-like tentacles giving the illusion of a thick beard, which is similar to the head of Cthulhu.
Throughout the films, Jones uses the 46 tentacles of his "beard" like fingers to manipulate objects, such as the Dead Man's Chest key (he shows this during a game of Liar's Dice), his hat (when his ship submerges), and the keys of his vast pipe organ; while dueling Captain Jack Sparrow in the climactic maelstrom battle sequence of the third film, he waves, wags, and wiggles all of his "beard-tentacles" at once while screaming in frightening fashion in an effort to scare Sparrow, which, in context, appears humorous.
A prominent sac bulges from under the back of his barnacle-encrusted tricorne. Jones's face lacks a nose, and instead has one short, hollow tentacle called a siphon (on the left side of his face) that acts as part of his respiratory system, capable of inhaling and exhaling, which we see in the second film as he smokes his pipe. Davy Jones also has a crustacean - style crab - like claw for his left arm which is shown to be incredibly powerful as he can snap a sword in two without difficulty. He has a long tentacle in place of the index finger on his right hand and his right leg is that of a crab (resembling a peg leg). He also speaks with a clearly distinguishable, albeit very thick, Scottish accent.
Biography
Past
Davy Jones is the captain of the Flying Dutchman (based on the feared ghost ship of the same name featured in nautical lore), and roams the seas in search of souls to serve upon his vessel for a century. He was previously the lover of Calypso, a "heathen goddess" from which a bad relationship turned him antagonistic. Jones is the legend behind the fictitious Dead Man's Chest, a major aspect of the second film. Davy Jones was once an great and ordinary human sailor who fell in love with the sea goddess Calypso. She entrusted him with the task of ferrying the souls of those who died at sea to the next world. Calypso gave him the Flying Dutchman to accomplish this task. She swore that after ten years, she would meet him and they would spend one day together before he returned to his duties. However, when Jones returned to shore after ten years, Calypso failed to appear. Believing Calypso had betrayed him, a heartbroken and enraged Davy Jones turned the Pirate Brethren against her, saying that if she were removed from the world, they would be able to claim the seas for themselves. They assembled in the First Brethren Court and Jones successfully taught them how to imprison her into her human form.
Despite betraying her, Jones still loved Calypso, and in despair and guilt for what he had done, he carved out his own heart from his body and placed it in the "Dead Man's Chest". The Chest was sealed and placed within a larger wooden chest, along with all other items having to do with her, except his matching musical locket. The chest was then buried on Isla Cruces. Jones kept the chest's key with him at all times, leaving the locket beside the massive pipe organ aboard the Dutchman. With Calypso gone, Jones abandoned his duties and returned to the Seven Seas. As a result of this, Jones gradually became monstrous, his physical appearance merging with various aquatic fauna. Sailors everywhere would fear him to the death, for Davy Jones had turned fierce and cruel, with an insatiable taste for all things brutal. Jones recruits dying sailors by promising them a reprieve from death in exchange for 100 years of service aboard the Dutchman. During this time, he comes to command the Kraken, a feared mythological sea monster.
The Curse of The Black Pearl
Davy Jones doesn't appear in the first film The Curse of The Black Pearl, but he is mentioned by Will Turner when he says "Or I will pull this trigger and go down to Davy Jones' Locker!" and we can assume from this line that the feared pirate was currently killing and enslaving numerous pirates even at this time. Knowing that Captain Jack Sparrow knew of Davy Jones from his childhood, this is most probable.
Dead Man's Chest
Davy Jones first appears in the second film Dead Man's Chest, where he attempts to collect on his bargain with Jack Sparrow. Sparrow argues that he was only captain for two years before one of his crew members Hector Barbossa committed mutiny, but Jones rejects this explanation. Sparrow then attempts to escape the deal by providing Will Turner as a substitute for himself (the true plan of Sparrow was tricking Davy Jones for killing him and later free Will). Jack strikes a new "deal" with Jones; Jack will be spared enslavement on the Dutchman if he brings Jones one hundred souls to replace his own within the next three days. Jones accepts, removes the black spot from Jack's hand, and retains Will, keeping him as a "good faith payment" but will free him if Sparrow gives to him one hundred souls.
While on the Dutchman, Will challenges Jones at a game of Liar's Dice. They wager Will's soul for an eternity of service against the key to the Dead Man's Chest. Bootstrap Bill joins the game and purposefully loses to save Will. During the game, Will learns where Jones keeps the key. The next morning, Jones realizes the key is gone and summons the Kraken to destroy the ship carrying Turner, who actually survives. The Dutchman then sails to Isla Cruces to stop Sparrow from getting the Chest.
Arriving, Jones sends his crew to retrieve the Chest; they return to him with it. The Dutchman then chases after the Black Pearl, but is outrun. Jones summons the Kraken, which drags Jack Sparrow and the Pearl to Davy Jones's Locker. He afterwards opens the Chest only to find his heart missing; Despite the fact that Sparrow was supposedly dead, Jones felt a summons from his heart and set sail for the source of the summons, Port Royal. Upon arriving, he found the very man who had inadvertently spawned Sparrow's debt with Jones, Lord Cutler Beckett of the East India Trading Company. Beckett had Jones' heart, presented to him by a former member of Jack Sparrow's crew, James Norrington. Jones took off his hat in respect for his new master.
At World's End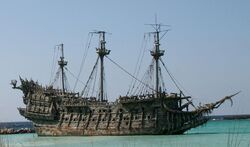 In the third film, At World's End, Jones became Beckett's servant, since he possessed the heart and could destroy it and kill Jones if he didn't obey his orders. Eventually, he and his crew fought alongside the East India Trading Company against Will, Elizabeth, Barbossa, Gibbs, and other pirates in Jack's crew as the Black Pearl and Flying Dutchman faced off at a maelstrom created by Calypso, during which Jones dueled Jack, who eventually unlocked the Dead Man's Chest and threatened to stab Jones's heart with his broken sword (earlier snapped in two by Jones with his claw). He stabbed Will in the heart with his sword, twisting the blade. After seeing this, Bootstrap, previously driven insane from his imprisonment in the wall of the ship, returned to his senses and tackled Jones for what he had done to his son. However, Davy quickly overpowered Bootstrap. Before Jones could stab Bootstrap, Jack helped a dying Will stab the heart and Jones fell to his death into the maelstrom. As he fell, he whispered his final word: "Calypso". After years of sailing the sea spreading terror, Davy Jones was finally defeated and rejoined with Calypso. Bootstrap was able to bring Will back to life so Cutler would later be destroyed along with Jones.
Dead Man Tell No Tales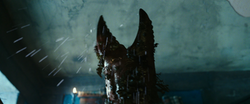 In the post-credits scene of the fifth film Dead Man Tell No Tales, Will and Elizabeth are sleeping in their bed together when suddenly there are footsteps outside their bedroom door. The person making the footsteps slowly creaks the door open and walks into the room. His silhouette reveals that it is Jones, still in his cursed form, back from the dead. Will awakens to see Jones raise his claw, ready for an attack. Suddenly, Will wakes up, then assumes that he was simply dreaming and goes back to sleep. However, the camera then pans to the floor, revealing a puddle of water and barnacles, revealing that Jones has somehow returned from the grave.
Powers and Abilities
Powers
Being the captain of the Flying Dutchman gave Davy Jones the chance to journey between the land of the dead and the living. This was most likely the reason for his other supernatural traits, including the ability to teleport himself and walk through solid objects. Jones was also able to restore the Wicked Wench when he raised the ship from the depths after it was burned and sunk by the East India Trading Company. However, Jones could not step on land but once every ten years and by abandoning his duty as the ferryman to the afterlife he brought a curse upon himself and his crew, which caused their transformation into fish-men.
Psychopomp Physiology: Davy Jones is a very powerful and arguably the most powerful villain, even more than Blackbeard or Armando Salazar, in the series. Before his mutation into what he is today, he was an immortal being, but after he forsaken his duty to ferry souls to the afterlife he mutated into hybrid of various aquatic animals like a crab and an octopus. He is able to control the legendary sea monster The Kraken, probably because of years of taming it and he is able to control over his ship The Flying Dutchman, which can go underwater without any negative effects and can "become one" with it, being absorbed into the ship and appearing somewhere else on it, as he followed Jack Sparrow from the bottom of his ship to the upper parts of it. His power as the captain of The Flying Dutchman also gives him incredible strength and other physical attributes, despite his size. After his resurrection he appeared to overcome his weaknesses and gained new powers as he can now make a man who he attacked into thinking who his appearance was only a nightmare, despite it first appearance this is probably Jones most secret and most powerful ability.

Immortality: Davy Jones is able to be ageless and stay young, but is able to die if someone kills him. After cutting out his own heart out Davy Jones is nearly immortal and immune to all forms of pain/injury. So long as his heart remains intact, Davy Jones cannot be killed by any other means nor can he die from old age. His immortality makes it so that he ca shrug off being stabbed and shot by other pirates, however this is inconsistent as Jones screamed in pain when his tentacle beard was cut or when Will stabbed him in the chest. The main attribute of this power is that it makes Davy so hard to kill. He is capable of regenerating any damage he received. His limbs and other parts of his body that are cut off can somehow still move around.
Black Spot: He can mark any individual with the Black Spot and is the only one who can remove it. When he marks a person who owes him a dept. this allows both Jones and the Kraken to track him. Whoever agrees to become a member of his crew slowly mutates into grotesque hybrids of various sea creatures and eventually merges with the Dutchman after a century of slavery. His crew members would also have this ability but they cannot remove it as Jones can. It was also shown that the mark can reappear/appear on the person without physical contact, as after Davy Jones himself removed the Black Spot while allowing Sparrow three days to gather one hundred souls in exchange for his own. The mark instantly returned, without any physical contact from Jones or his crew, after William Turner stole the key to the Dead Man's Chest from aboard the Flying Dutchman.
Interdimensional Travel: Before his first death, Davy Jones had power over both the seven seas and the Davy Jones' Locker, a purgatory afterlife where those lost at sea or taken by the Kraken dwell. This allows Davy Jones to being capable of switching between the world of the living and the dead. He also possesses his own pocket dimension and own afterlife, the Davy Jones' Locker, in which he keeps his deceased enemies. Davy Jones is the ruler of the Davy Jones's Locker and can make it to show a person's worst fear when he puts them in there. It also impossible for even Calypso/Tia Dalma to retrieve souls who Davy Jones sent there because they were technically not dead in the general sense of the word. Whereas, most who died were allowed to have their souls move on to some form of afterlife, Davy Jones' Locker acted as a form of purgatory. This is why Calypso/Tia Dalma couldn't bring Jack Sparrow back to life–like she did with Hector Barbossa–as his soul was trapped within the Locker. Following his death it unknown what became of the Locker but is assuming it cease to exist, as Will didn't punish any human soul.
Teleportation: Davy can teleport in a literal blink of an eye. However it appears he can only teleport when there is seawater nearby. He often teleported from ship to ship. At the beginning of the search for the Dead Man's Chest, Davy Jones sent Bootstrap Bill Turner as an emissary to warn Jack Sparrow that it was time to pay his debt. Turner teleported aboard the Black Pearl and gave Jack the Black Spot, marking him as a prey for Jones' legendary sea beast, the Kraken. During the War Against Piracy, when Davy Jones discovered Will Turner onboard the scuttled ship, he teleported himself and several of his crew members onboard the Black Pearl to remind Jack Sparrow of his debt to him. A few months later, when the East India Trading Company Armada approached Shipwreck Island, Jones teleported himself to the prison cells on the Black Pearl to talk with Calypso.
Intangibility: Davy is capable of passing through people and solid objects freely.
Pincher Claw: Davy Jones possesses a crab-like leg, which acts like a peg leg and a pincer claw on his right hand that acts like a hook. His crab claw gives him super strength to knock people down or out with a single hit. His crab claw also served as weapon, with it he could easily break a person neck destroy, break, and/or bend swords when they are caught in between.
Octopus Tentacles: Davy Jones possesses a tentacle finger on his left hand and beard, using it to gouge out people's eyes or joke them by shoving them down the target's throat. These tentacles can be cut off, move on their own, and then reattach themselves to Davy Jones.
Underwater Breathing: Like the rest of his cursed crew, Davy Jones is able to breathe underwater and on land. This ability seems to stem from his monstrous appearance.
Clairvoyance: It is implied that Jones is clairvoyant. Multiple times has he been able to know things he shouldn't due to him not being there. For example, he was able to tell the Black Pearl's location and teleport on board even though it was out of sight and had its lanterns turned off. He also realized William Turner Junior was sneaking around the Flying Dutchman even though he made no noticeable sound. He could tell that Jack Sparrow introduces himself as a captain after the two haven't met for thirteen years.
Abilities
Experienced Sailor and Captain: Due to hundreds of years spent on the sea, Davy is very good at commanding his ship the Flying Dutchman and knows the Caribbean Seas like the back of his hand.
Master Swordsman: Davy is an experienced swordsman and one of the legendary sword fighter, combatting Jack Sparrow multiple times and out matching Elizabeth Swan. The only people who can fight him on equal terms or surpass him is the infamous Captain Jack Sparrow and Will Turner Jr. He originally wield a broadsword, which has the appearance of a claymore and hasn't been used. He later used James Norrington's ceremonial sword which he took after killing James Norrington. It is a blade designed for thrusting attacks and is capable of stabbing a man in the heart. The blade should be 60-90 cm long.
Weakness
Land: Despite his power, Davy Jones is unable to walk on land, but only once every ten years. However, he can stand and even walk given his path has buckets of seawater for him to place his feet in (as seen during the parley on a sandbar in At World's End), and he can also send his crew ashore in his absence. After his resurrection he appeared to overcome this weaknesses, as he was able to enter Will and Elizabeth's bedroom.
Heart: While the removal of his heart makes him completely immortal, if someone has it, they can either kill him or control him. However, he doesn't seem to have this weakness after his heart was stabbed and he was subsequently brought back to life without it, suggesting he overcome this weaknesses as well.
Quotes
The Dead Man's Chest
| | | |
| --- | --- | --- |
| " | Do you fear death? | " |
| | ~ Davy Jones to numerous individuals. | |
"
Davy Jones: You are neither dead nor dying! What is your purpose here?!
Will: Jack Sparrow sent me to settle his debt.
Davy Jones: What is your purpose here?
Will: Jack Sparrow sent me to settle his debt.
Davy Jones: Did he, now? I'm sorely tempted to accept that offer.
"
~ Davy Jones
| | | |
| --- | --- | --- |
| " | You have a debt to pay. You've been captain of the Black Pearl for thirteen years. That was our agreement. | " |
| | ~ Davy Jones to Captain Jack Sparrow. | |
| | | |
| --- | --- | --- |
| " | One soul is not equal to another. | " |
| | ~ Davy Jones | |
| | | |
| --- | --- | --- |
| " | I wonder, Sparrow, can you live with this? Can you condemn an innocent man, a friend, to a lifetime of servitude in your name while you roam free? | " |
| | ~ Davy Jones to Jack Sparrow. | |
| | | |
| --- | --- | --- |
| " | Let no joyful voice be heard! Let no man look up at the sky with hope! And let this day be cursed by we who ready to wake… the Kraken! | " |
| | ~ Davy Jones releasing the Kraken. | |
| | | |
| --- | --- | --- |
| " | How do you know of the key? | " |
| | ~ Davy Jones. | |
| | | |
| --- | --- | --- |
| " | I accept, mate. | " |
| | ~ Davy Jones accepting Will's challenge. | |
| | | |
| --- | --- | --- |
| " | Master Turner, feel free to go ashore... the very next time we make port! | " |
| | ~ Davy Jones to Will Turner. | |
| | | |
| --- | --- | --- |
| " | They're here. And I cannot set foot on land for near of a decade. | " |
| | ~ Davy Jones | |
| | | |
| --- | --- | --- |
| " | I trust you to know what awaits you should you fail! | " |
| | ~ Davy Jones to Maccus. | |
| | | |
| --- | --- | --- |
| " | Let them taste the triple guns. | " |
| | ~ Davy Jones ordering his crew to shoot the triple guns. | |
| | | |
| --- | --- | --- |
| " | Jack Sparrow, our debt is settled. | " |
| | ~ Davy Jones after Jack Sparrow is killed. | |
| | | |
| --- | --- | --- |
| " | Damn you, Jack Sparrow... | " |
| | ~ Davy Jones' breakdown. | |
At World's End
| | | |
| --- | --- | --- |
| " | The Dutchman sails as its captain commands. | " |
| | ~ Davy Jones to Lord Cutler Beckett. | |
| | | |
| --- | --- | --- |
| " | I cannot be summoned like some mongrel pup! | " |
| | ~ Davy Jones | |
| | | |
| --- | --- | --- |
| " | Ten years, I devoted to the duty you charged me. Ten years, I looked after those who died at sea, and finally, when we could be together again, you weren't there. Why weren't you there? | " |
| | ~ Davy Jones to Calypso. | |
| | | |
| --- | --- | --- |
| " | My heart will always belong to you. | " |
| | ~ Davy Jones to Calypso. | |
| | | |
| --- | --- | --- |
| " | Come to join me crew again, Mr. Turner? | " |
| | ~ Davy Jones to Will Turner. | |
| | | |
| --- | --- | --- |
| " | Your debt to me is still to be satisfied. One hundred years in servitude aboard the Dutchman, as a start! | " |
| | ~ Davy Jones. | |
| | | |
| --- | --- | --- |
| " | She'll not harm us! Full bore and into the abyss! | " |
| | ~ Davy Jones | |
| | | |
| --- | --- | --- |
| " | Ha ha... lookie herem boys. A lost bird. A lost bird that never learned to fly! | " |
| | ~ Davy Jones upon seeing Jack Sparrow. | |
| | | |
| --- | --- | --- |
| " | The chest! Hand it over! | " |
| | ~ Davy Jones to Jack Sparrow. | |
| | | |
| --- | --- | --- |
| " | My freedom was forfeited long ago. | " |
| | ~ Davy Jones to Jack Sparrow. | |
| | | |
| --- | --- | --- |
| " | You can do nothing without the key! | " |
| | ~ Davy Jones to Jack Sparrow. | |
| | | |
| --- | --- | --- |
| " | Harriden! You'll see no mercy from me! | " |
| | ~ Davy Jones to Elizabeth Swann. | |
| | | |
| --- | --- | --- |
| " | Missed! Did you forget? I'm a heartless wretch! | " |
| | ~ Davy Jones after Will stabs him. | |
| | | |
| --- | --- | --- |
| " | Ah, love; a dreadful bond, and yet, so easily severed. | " |
| | ~ Davy Jones. | |
"
Davy Jones: You're a cruel man, Jack Sparrow.
Jack Sparrow: Cruel is a matter of perspective.
Davy Jones: Is it?
"
~ Davy Jones to Jack Sparrow, before he stabs Will.
| | | |
| --- | --- | --- |
| " | You will not forestall my judgement! | " |
| | ~ Davy Jones before trying to kill Bootstrap Bill. | |
| | | |
| --- | --- | --- |
| " | Calypso... | " |
| | ~ Davy Jones's last words before being resurrected | |
Trivia
He is the only main antagonist in the series who didn't die in their first appearance. Lord Cutler Beckett, who became the main antagonist in the third film, does not count even though he first appeared in the second film with Davy Jones.
He admits that he is a cunning and heartless villain, not only because he literally has no heart, but he is also unsympathetic and unfeeling. However, he is tragic given his background and while sadistic and cruel, Davy Jones seems to have a soul or something human left.
Davy Jones is considered a polar opposite to Cutler Beckett. Jones is a monster with a bit of humanity remaining in him. Beckett is a human, but at heart, he's a monster through and through.
Despite his appearance in Dead Men Tell No Tales, Bill Nighy did not return to portray Davy Jones in the movie as he was not aware the character even made an appearance in another movie, until he was informed about it by a cab driver. Nonetheless, he has expressed interest in returning to portraying the character.
Although Jones can't feel pain, he screams when Jack cuts off one of his facial tentacles and when Will impales him.
While Davy Jones doesn't actively seek to end his life and ensures his heart is protected, there are moments where he seems to display suicidal tendencies as he's given multiple opportunities to take his heart back. Most notably in a deleted scene, he tries to provoke Weatherby Swann to stab his heart after explaining to him how he must take his place as the captain of Flying Dutchman if he is to stab his heart.

In the climatic battle against Jack and his friends, when his heart is fatally stabbed, he is shocked at first, but at the same time, he seems to be more saddened over not being able to see Calypso than his own demise.

Davy Jones is one of only five Disney villains ever nominated for the MTV Movie Award for Best Villain, the others being Hector Barbossa, Scar from The Lion King, Jadis the White Witch in The Chronicles of Narnia: The Lion, the Witch and the Wardrobe, and Lots-o'-Huggin' Bear from Toy Story 3.
External Links

Villains

Villains