Jafar says: Read my lips and come to grips with the reality!


This article is a stub and is in need of expansion. You can help Villains Wiki by expanding it.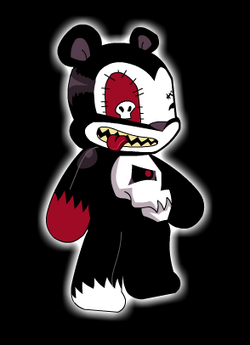 Deady is the protagonist villain of the franchise of the same name, including a few online games and a comic book collection - he is a malevolent teddy bear with demonic powers and traits as well as a style that is a parody/homage to 30s cartoons.
Plot
Deady is the result of a Lovecraft Horror from space merging with a harmless teddy bear, resulting in a horrific monster that while "cute and fuzzy" on the outside is a merciless killer on the inside and an outright villain to boot.
Unsurprisingly one of Deady's promotional games involves an Evil Vs. Evil scenario in which the sociopaths teddy bear goes on a murderous rampage of revenge against another Dark Lord - all played to the tune of "When You're Evil".
Outside his role as a villain he is also somewhat of a mascot for Voltaire, who created the little terror with the aid of several guest artists - he also teamed up with the creators of Adventure Quest to help get Deady his own game as well as a spot as a cameo-guest in Adventure Quest related products.
Gallery
Community content is available under
CC-BY-SA
unless otherwise noted.